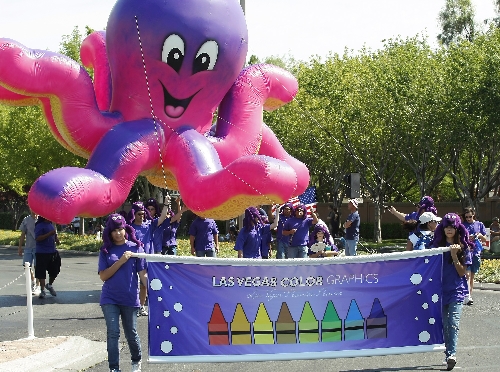 The North Las Vegas Independence Day Jubilee is scheduled from 6 to 9:30 p.m. today at James Seastrand Park, 6330 Camino Eldorado. Gates are to open at 5 p.m. Admission is $4 per person. Advance wristbands are on sale at five for $15. Limited parking is available near the intersection of Revere Street and Centennial Parkway. This year's event is to include a fireworks display, a kids corner and teen zone and live entertainment from Franky Perez and Sleepy Brown. Pets, glass bottles, umbrellas and umbrella chairs, personal fireworks, tents, tables and portable grills are prohibited. Call 633-2650 or visit cityofnorthlasvegas.com.
The Summerlin Patriotic Parade is scheduled for 9 a.m. Wednesday. A full story on the parade can be found on View's website at http://www.lvrj.com/view/parade-to-pack-in-floats-balloons-dignitaries-and-performers-160342625.html. The parade will travel along Hillpointe Road and Hills Center Drive, then south on Hills Center, concluding on Trailwood Drive. Visit summerlin.com.
The city of Henderson plans a Fourth of July celebration from 6 to 9 p.m. Wednesday at Mission Hills Park, 551 E. Mission Drive. Fireworks and a Battle of the Bands contest featuring nine high school bands are scheduled. For a full story on the festivities, visit http://www.lvrj.com/view/venues-in-and-around-henderson-are-getting-ready-to-host-celebrations-for-the-fourth-of-july-160342335.html.
A fireworks show is scheduled at 9:15 p.m. Wednesday at Knickerbocker Park, 10695 Dorrell Lane. The event is set to feature a band and contests beginning at 6 p.m. Call 216-2020.
Fireworks shows are scheduled after 9 p.m. Wednesday at five Station Casinos – Aliante Station, 7300 Aliante Parkway; Green Valley Ranch, 2300 Paseo Verde Parkway, in Henderson; Fiesta Rancho, 2400 N. Rancho Drive; Texas Station, 2101 Texas Star Lane; and Red Rock Resort, 11011 W. Charleston Blvd. Visit stationcasinos.com.
A July 4 celebration in Boulder City is set to include a parade, carnival and entertainment. The parade is scheduled to run down Nevada Highway at 9 a.m. Fireworks are scheduled for 9 p.m. at Veterans Memorial Park, 1650 Buchanan Blvd. Call 293-9256.
Caesars Palace, 3570 Las Vegas Blvd. South, has planned a fireworks display from the rooftop of the Roman Tower at 9:15 p.m. Saturday. The show is expected to be visible from the front fountain area along the Strip. Visit caesarspalace.com.
The Alexis Park, 375 E. Harmon Ave., plans to host "Smooth Jazz Under the Stars 4th of July Spectacular" at 6 p.m. Wednesday on the resort's rooftop. The event is set to feature jazz artists Jeff Lorber, Gabriel Mark Hasselbach, Ron Powell, Lisa Gay and more. Tickets are $70 each or $100 for VIP admission. Call 796-3300 or visit alexispark.com.