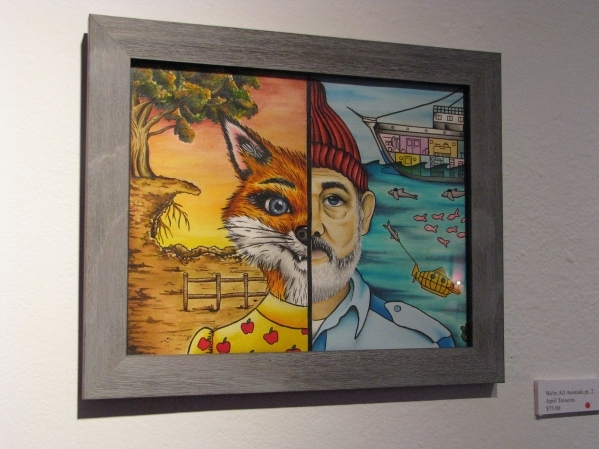 The First Friday arts festival is scheduled from 5 to 11 p.m. Jan. 1 at venues throughout the 18b Arts District in downtown Las Vegas, near the intersection of Charleston Boulevard and Main Street. Because of the holiday, some galleries and venues may not be open. On-street and paid parking is available close to the event, but spaces fill up early. Visitors are cautioned to avoid parking in unauthorized parking areas, such as vacant lots, as they may be subject to towing.
For information on artists, music and more, visit firstfridaylasvegas.com.
Preview Thursday, planned from 4 to 8 p.m. Dec. 31, offers a more low-key event. A New Year's Eve party and sale is scheduled by the South Wing section of The Arts Factory, 107 E. Charleston Blvd., until after midnight. Many of the galleries are set to participate. The preview presents an opportunity to see many of the galleries and shows before the crowds on Friday.
Galleries set to participate in January First Friday in The Arts Factory include:
— 303 North Studio: New encaustic work by James Henninger. The process involves using heated beeswax, to which colored pigments are added to create images. Call 702-742-4021.
— Jana's RedRoom: Works by Heather Hermann, Gear Duran and Roy Thomas in the Main Gallery. Premium wall artists are set to include Paula Smiles, Karen DiSorbo, Joy Snyder and Kathryn Gilbert. Small works by local artists are planned in the Salon Gallery. The gallery's first juried art show, the TOP 12 "T" Shirts, is set to be displayed for the first time on Preview Thursday, along with live music by Michael Lowery. Visit janasredroom.com or call 702-454-3709.
— Peace N Art Studio: Works from "The Radiant Collection" by Alexander P. Huerta. Visit tinyurl.com/peacenart or call 702-465-8247.
— Eden Art Studio and Gallery: "Third World America," an exhibition exploring and benefiting homelessness in Las Vegas by Daniel Miller, Roman Alexei, Neil Kesterson and Justin Lepper. Visit edenartstudioandgallery.com or call 702-982-9999.
— Corner Gallery: "Impressionism," artwork that captures a feeling, a sense of light and color through the visual, featuring works by Las Vegas artists Elena Wherry and Mario Gomez, and Boulder City artist Keegan Strouse. Visit tinyurl.com/cornergallery or call 702 501-9219.
— Wonderland Gallery (formerly EKlectica Gallery): Works by Lynne Adamson Adrian and Kat Tatz. Visit tinyurl.com/eklectica or call 702-686-4010.
— MacSual Studio: "The Intrigue Series" by Sheri Hopper. Visit tinyurl.com/macsual or call 512-663-8115.
— Twisted Artist Gallery: Works by local artists, including "Star Wars"-inspired works by Antonio Fine Art, abstract work by Mandy Joy, works from the postal series by Melodi Lee Nadell and works by Black 57 and Michael Dickerson. Visit twistedartistgallery.com or call 702-813-8428.
Other venues:
— Guerillla Artz Factory, 1113 S. Third St.: The Guerrilla Kage Art project is set to move to a new location and feature live painting by new and established artists. Contact Alan Nevada at tinyurl.com/alannv.
— Blackbird Studios, 1551 S. Commerce St.: "The Life Artistic with Wes Anderson," a group show featuring art inspired by the films of Wes Anderson. This is the gallery's final show, as it is closing in January. A farewell event is planned for 7 p.m. Jan. 15. Visit blackbirdstudioslv.com or call 702-782-0319.
Downtown Spaces at 1800 Industrial Road plans to celebrate First Friday from 6 to 10 p.m. Visit dtspaces.com for details. Confirmed activities include:
— Wasteland Gallery: A collaboration by FREADOG and Samantha Mahon. Photography and mixed media.
— Sister House Collective: Gallery party.
— Urizen Gallery: A group show with 20 percent of sales to be donated to the buyer's choice of Three Square food bank (threesquare.org), Living the Dream Foundation (livingthedreamfoundation.org) or Kuros (kuros.org).
— Rock Your Body Wellness: A $5 yoga beginner's class is set for 5 p.m.
— Music on the outdoor Stagecoach.