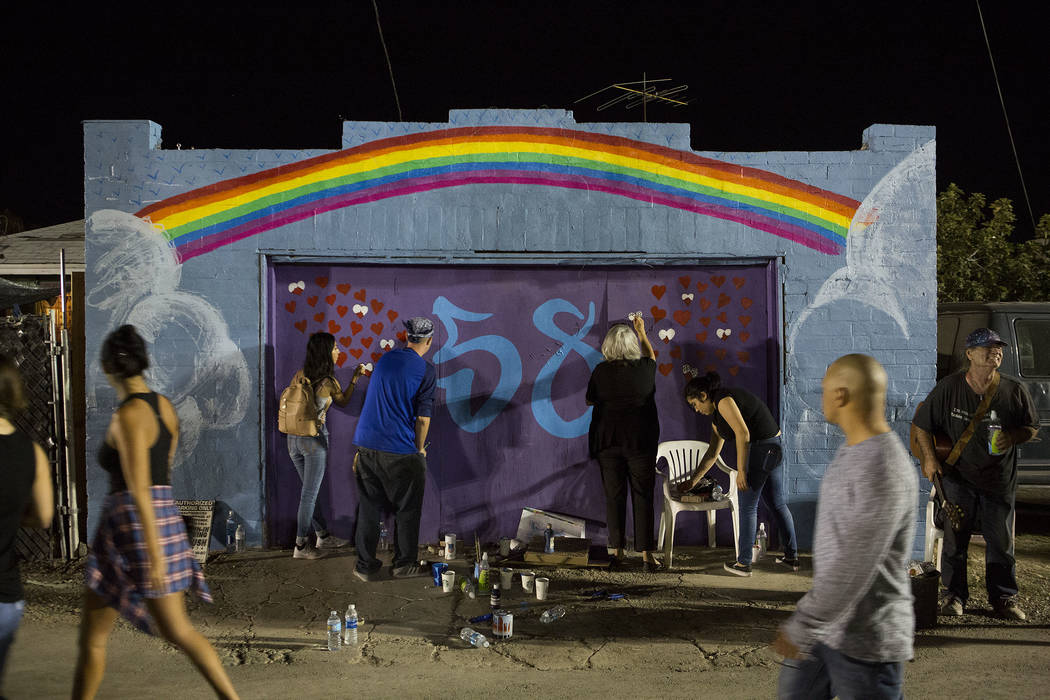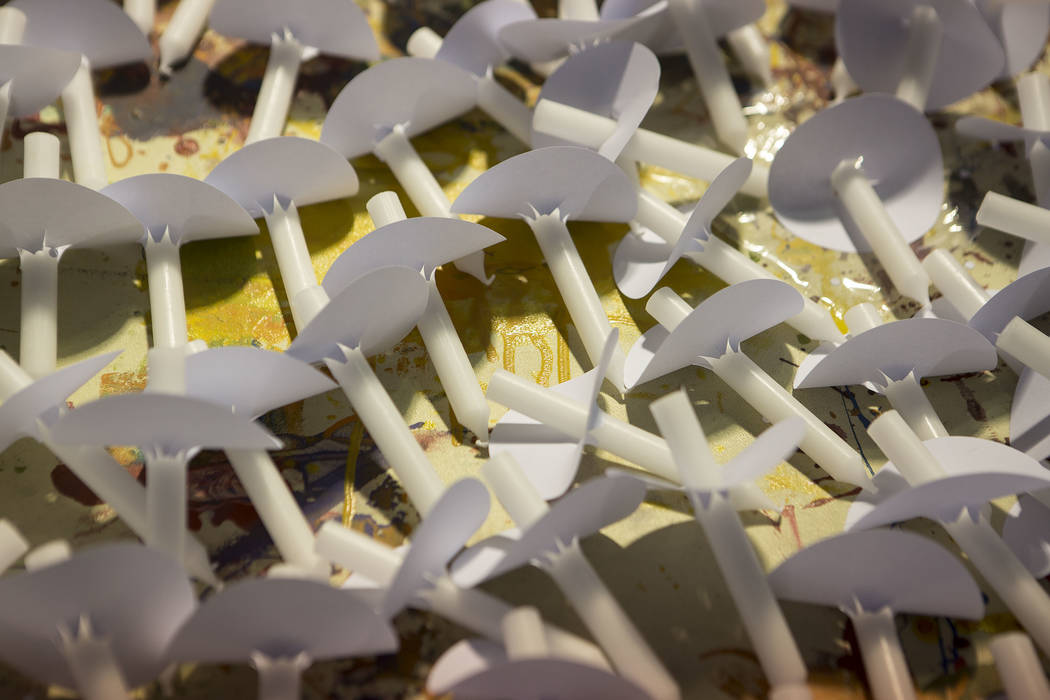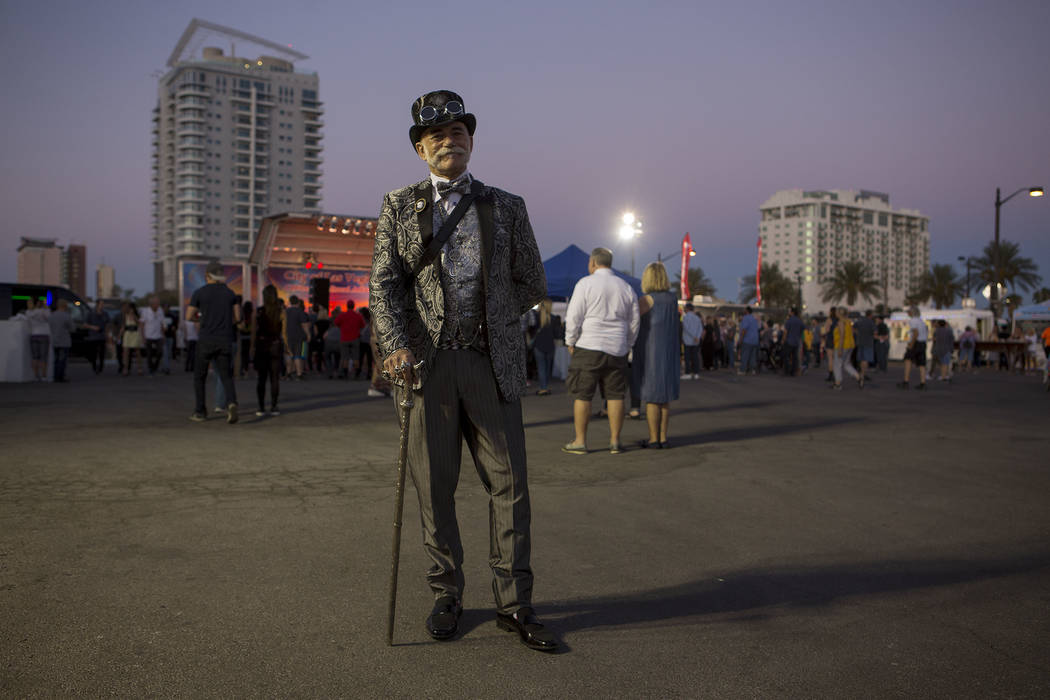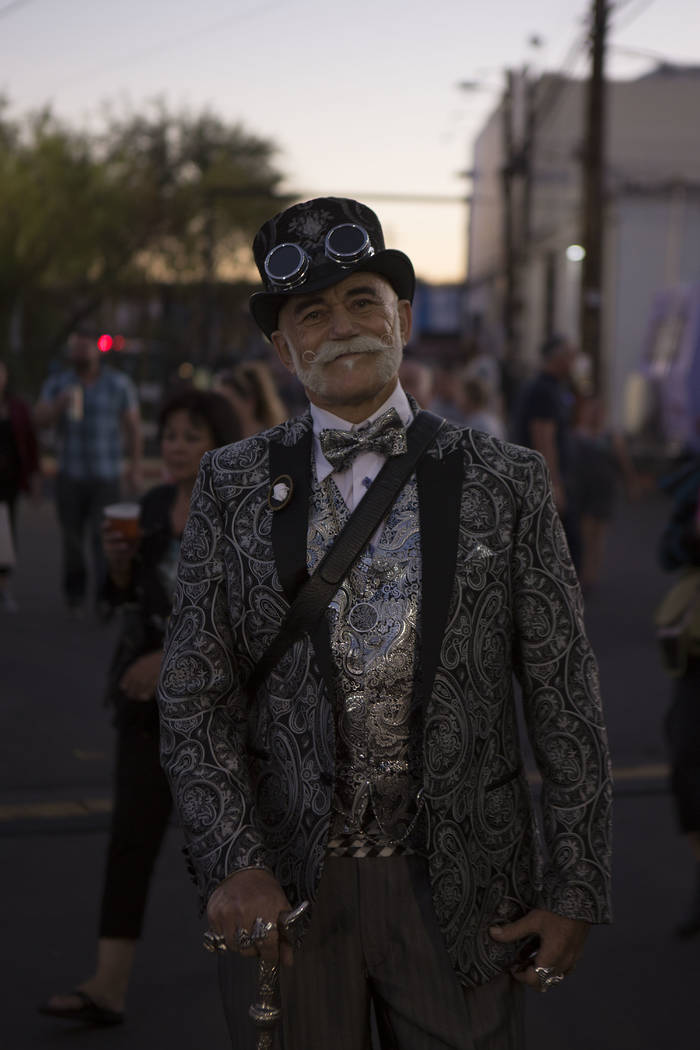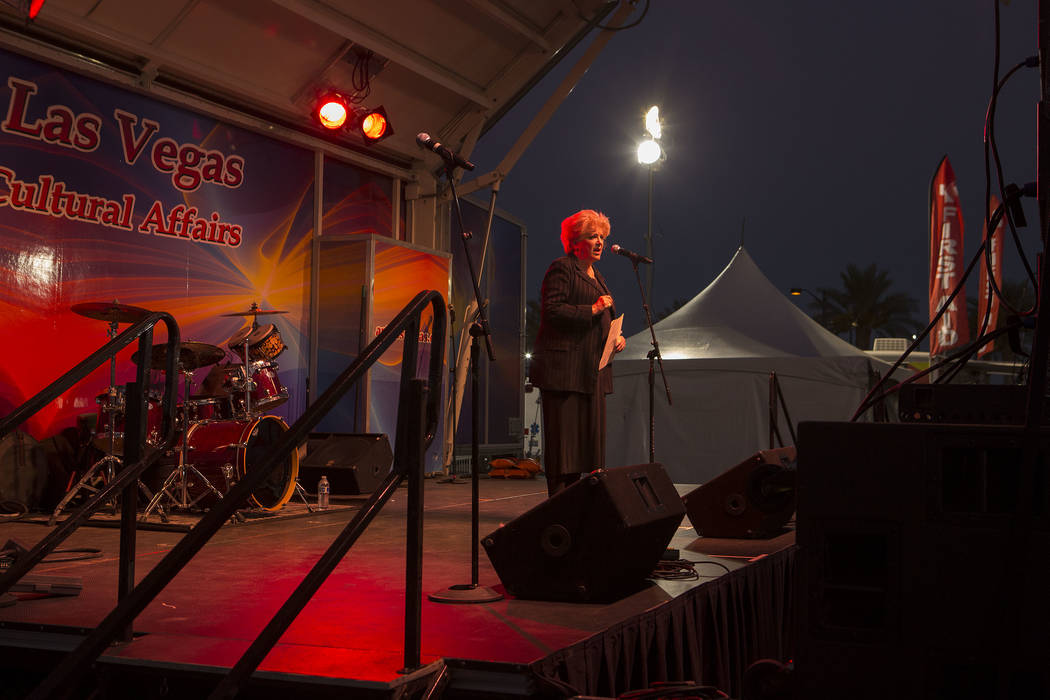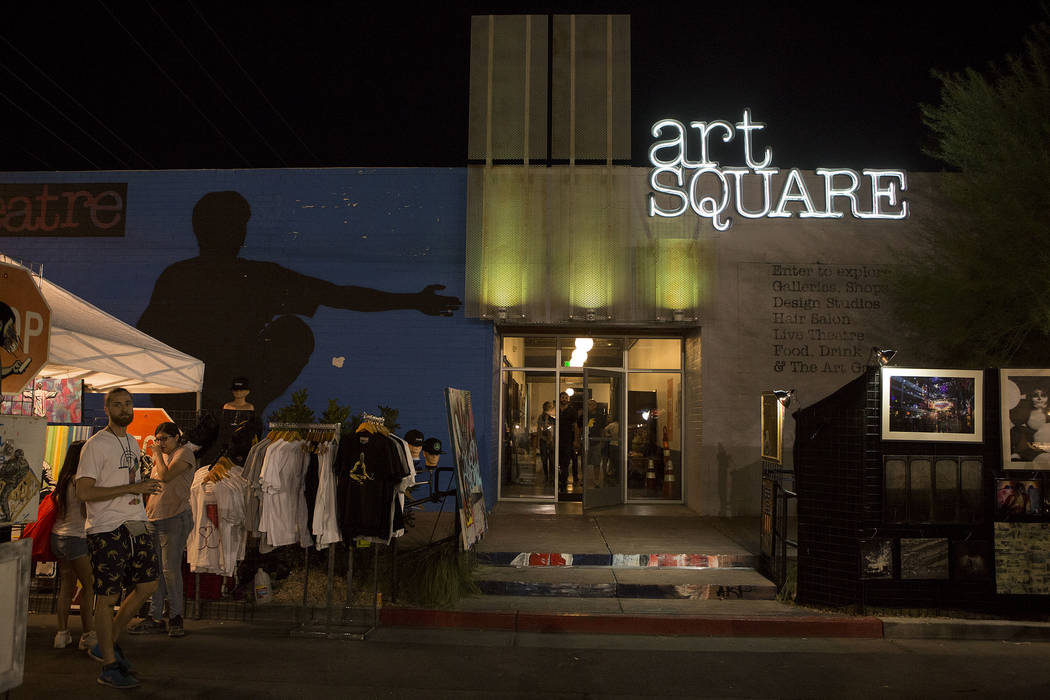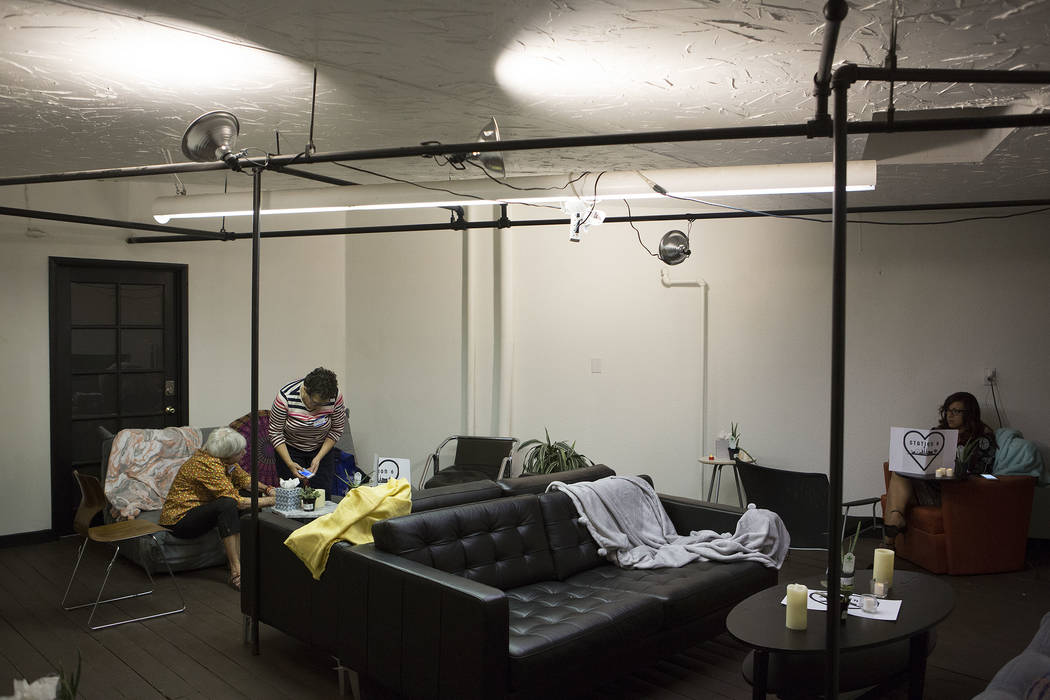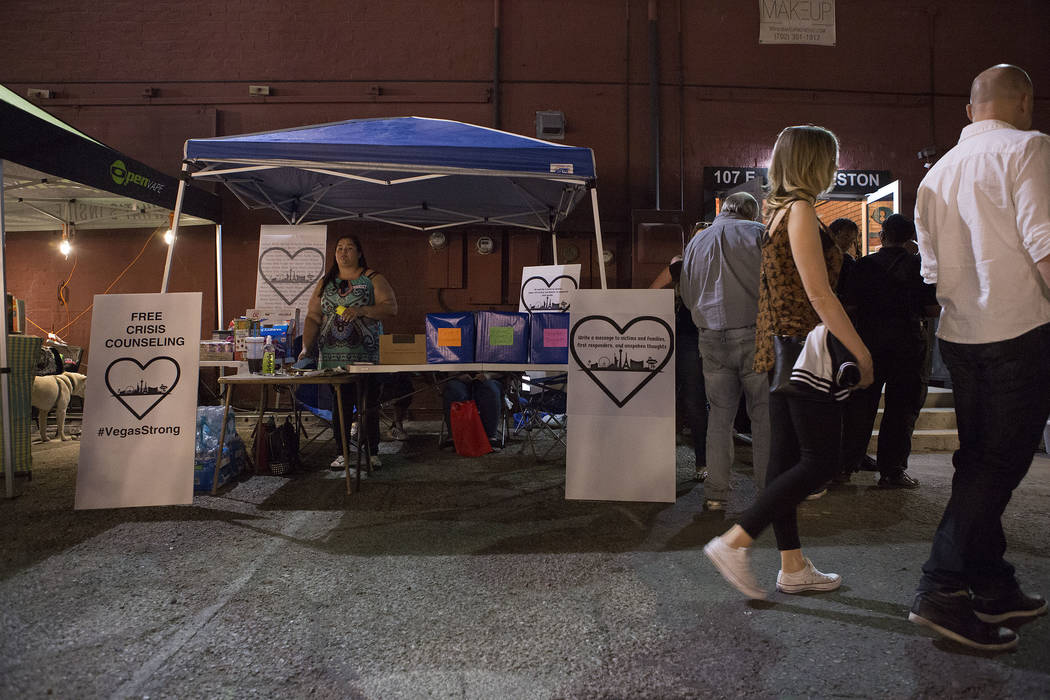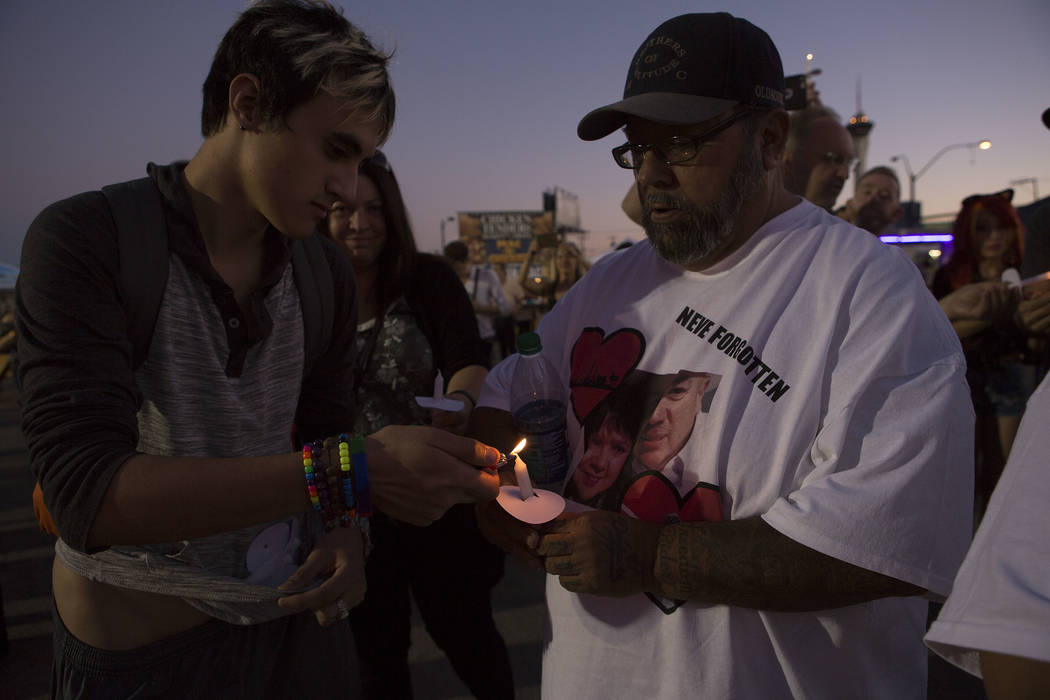 Vegas does not cower. Vegas rises.
Proof is this heartening vista: Good-time seekers, stretched across and spilling over downtown streets and lots at First Friday — an open-air, 15th-anniversary celebration less than a week after a gunman fired upon an outdoor throng of music fans from a Mandalay Bay hotel suite.
Yet this throng would not be denied communion with its common humanity.
"Vegas is a community," said Kate Provost, who helped organize a counseling area for attendees."We come together when we need each other. This is something fun, it's light, and I'm really excited to see the turnout."
Turnout easily surpassed the approximate average of 15,000 on fair-weather nights. Volunteer coordinator Steve MacWithey estimated about 20,000 to 25,000 attended throughout the evening. Extra police and barricade points around the downtown streets nearly doubled the usual security presence.
"First Friday is always a safe place, but we wanted people to feel even safer," MacWithey said. "We had some people close to my team here who passed away. So it's important for people to come here every month to support their community, but this month more than ever."
As always at First Friday , vendors were out in full force. (A "hot diggity dog" sliding down your gullet? "Fluff ice"? "Crack corn"? ). Artists peddled all manner of visual art. (Topless Marilyn Monroe for over your mantelpiece? A come-hither Catwoman? A malevolent ET flashing the finger?) And booths brimmed with, well etceteras. (Bongos, you hepcats? A lamp constructed of Jack Daniels bottles? "Buttery soft" leggings—go on, touch 'em!))
Plus heartfelt solidarity.
"Look up in the sky," said Mayor Carolyn Goodman from the main stage to the crowd hoisting flickering white candles. "There are 58 new stars, the ones we lost."
Across from the stage sat the new Las Vegas Community Healing Garden, the atmosphere enveloped in subdued respectfulness, where the remembrance wall was strewn with notes such as this one: "We are linked forever. With love and hope we can heal." Before a picture of shooting victim Cameron Robinson, his friends Ian Perry and Tracy Hoak quietly paid their respects, gazing at his image.
"We just left the funeral home for his viewing," Hoak said. "Out of 20,000 people at (the site of the mass murder), that one of my best friends was one of the victims? Disbelief." Added Perry: "Just staying at home tonight would have given me guilt. And a life lived in fear is not a life worth living."
Laughter, music, pounding drums, flashing lights — a woman cooing "have a blessed evening" — created a life-affirming cacophony. "I just couldn't be more proud of my community," said Ken Kastle, aka "Doc Phineas," the "Pawn Stars" antiquities expert, colorfully decked out (as The Wizard of Oz, he insisted). "So many stories of heroism. What major city has blood (banks) overflowing so we're actually turning people away from the Red Cross? That's the heart of Vegas."
First Friday first-timer Devon Charters passed out candles to passers-by for the vigil. "After what happened you need to come out and show support for your community," he said, a sentiment widely echoed. "People may be thinking to themselves now, I'm gonna go out and be in public again," counseling area volunteer Alex Aiken said.
And as a performer serenaded the swaying, candle-holding crowd with the words of Leonard Cohen's "Hallelujah," there was nothing more to say but … #VegasStrong.
Contact Steve Bornfeld at sbornfeld@reviewjournal.com. Follow @sborn1 on Twitter.