Las Vegas Book Briefs for Dec. 18-24, 2014
December 19, 2014 - 2:44 pm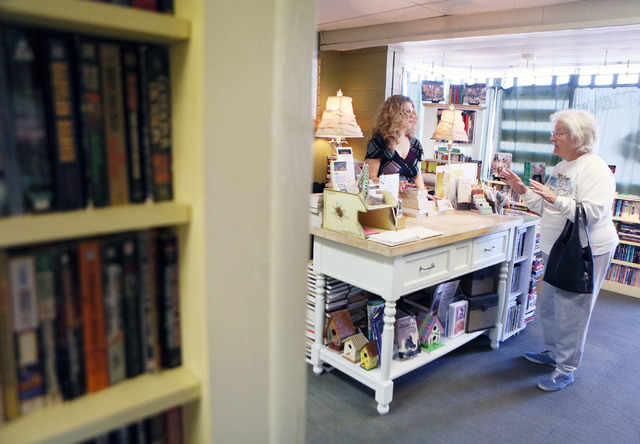 BOOK BOUTIQUE SLATED TO CLOSE
After nine years of operation, the Henderson bookstore the Book Boutique is set to close. "It is with a heavy heart that I announce the CLOSING of the Book Boutique," Owner Shereen Hale posted on the store's Facebook page. Hale said she has accepted a job offer with the state of Nevada and plans to close the 19 W. Pacific Ave. store but continue to sell books online. For more information, visit facebook.com/nvbookboutique.
LIBRARY DISTRICT TEAMS WITH CHILDREN'S MUSEUM FOR CARD CAMPAIGN
The Discovery Children's Museum is teaming up with the Las Vegas-Clark County Library District for a library card campaign throughout December.
Sign up for a new card or like the library district on Facebook, and be entered into a drawing for a gift basket containing a family membership to the museum. Current card members can get a $3-per-person discount on museum admission throughout December. Visit lvccld.org or discoverykidslv.org for details.
SIGNING SET FOR 'SUPERNATURALLY BLESSED'
Local author Vickie Franks is set to sign copies of her book "Supernaturally Blessed" and deliver a message intended for young female readers from 2:30 to 5 p.m. Dec. 27 at the Las Vegas Library, 833 Las Vegas Blvd. North. Refreshments and giveaways are planned.
POETS CAN SEEK FEEDBACK AT 5/5+
Poets are invited to share original work for five minutes followed by attendees offering comments for five minutes during 5/5+, a workshop series put on by Nick Marco, Lana Hanson and Lee Mallory, scheduled every two weeks at BooksorBooks, 3460 E. Sunset Road, Suite R. The next session is planned from 3 to 5 p.m. Dec. 20. For more information, call 702-754-5971, email jtjmarco@live.com, raisewomenup@gmail.com or leewmallory3@gmail.com or search for 5/5+ on Facebook.
SIGNING SET FOR MARKY RAMONE'S MEMOIR
Marky Ramone is slated to sign copies of his book "Punk Rock Blitzkrieg: My Life as a Ramone," written with Richard Herchlag, at 7 p.m. Jan. 7 at the 2191 N. Rainbow Blvd. Barnes & Noble.
BAD KITTY AUTHOR PLANS LAS VEGAS VISIT
Nick Bruel, best know for his Bad Kitty books for young readers, is scheduled to visit with readers at 7 p.m. Jan. 8 at the 2191 N. Rainbow Blvd. Barnes & Noble. For more on the author, visit nickbruel.com.
SCIENCE FICTION AND FANTASY GROUP TO LAUNCH IN LIBRARY
Readers, writers and editors of science fiction and fantasy are invited to check out a new group scheduled to meet at 2 p.m. Saturdays in meeting room two at the Green Valley Library, 2797 N. Green Valley Parkway. For more information, call 702-334-0204.
MOB TO TAKE OVER LIBRARY
Mob Month is on the way with free programs featuring authors, experts and more throughout January at the Clark County Library, 1401 E. Flamingo Road. Events are planned from 7 to 9 p.m. Tuesdays with "The Mob on Trial — The Kefauver Hearings and Their Impact on Organized Crime" on Jan. 6, "The Fix is in — Sports and The Mob" on Jan. 13, "The Great Debate — Is The Mob Still in Las Vegas?" on Jan. 20 and "Our Kansas City Connection and a Screening of 'Gangland Wire'" on Jan. 27. For more information, visit lvccld.org or call 702-507-3458.
LAS VEGAS WRITERS GROUP TO FEATURE LAURA MCBRIDE
Laura McBride is scheduled to speak on using setting as a character during a meeting of the Las Vegas Writers Group scheduled for 7 p.m. Jan. 15 at the Tap House, 5589 W. Charleston Blvd. A $5 meeting fee is charged. McBride's debut novel "We Are Called To Rise" is set away from the neon lights in contemporary Las Vegas. For more information, visit meetup.com/las-vegas-writers.
BANK TO MATCH BOOK DONATIONS
Donations of books at area Barnes & Noble bookstores will be matched by City National Bank during a holiday book drive. For more information on the drive and the bank's ongoing literacy efforts, visit readingisthewayup.org.
AUTHOR TO EXPLORE WISDOM OF DREAMS
Author and astrologer Cathy Pagano is set to explore the meaning of dreams and how they can help us understand ourselves during a free lecture at 1 pm. Jan. 11 at the West Charleston Library, 6301 W. Charleston Blvd. For more information, visit lvccld.org.
POETS TO SPEAK OUT AT FIRST FRIDAY
Las Vegas First Friday Poets plan on taking poetry to the streets from 5 to 11 p.m. Jan. 2 during the monthly First Friday arts festival. Local poet and event producer Lee Mallory and local poet Lana Hanson plan to host a gathering of bards during festivities on Colorado Avenue between Third Street and Casino Center Boulevard. For more information, contact Mallory at leewmallory3@gmail.com or 702-733-7734.
THE WRITER'S BLOCK STAFF TO DISCUSS INDIE BOOKSTORE, SELF-PUBLISHING
Drew Cohen and Kristen Zory King are set to present a program titled Self-publishing, The Indie Bookstore and Me during a meeting of the Las Vegas Romance Writers scheduled from 10 a.m. to noon Jan. 17 in the Findlay Chevrolet Community Room, 6800 S. Torrey Pines Drive. The group is slated to return to its Green Valley Library home for its March meeting. Cohen is co-owner of the downtown Las Vegas indie bookstore The Writer's Block. King manages the store's social media channels. For more on the event, visit lvrwa.org.
BOOK LAUNCH PLANNED AT TUSCANY GRILL
Anthem author Robert Stern plans to launch his newest book "HOA Wars: What Happens in Vegas Can Happen Anywhere" with a party with hors d'oeuvres and a no-host bar from 5 to 8 p.m. Jan. 28 at Tuscany Grill, 11105 S. Eastern Ave.
DATES SELECTED FOR 2015 VEGAS VALLEY BOOK FESTIVAL
The 2015 Vegas Valley Book Festival is set for Oct. 15-17. Authors and volunteers interested in participating can register at vegasvalleybookfestival.org/2015-interest-form. Submissions will be taken through March 31. For more information, visit vegasvalleybookfestival.com.
UNLV WRITERS WELCOME ALL TO NEON LIT
Neon Lit, a public reading featuring writers from UNLV's Master of Fine Arts and Ph.D. writing programs, is scheduled the last Friday of most months in the Trifecta Gallery in The Arts Factory, 107 E. Charleston Blvd. Doors open at 6 p.m. and readings are set to begin at 7 p.m. For more information, visit neonlit.org.
BARNES & NOBLE TO HOST WRITING GROUP
The 2191 N. Rainbow Blvd. Barnes & Noble plans to host a writing critique group at 5:15 p.m. the fourth Monday of each month. The group is limited to the first 20 participants per meeting. Sign up at meetup.com/las-vegas-creative-writing-class.
ALIANTE LIBRARY TO HOST WRITERS CLUB
The Aliante Library Writers Club is scheduled to meet from 5:30 to 7:30 p.m. the first and third Tuesday of each month at the Aliante Library, 2400 W. Deer Springs Way. For more information, email facilitator Glory Wade at glorywadewriter@gmail.com.
SHARE POEMS AT HUMAN EXPERIENCE
Polish up a poem or two and try them out at Human Experience, a free spoken word event scheduled from 7 to 9 p.m. Mondays in The Beat Coffeehouse inside Emergency Arts, 520 Fremont St. For more information, visit lasvegaspoets.org.
ART CENTER TO HOST POETS CORNER
The West Las Vegas Arts Center, 947 W. Lake Mead Blvd., plans to host poets corner readings with Keith Brantley at 7 p.m. the first and third Friday of each month. For more information, call the center at 702-229-4800.
FREE READ TO ME PROGRAM OFFERED
Celebrity storytellers Oscar Goodman, Rita Rudner, Clint Holmes, Terry Fator, Carrot Top, The Scintas and others have donated their talents to the Clark County Education Association Community Foundation's Read To Me program. Children can view more than 15 videos of celebrities reading books on the website at readtomelv.com. Stories also can be accessed by calling 702-240-2665. Both databases are frequently updated with fresh stories. Parents and teachers can download lesson plans for each book on the website.
ZINE LIBRARY OPEN IN EMERGENCY ARTS
Grab a cup of coffee and check out the independently crafted magazines at the Las Vegas Zine Library inside The Beat Coffeehouse in Emergency Arts, 520 Fremont St. The library is more of a collection on display for reference and on-site reading than a checkout repository. Contributions of zines are appreciated. For more information, visit lvzinelibrary.blogspot.com.
HENDERSON WRITERS GROUP MEETINGS SET
The Henderson Writers Group plans to meet from 6:30 to 8:45 p.m. Mondays in Room C-2 at Community Lutheran Church, 3720 E. Tropicana Ave. Meetings are typically canceled on holidays. For more information, visit hendersonwritersgroup.
MEMOIR-WRITING WORKSHOPS SLATED
An ongoing series of free four-week memoir-writing workshops is scheduled at noon Wednesdays and 10 a.m. Fridays at the Las Vegas FamilySearch Library, 509 S. Ninth St. Four-week sessions are set to begin the first week of every month. For more information, call 702-382-9695.
FREE STORYCORPS TOOLKIT HELPS COLLECT MEMORIES
The national StoryCorps' Memory Loss Initiative encourages people with memory loss to share their stories with loved ones and future generations. To make that task easier, a free step-by-step toolkit is available to download at storycorps.org/mli. The Commemorate toolkit offers an individual reminiscence program that family members can initiate or memory loss care facilities can add to activities. The initiative has collected more than 1,800 interviews with 180 partner organizations. For more information, visit storycorps.org or call 646-723-7027.
ACCESS RECORDED BOOK PROGRAMS ONLINE
Too busy to get out to book programs? The Las Vegas-Clark County Library District posts videos and podcasts of many of its programs online. Selections available include: "An Afternoon with Tony Curtis," John L. Smith's presentation "Amelia's Long Journey: The Challenge of Writing What You Know," "Batman" movie producer Michael Uslan's presentation at the 2009 Vegas Valley Comic Book Festival, Jami Carpenter's "ABCs of Editing" workshop and Brian Rouff's "Getting Published: A Long Strange Trip." To access the programs, visit lvccld.org, select "Books, Movies & More" and then "Video and Podcasts."
The Black Mountain Institute has offered recordings of its programming since 2006. To access recordings of a gamut of writers from E.L. Doctorow to Alissa Nutting, visit blackmountaininstitute.org and select "multimedia."
AUTHOR JENNIFER DEBS PLANS SESSION
Jennifer Debs plans an author session at 2:30 p.m. March 8 at the Summerlin Library, 1771 Inner Circle Drive.
Debs is the author of author of "Back in Two Weeks," about her experiences in the Air Force and being deployed overseas.
For more information, call Marcela Chiarandini at 702-507-3631.