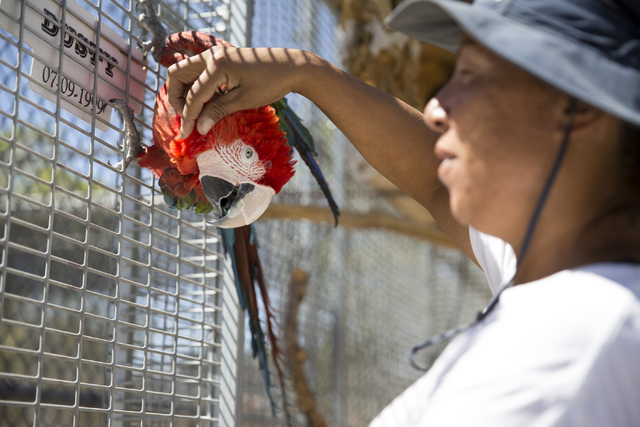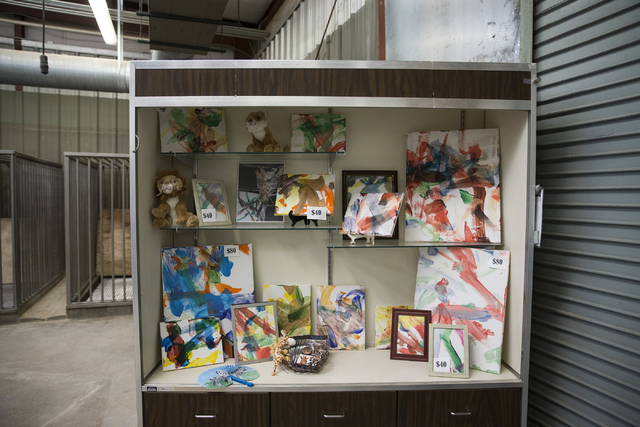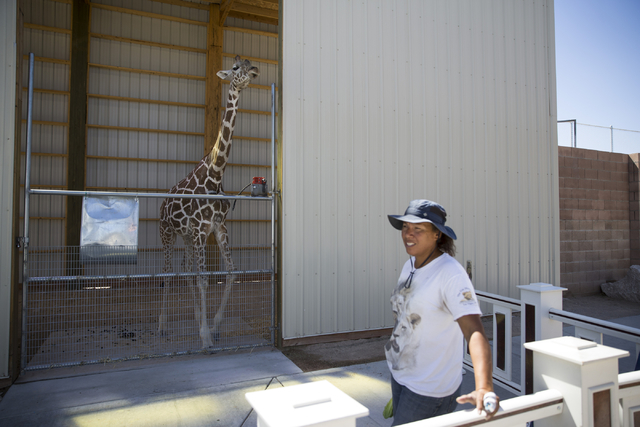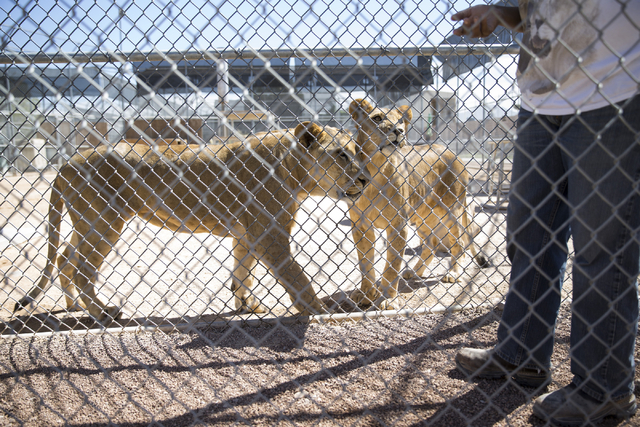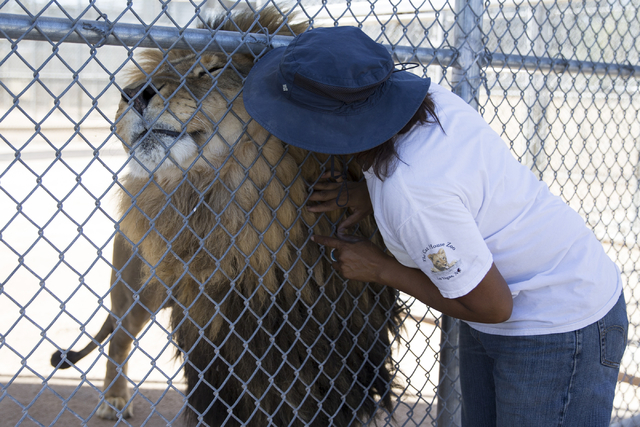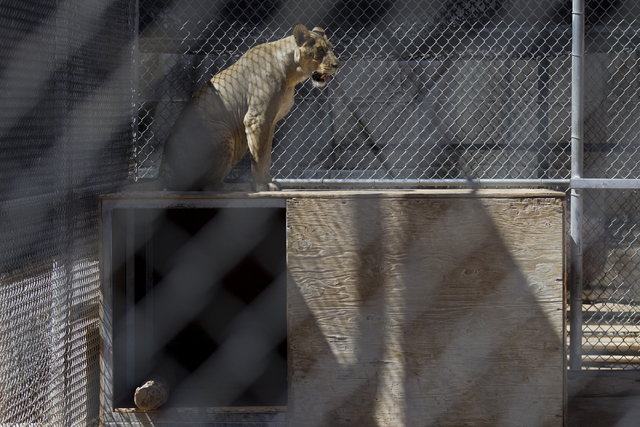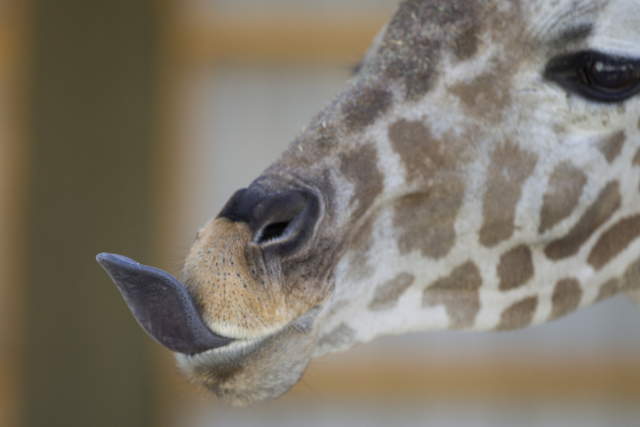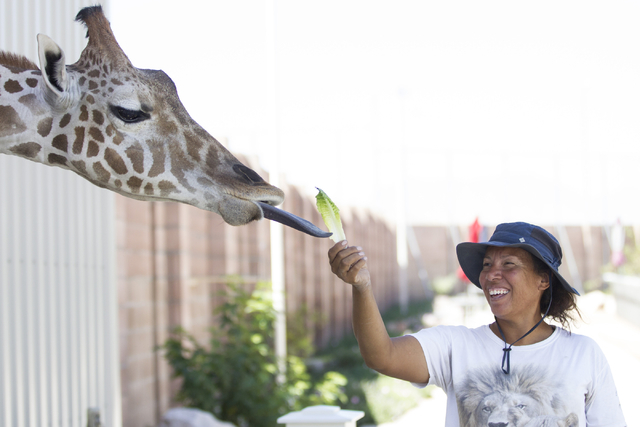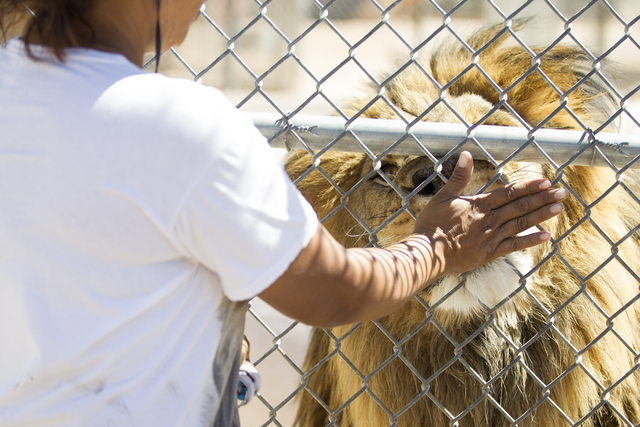 Ozzie the giraffe peeks his head from behind the fence when he hears people approaching his gate of enclosure at Henderson's Lion Habitat Ranch.
If you hold out a piece of lettuce, he'll get a little closer and stick out his long, black tongue to wrap around it.
Ozzie is one of the new additions to the ranch. He arrived at the 382 Bruner Ave. facility about seven months ago.
"We are constantly growing," ranch manager Cristina Cuellar said.
The ranch wanted to construct a full-size barn for Ozzie, a project it was recently able to complete thanks to the help of some area businesses, including Penta Building Group.
"Without generosity from the community, we wouldn't have the enclosure for him," Cuellar said.
Penta took the lead on the project and helped organize construction of a new space for Ozzie.
"We are always looking for ways to give back," added Penta area field manager Tony Cornell.
He said the business developed a relationship with the ranch whenever its office was close to the facility. Penta employees — along with volunteers from Tab Contractors, Sunstate Equipment, Nevada Ready Mix, and Western Elite — removed the existing concrete wall, dug footings, and poured and set the concrete columns as the base of the barn structure, where Ozzie now lives.
Cornell said the project took about two months to organize.
"It was about 11 days of total construction," he added.
Ozzie's new enclosure is more than 25 feet tall to allow the giraffe room to grow — the 2 ½-year-old is currently about 12 feet.
"He should grow to be 18 or 20 feet," Cuellar said.
With the addition of Ozzie and his enclosure, the ranch has come a long way from where it opened in 2012.
Prior to becoming an attraction open to the public, the ranch — formerly known as The Cat House — housed only lions, which were on public display during the day at the MGM Grand. The lions were transported daily back and forth from the ranch to the Strip.
When the contract between the ranch and MGM ended in 2012, ranch owner Keith Evans transformed his facility to be open to the public. Since then, he has made changes in the facility and added other animals.
The ranch now also has a Zoological Association of America accreditation and has collected emus, ostriches and a variety of birds from other zoos and facilities in Nevada that were closing down.
Currently, it has 39 lions — all descendants of the original bloodlines that were on display at the MGM Grand. In the early morning or late at night, the lions on the property take turns roaring back and forth.
"It's quite a sound," Cuellar said.
Separated by families, each lion cage is equipped with air-conditioned boxes to shade the animals.
In addition to a tour of the facility, the ranch offers special packages such as Feast with the Beast ($300 for 20 people), which allows customers to rent out a space — enclosed within glass — that allows them to eat with the lions.
Ozzie came to Las Vegas from a Kansas zoo as part of Evans' mission to expand the ranch. Along with feeding him, guests can requests packages to paint with the giraffe, who can put the brush in his mouth and create works of art available for purchase in the gift shop.
While it continues to acquire more animals, the ranch hopes to make more connections with the community and get its name out, Cuellar said.
"It's crazy that we have people who live in this area but have no idea we're here," she added. "It's sad Las Vegas doesn't have a zoo like other larger cities do. One day, we hope to be an official zoo."
General admission is $25, which includes one free admission for a child between age 4 and 14. Children 4 or younger are admitted free.
Visit lionhabitatranch.com, or call 702-595-6661 on weekdays and 702-595-6666 on weekends.
To reach Henderson View reporter Michael Lyle, email mlyle@viewnews.com or call 702-387-5201. Find him on Twitter: @mjlyle.
Lion Habitat Ranch
Address: 382 Bruner Ave.
Hours: Effective, Sept. 30, fall/winter hours are set to be 11 a.m. to 3 p.m. Friday through Monday (last entry at 2:30 p.m.)
Information: Visit lionhabitatranch.com, or call 702-595-6661 on weekdays and 702-595-6666 on weekends.