Las Vegas designer revamps children's rooms with downtown business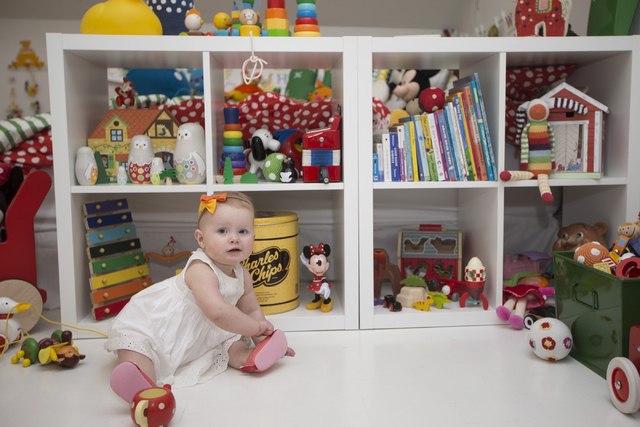 Downtown business owner Jannicke Ramso has had an interesting set of customers since opening her firm a year ago. Some of her clients are still in diapers, while others are barely learning how to walk. Ramso's interior design company, Tiny Little Pads, focuses on the youngest members of families.
Tiny Little Pads, 817 S. Main St., designs high-end children's spaces ranging from nurseries to playhouses. Ramso describes her style as a blend of vintage and antique designs with modern home trends.
Before starting her own business, Ramso designed spaces for casinos and resorts for almost a decade, but after becoming a mother of two, her interests shifted. She enjoyed working on her firstborn's room so much that she wanted to share that experience with other families.
"Kids are so honest and so true to what they see around them and what it creates in their little head," Ramso said. "To get to see that joy from children is just so different than just working with hospitality design or typical residential clients."
East valley resident Jamie Bennett designed her daughter's nursery herself, but as her daughter grew older, she needed to convert the room to fit her daughter's liking. Bennett had a hard time putting the finishing touches on the new concept and making everything match. After seeing what Ramso, her neighbor, was able to do with her own toddler's room, Bennett hired the designer to give her a fresh perspective.
"You can only think up so much in your mind, and you start to draw a blank at some point," Bennett said. "Jannicke is really good at knowing what you are thinking in your head and making it come to life. She knows how to take color and make it all work."
From her experience, Ramso knows that an important part of designing children's rooms, aside from parents' input, is including kids in the process.
"That's what makes it fun for parents and for the children," Ramso said. "Children are creative, and if you take them through the design challenges of doing a room, their minds are brilliant."
Ramso said that by adding a couple of a kid's favorite colors or toys to their room, the child will be able to fully appreciate the final design.
Being able to listen to her clients is what former interior design and small-business owner Susie Radke considers makes Ramso great at what she does.
"She has a heart for old things and things with stories, and sentimental touches are crucial for making a kid's room specific to them," Radke said.
Although she has been in business for only a short amount of time, Ramso has big plans for her company. She wants to have her local client base extended to California and said she is willing to travel anywhere in the world for customers. Her more immediate plans are to market Tiny Little Pads' latest service — children's party planning.
"There's a lot going on in the world of parties and children, but there isn't really anyone in Las Vegas focusing on just children's parties," Ramos said. "If you come to Tiny Little Pads for a party, you are going to have a one-of-a-kind experience, for sure."
Pictures of Ramso's designs and parties can be found on her website, tinylittlepads.com.
To reach View intern reporter Rocio Hernandez, email rhernandez@reviewjournal.com or call 702-387-5233. Find her on Twitter: rociohdz19.
Tiny Little Pads
Address: 817 S. Main St.
Visit tinylittlepads.com or call 702-443-2077.