Las Vegas group meets monthly to explore all aspects of Civil War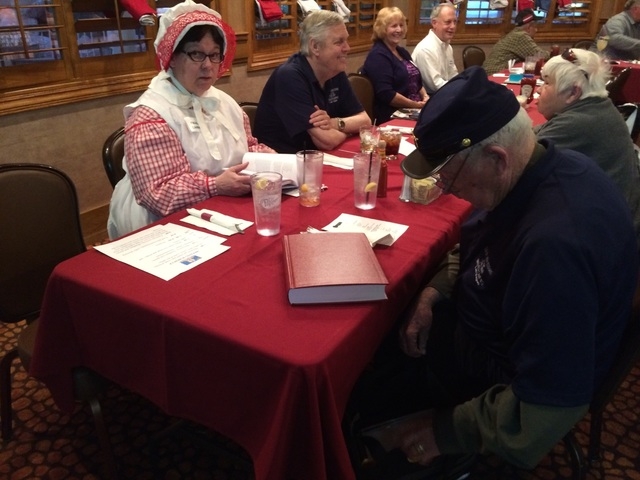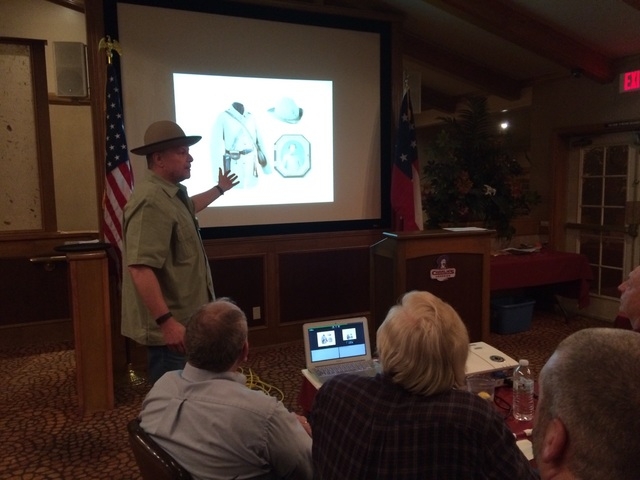 This year, the Las Vegas Civil War Round Table is marking the 150th anniversary of the War Between the States. Nevada's input into the Civil War was mostly monetary, with its mining industry fueling the North. The conflict led to it attaining statehood (hence the nickname Battle Born), but the local group of enthusiasts claim a more fervent connection: Many had ancestors in the war.
Its March 22 meeting at Charlie's Lakeside, 8603 W. Sahara Ave., saw more than 24 members plus a handful of first-timers.
David Utermoehlen joined about 1½ years ago, wanting to learn more about the war.
"You get the Confederates' side of the story (here) because the winners write the history," he said. "The losers do not get to write about things from their perspective, so this venue allows us to explore more details."
Don Hotchkiss is known as the quintessential "Jeopardy!" champ among the group. When it comes to anything about the Civil War, he can recite facts, dates and names at the drop of a Union soldier's cap.
He said various aspects of the war interested him.
"My family was called (to serve in) the Civil War," he said. "I had 450 family members who fought for the North; 45 died. Thirty-five members of my family fought for the South; 16 of them were slave owners."
Through research, he said he learned there were Hotchkisses present at all the major battles. And his family did not just fight; some members held notable positions. Jedediah Hotchkiss, for example, was the mapmaker for Stonewall Jackson. Another, Pezort ZeRoy Hotchkiss, delivered the telegraph to Abraham Lincoln, telling him he'd won the 1860 election. Pezort later was involved in the war effort, sending telegraphs to the generals from Washington, D.C.
But Pezort also had a second job as a newspaper reporter.
"So, when he sent telegraphs telling this general or that to move troops from Point A to Point B, a couple days later, he'd put on his other hat and tell his newspaper editor, 'I have it on good authority that the army is moving from Point A to Point B.' And he picked up a second check as a reporter," Don Hotchkiss said.
He said he's writing a book about his family's contributions to both sides of the war.
Mark Clevenger was at the round table for the second time.
"I think it's a great group. I've always studied the Civil War ever since I found an ancestor in it," he said, adding that his ancestor, David Clevenger, was in the 1st Nebraska Cavalry Troop F and died when he was about 22, in Arkansas, fighting Gen. Joseph Orville Shelby's men.
Mark Clevenger brought a framed portrait of the young man in uniform, holding a gun made by Savage.
"Grandpa showed me (this daguerreotype) when I was a kid, and I thought that was the coolest thing I'd ever seen, " he said.
Pete Carnes, president of the group, said his great-grandfather was an artillerist with the South Carolina troops at Gettysburg.
When group members bring in items that pertain to the war, he said that seeing people's diaries were the most interesting for him, but that no one account stood out.
"They're all good in their own way," Carnes said. "Everybody has a different story."
And how would he rate "Gone with the Wind" for its historical accuracy?
Carnes folded his arms and hesitated.
"It was interesting," he said. "That's all I'm going to say."
Perhaps Patrick Knierman, a member for three years, has the most modern connection to the Civil War. He was a ranger at the Gettysburg National Military Park in Pennsylvania for 15 years.
"I've always had a strong interest in history," he said. "I like this group because you get all kinds of scholarly viewpoints."
This night was show-and-tell for the group, with various members going up to show some artifact they'd brought. Charles Smith talked about hat styles worn by men during the time of the Civil War and showed a replica hat he had made.
Carnes' wife, Paula, wore a period costume consisting of a gingham dress and a bonnet she had sewn, to show how women dressed in the 1860s. Jim Swan brought an Ames sword imprinted with the year it was made: 1861. He told how, after the war, it was learned that Ames Manufacturing Co., based in Chicopee, Mass., was as an equal opportunity business, selling to both the North and the South.
The Las Vegas Civil War Round Table was established about 10 years ago by the late Merle and Pat Sumner and originally met at the Spring Valley Library. It now has about 45 members, with perhaps half present at any one meeting.
The group meets at 7 p.m. the fourth Tuesday of the month at Charlie's Lakeside. It delves into all facets of the Civil War and welcomes anyone interested in the topic. There are no dues, and any funds raised through its raffles go to preserve battle fields for future generations.
The next meeting is slated for April 26 and is set to have Smith present "Co. Aytch: A Confederate Memoir of the Civil War."
Email Carnes at secesh@lvscv.com or call 702-858-9963.
To reach Summerlin Area View reporter Jan Hogan, email jhogan@viewnews.com or call 702-387-2949.
Las Vegas Civil War Round Table
The group meets at 7 p.m. the fourth Tuesday of the month at Charlie's Lakeside, 8603 W. Sahara Ave. The next meeting is set for April 26 and is free and open to the public.
Email group president Pete Carnes at secesh@lvscv.com or call 702-858-9963.