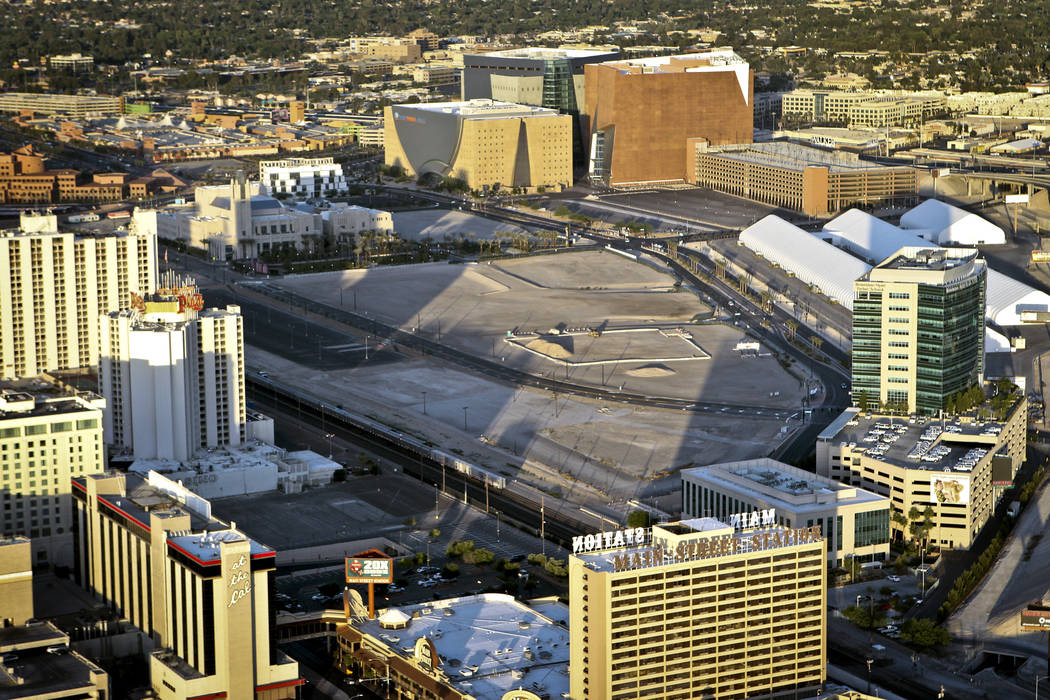 A pair of new projects propose filling in empty Symphony Park space with 300 apartments and a hotel.
Next week the Las Vegas City Council will consider selling a slice of Symphony Park to a developer who wants to build 299 apartments and 4,000 square feet of retail space for $2 million. It will be the second time in as many months the council has considered selling land for significantly less than its assessed value.
A pair of appraisals valued the roughly 4-acre parcel at a low of $4.9 million and a high of more than $16 million.
"I've told our staff I'm not happy with that," Councilman Bob Coffin said of selling land below market value. "When you do these things without bids, you run into the likelihood people will be upset because they might have offered more money."
Breckenridge Group Las Vegas Nevada LLC is the developer.
The council in December voted to sell a 5-acre parcel in Symphony Park for $4.25 million to SLC Development Inc., for another 300-apartment project with ground-level retail space.
A pair of appraisals for that piece of property, across the street from The Smith Center for the Performing Arts, came in at $6.2 million and more than $20 million. The potential for selling the land to a commercial developer, which can offer to pay much more than a residential developer, factored into the higher appraisal.
The city owns Symphony Park, which is home to The Smith Center, the Cleveland Clinic Lou Ruvo Center for Brain Health and the Discovery Children's Museum.
City officials had high hopes for a development boom in Symphony Park, but once the recession hit, projects were slow to fill in.
Also at Wednesday's meeting, the council will consider entering an exclusive negotiating agreement with the Jackson-Shaw Company for a feasibility study about developing a hotel in Symphony Park.
The company is proposing a hotel with at least 300 guest rooms and a restaurant, and it has asked the city for a 120-day agreement to conduct engineering and environmental studies on the site. Symphony Park is a 61-acre former Union Pacific rail yard.
Contact Jamie Munks at jmunks@reviewjournal.com or 702-383-0340. Follow @Journo_Jamie_ on Twitter.