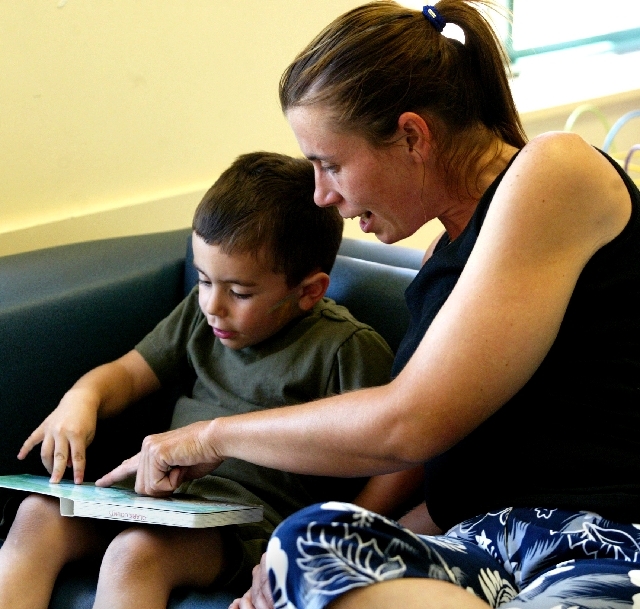 Summer is a time for students to move forward or fall back academically — a trend known as the summer slide. Kids who do not read during their break from school will likely start school in August behind their grade level.
"By reading through the summer they continue learning and sometimes even make gains," said Betsy Johnson, head of the youth services department at the Paseo Verde Library in Henderson. "We strongly encourage leisure reading, even if it's something easy or picture books. We want them to find the pleasure in reading because they'll do it more often. That kind of reading still helps them, even comic books."
The three library districts in the Las Vegas Valley are offering reading programs they hope will pique students' interest and keep the summer slide from happening.
HENDERSON LIBRARIES
Henderson Libraries' program is scheduled June 8-Aug. 24 and challenges students to read 20 hours during that time. For completing the 20 hours they will receive a pass to the Shark Reef at Mandalay Bay and a paperback book.
About 3,450 kids 11 or younger signed up for last year's summer reading program, with about 1,300 reaching the 20 hours, Johnson said. About 500 teens signed up, and 177 completed the 20 hours.
"They can do it starting at age 0," Johnson said. "We have a lot of parents that don't understand pre-readers are allowed to participate."
Johnson said the libraries also plan activities during summer, such as arts and crafts. A list of activities and programs are available at mypubliclibrary.com.
To sign up for the summer reading program, visit the website or visit any library branch. Reading hours can be tracked online or on paper.
Locations are:
–– Paseo Verde Library, 280 S. Green Valley Parkway, 702-492-7252
–– James I. Gibson Library, 100 W. Lake Mead Parkway, 702-565-8402
–– Green Valley Library, 2797 N. Green Valley Parkway, 702-207-4260
NORTH LAS VEGAS LIBRARY DISTRICT
The North Las Vegas libraries' summer reading program is scheduled June 5-July 31 for those 18 or younger.
Elementary-age kids can earn prizes for reading 15 books, with bigger prizes awarded after each time 15 books are completed. Students in middle school and high school will keep track of time spent reading and can earn prizes for reading 10 hours.
Patrick Hinrichs, family services librarian at the North Las Vegas Library, said each library also plans to raffle off grand prizes at the end of the program. Prizes include a LeapPad for younger children, a Razor scooter for elementary students and an iPod Shuffle for teens.
"The summer program's probably going to reach the ones that need that incentive," Hinrichs said. "We have the ones that are here two or three times a week anyway; if there's something we can do to get them to read and return, it's a wonderful thing."
To sign up for the program, visit any North Las Vegas library branch and receive a paper log to track reading. For more information, visit nlvld.org.
Locations are:
–– North Las Vegas Library, 2300 Civic Center Drive, 702-633-1070
–– Aliante Library, 2400 W. Deer Springs Road, 702-839-2980
–– Alexander Library, 1755 W. Alexander Road, 702-633-2880
LAS VEGAS-CLARK COUNTY LIBRARY DISTRICT
The Las Vegas-Clark County Library District's summer reading program, Club Read, is scheduled through Aug. 3. The library district had 23,790 kids sign up for last year's program, according to Mary Nelson Brown, youth services coordinator. She said the district hopes to reach more this summer.
"The library district puts a lot of effort into this program," Brown said. "… This is our biggest program of the year for youth. We're encouraging them to enjoy reading for the fun of it."
The library district has programs for toddlers, elementary-age students and middle and high school students. They can keep track of books read through an online system or on a paper log. They can sign up for the program at lvccld.org or at any library branch.
For every five books read, they will earn a "book buck," which can be redeemed for a book at any used bookstore run by the library district's foundation. Once they reach 20 books, they earn a larger prize based on their age. Prizes include a picture book for younger kids, a medal for elementary students and earbuds for teens.
Each library branch also plans weekly drawings, Brown said.
"We want to send along the idea that everybody who reads is a winner," she said.
Brown said there will be events scheduled throughout summer at all the library branches, such as puppet shows, storytellers, live concerts and theater shows.
For more information and a list of events, visit lvccld.org.
Library locations are:
–– Centennial Hills Library, 6711 N. Buffalo Drive, 702-507-6100
–– Clark County Library, 1401 E. Flamingo Road, 702-507-3400
–– Enterprise Library, 25 E. Shelbourne Ave., 702-507-3760
–– Las Vegas Library, 833 Las Vegas Blvd. North, 702-507-3500
–– Meadows Library, 251 W. Boston Ave., 702-474-0023
–– Rainbow Library, 3150 N. Buffalo Drive, 702-507-3710
–– Sahara West Library, 9600 W. Sahara Ave., 702-507-3630
–– Spring Valley Library, 4280 S. Jones Blvd., 702-507-3820
–– Summerlin Library, 1771 Inner Circle Drive, 702-507-3860
–– Sunrise Library, 5400 Harris Ave., 702-507-3900
–– West Charleston Library, 6301 W. Charleston Blvd., 702-507-3940
–– West Las Vegas Library, 951 W. Lake Mead Blvd., 702-507-3980
–– Whitney Library, 5171 E. Tropicana Ave., 702-507-4010
–– Windmill Library, 7060 W. Windmill Lane, 702-507-6030
Contact View education reporter Jeff Mosier at jmosier@viewnews.com or 702-224-5524.