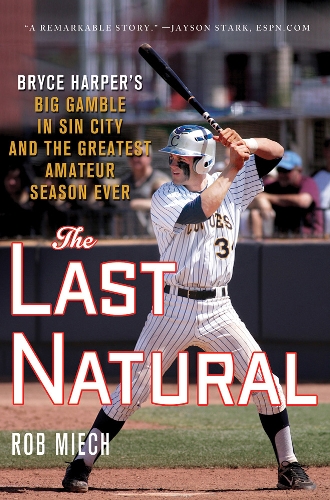 Veteran Las Vegas sportswriter Rob Miech was given behind-the-scenes access to the College of Southern Nevada's baseball team to follow the rise of Bryce Harper, a local high school sports star who got his GED after his sophomore year and joined the CSN team to hone his skills with the wooden bat and to be eligible for the Major League Baseball draft a year early.
Miech is scheduled to sign copies of the book born of his experiences, "The Last Natural: Bryce Harper's Big Gamble in Sin City and the Greatest Amateur Season Ever" from noon to 3 p.m. Saturday at the 8915 W. Charleston Blvd. Barnes & Noble.
Miech brings readers the story from inside the dugout, locker room and tour bus, where he was embedded with the College of Southern Nevada Coyotes during Harper's lone junior college season.
For more on the book, visit robmiech.com.
Excerpt from "The Last Natural"
In the ten previous CSN seasons, maybe a dozen scouts had watched the Coyotes at any particular practice. Twenty-four hours after this practice, Morse would burst at its seams with a record crowd of nearly two thousand. In three weekends, CSN would surpass its gate revenue from the entire 2009 season. They all were eager to see what the Rook, what Chambers called his burgeoning star, would do with a wooden bat in junior college.
The scouts swarmed that Thursday practice to see Harper, who had graced the June 8, 2009, cover of Sports Illustrated wearing his red Las Vegas High jersey and gaudy wrestlerlike eye black, at the tail end of his powerful left-handed swing, squinting as if he were watching the Rawlings he had just poked turn into a pea and plop into the Pacific Ocean, with the setting sun glowing orange against the base of Frenchman Mountain behind him.
"Looks a little lean," a scout said to Fouts.
"He's at 208 pounds," said Fouts, glancing at the six-foot-three Harper. "Don't worry. He's eatin' Mama's cookin'."
Harper towered over Chambers, Fouts, and just about everyone else in the stadium that afternoon. Indeed, when infielder Casey Sato first saw Harper enter the CSN clubhouse, he thought the slugger looked more like a twenty-two-year-old man-a pro seasoned by a rapid rise in the minor leagues who carried himself like John Wayne, just as his old man had taught him-than a kid who was halfway through high school.