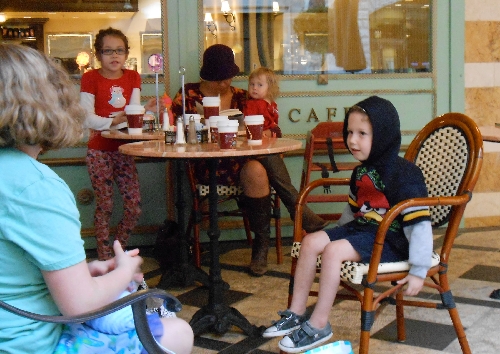 It is rare to see an 8-year-old reciting the poetry of Ezra Pound at a coffee shop, but that is the type of community gathering a new downtown Las Vegas-based app is trying to promote.
Ayloo, a new iPhone application, aims to connect community organizers to people and venues willing to attend and host their events, such as the Performance Poetry for People of All Persuasions event Dec. 5 at Leoné Café, 400 S. Rampart Blvd.
Created by four Las Vegas residents with roots in the city's tech startup scene, the app lists "gatherings" at valley coffee shops that focus on various issues and topics, such as recycling, music or corgis.
"We really latched on to the coffee culture to launch from," Ayloo co-founder Shaun Swanson said. "Coffee shops are places where people already gather. There's already that sense of community."
A group of parents of home-schooled children put together the Dec. 5 coffee shop poetry reading, listed on Ayloo, and the children shared their favorite poems with one another. During the event, other families passing by and stopped to listen and participate.
It's something that Swanson, who was in attendance, is hoping for.
"See ? There are no barriers," he said, motioning to the engaged passers-by. "It just shows how committed to community our tech scene is."
Melissa Berger brought her 3-year-old son to the poetry reading and said she hopes for more community involvement opportunities such as the reading.
"It can introduce people to new ideas and interesting educational settings they might be interested in," she said. "They can see things they may have never considered and discover something they may love."
Mark Johnson, Ayloo co-founder and designer, said the app stands apart from other social networking tools, such as Facebook or Twitter.
"I don't go on Facebook to look for stuff to do," he said. "If you're using Twitter, you have to be searching for the right hashtag or following the right people."
Part of Ayloo's charm, according to its creators, is that users do not have to know people to share an event with them. The gatherings, in a way, mirror the coffee shop conversation that draws in and engages others around it, Swanson said.
According to Johnson, inspiration came from an earlier incarnation of the app. Originally, he said, Ayloo was a Web-based conversation platform where people could discuss any topic.
"What ended up happening was the groups would eventually meet in person," Johnson said. "So we had to pivot our design."
The service and app are free . The goal is to eventually be able to charge venues a small fee to list events, he said.
The hope is also to spread it to other cities.
"We're solving the physical and geographical problem that is the way the city is laid out," Johnson said. "That's why the app works so well in Las Vegas and could work well in a city like Phoenix."
As for the overall success of the app, Swanson said he'll have to wait and see.
"There's so many other factors out there. It's luck," he said. "You do as much work as you can and hope you get lucky."
Contact Paradise/Downtown View reporter Nolan Lister at nlister@viewnews.com or 702-383-0492.