Love of kickball unites people across the valley, nation
December 2, 2013 - 7:18 pm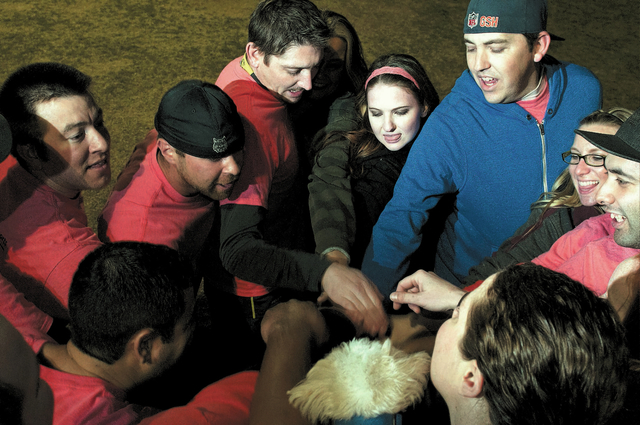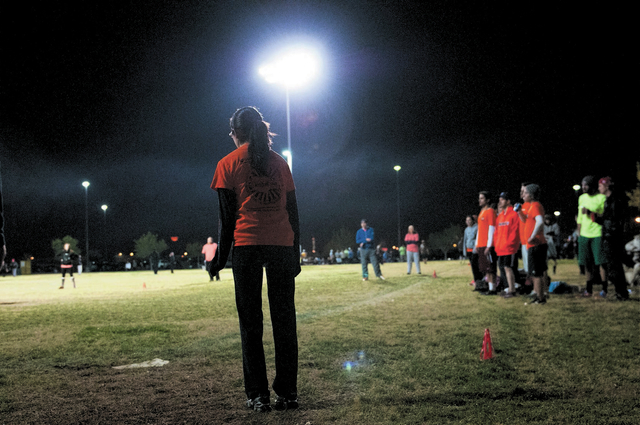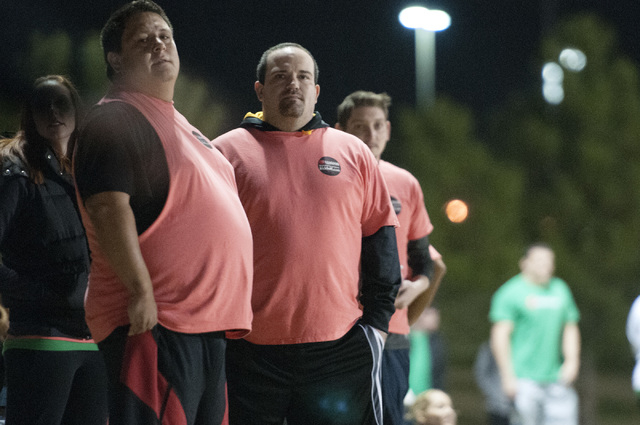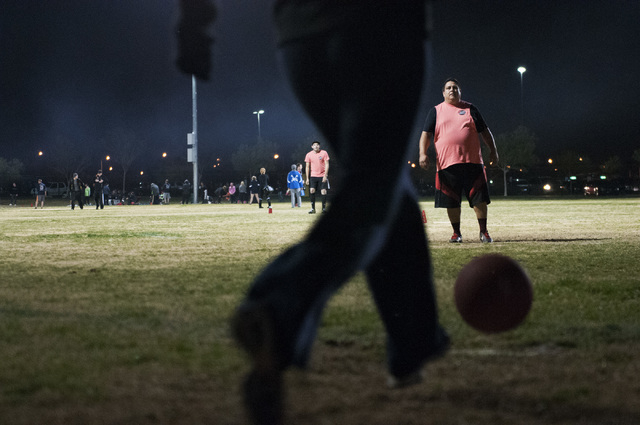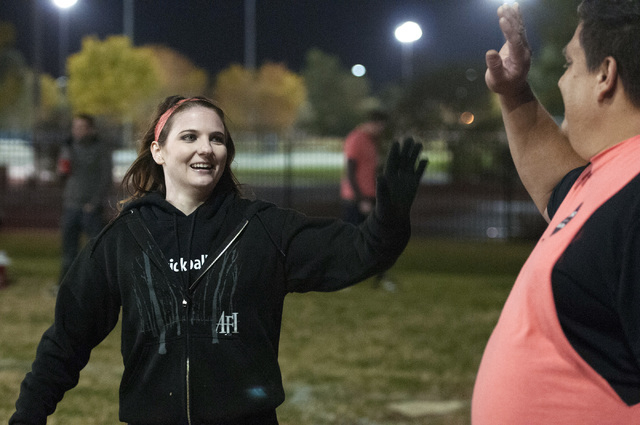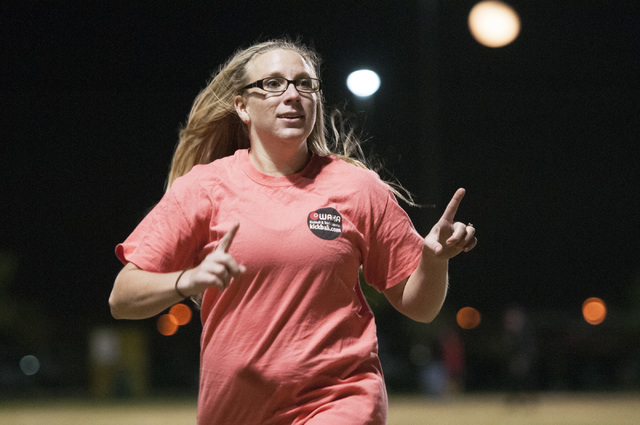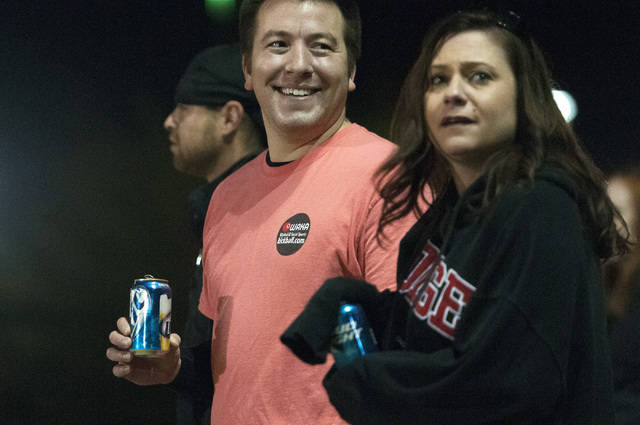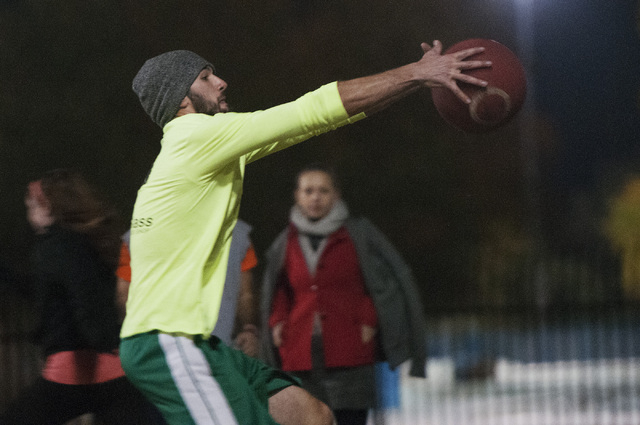 It is a chilly Wednesday evening, and people in bright shirts are trickling into Desert Breeze Park, 8275 Spring Mountain Road. Around 6:30 p.m., a field is bombarded with young adults drinking beer while warming up for their weekly game of kickball.
The popular elementary school sport lives on with members of the World Adult Kickball Association, otherwise known as WAKA. The sport, designed for those 21 or older, is a mixture of competitive and fun-loving adults looking to socialize.
"When you're an adult, it's hard to meet people unless you're at a bar," said Melanie Mark, senior community coordinator at WAKA. "The people who join end up making tons of friends because we all socialize outside of kickball."
Mark said there are 460 members who make up 24 teams in Las Vegas. Every Wednesday, Thursday and Friday, hourlong games are played at 6:45, 7:45 and 8:45 p.m.
Each team has a unique name and wears a different color T-shirt. Names are typically a humorous play on words, such as Tickle My Kickballs, I'd Kick That and Our Balls, Your Face.
During game days, the park hosts four different games on each corner of the field, each showing the team's personality through its music and uniforms.
The teams range from those that are competitive to those that are there to hang out, drink a beer and have fun.
Mark, who is in charge of the schedule, tries to match up teams based on their personality.
Mike Flanner, team captain of Bed Bath & Your Mom, has been playing in the league for two years. While he may have a laid-back team, the spirited coach cheers just as hard.
"We're known as a party team. We really just want to have a good time and have fun," Flanner said. "It's really laid-back, and people can hang out and drink at the park."
Mark said the group becomes an opportunity to network with other young professionals, who range between the ages of 27 and 37.
WAKA started in 1998 when friends Johnny LeHane, David Lowry and Jimmy Walicek met in a bar in Washington, D.C., according to their website kickball.com. As young professionals, the men missed how easy it was to meet people in college. They started a kickball game in hopes of restoring that sense of socialization.
Since starting, WAKA has expanded to 35 states across the country. In Las Vegas, games are held at Desert Breeze Park on Wednesdays, Sunset Park, 2601 E. Sunset Road, on Thursdays and at Charlie Frias Park, 4801 S. Decatur Blvd., on Fridays.
Mark said the leagues have permits with Clark County that allow them to drink on the fields. During games, people can also bring their dogs and friends to cheer them on.
Lindsey Paterniti, who has been part of the league for four years, said she enjoys the barbecues and bringing her young daughter with her.
"I work as a paralegal. During the day, I'm reading books and in the courthouse," Paterniti said. "This is my one day out of the week when I can just have fun."
After teams are finished playing their 45-minute game, they head off to a sponsored bar where they can enjoy food and drink specials for WAKA members.
The year-round league plays for eight weeks in the winter, spring, summer and fall. The coed teams must be at least four women playing on the field. After each season is over, the leagues play two weeks of playoffs.
Every Columbus Day, WAKA hosts a world tournament in Las Vegas where the top 64 teams of the country are invited to compete.
Mike McGrath, pitcher, and Mike Jones, catcher, of Pitches Be Crazy!! are part of one of the more competitive leagues in Las Vegas. Last year, their league made it to the final four in the country.
"We're one of the most competitive teams here, but we also like to have fun," Jones said. "When we first started, there were 100 people, (and) now there's close to 500 people."
McGrath added that their competiveness has paid off.
"Last year, all of the Vegas kickball teams came out to cheer us on during the world tournament," McGrath said. "We usually win the Vegas league every season."
McGrath also said he has seen a lot of romantic relationships blossom through people's love of kickball. He said that one couple met while playing the sport, and the man proposed to the woman on the field.
"This is a social sport," Mark said. "It's just a way to have some good, competitive fun and meet new people."
A new season of kickball starts in January. People interested in joining can sign up at kickball.com.
Contact Sunrise/Whitney View reporter Sandy Lopez at slopez@viewnews.com or 702-383-4686.