Lucky Lady Lucy to represent Las Vegas at Burning Man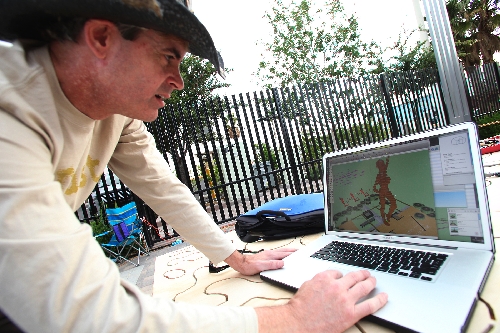 The 20-foot-tall Las Vegas showgirl will be set on fire come September.
Her plywood headdress and feathers will go up in flames.
Lucky Lady Lucy is her name, and she'll burn to the ground in the name of the arts.
The sculpture is expected to be built by local artists and students over the course of eight weeks at Boulder Plaza in the Arts District. The community project is sponsored by the city of Las Vegas and the Society for Experimental Arts and Learning. Two-foot-wide poker chips made of wood will make up the base of the structure.
The figure will be transported to the Burning Man Festival this fall in the Black Rock Desert, 120 miles north of Reno. Last year, more than 51,000 people participated in the annual event.
Different places from around the globe are representing their regions by building unique effigies. For instance, a group from Los Angeles reportedly will burn a taco truck sculpture.
A Las Vegas showgirl seemed to be a natural fit for the project, said Cory Mervis , with the Society for Experimental Arts and Learning.
"She's going with the whole gambling theme," Mervis said. "Showgirls have lots of grace and beauty. Showgirls are unique to Las Vegas. When you think of Las Vegas, you think of showgirls."
The name Lucky Lady Lucy — with its three Ls — is significant, too. Turn those L's upside down, and you see three 7s, a symbol of luck and great slot machine fortune.
An original plan would have had Lucy crafted entirely of poker chips and playing cards, but Mervis said burning the plastic-coated gambling pieces would cause harm to the environment — a no-no for those who follow Burning Man's 10 principles: radical inclusion, gifting, decommodification, radical self-reliance, radical self-expression, communal effort, civic responsibility, participation, immediacy and leaving no trace.
"Burning M an is about leaving no trace," she said. "We're not about to leave a mess where we are."
The overall cost of creating the giant, flammable showgirl is $5,000, which comes from raffle tickets the group sold, other fundraisers and a small city stipend. About 15 to 20 people are working on the project, but members of the public are being encouraged to come out and participate by writing their names on poker chips, which will be assembled in a "pancake" style to create Lucy's neck, arms and legs, according to artist renderings.
A second figure also will be created at the plaza site in the Arts District, and there are plans to burn this figure as part of a downtown arts event next spring. The project is intended to become an annual 18b community sculpture-building project.
For more information about Lucky Lady Lucy, visit lvburningman.com. For more information about Burning Man, visit burningman.com.
Contact Downtown and North Las Vegas View reporter Kristi Jourdan at kjourdan@viewnews.com or 383-0492.