Man finds peace helping others at Las Vegas healing garden
October 18, 2017 - 6:55 pm
Updated October 18, 2017 - 8:05 pm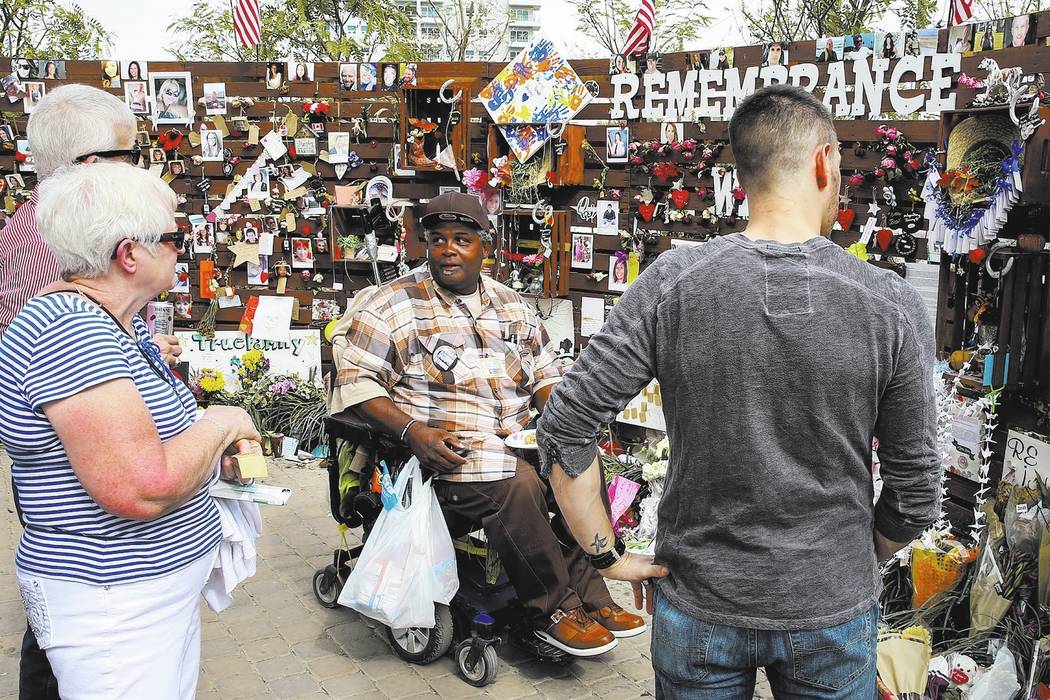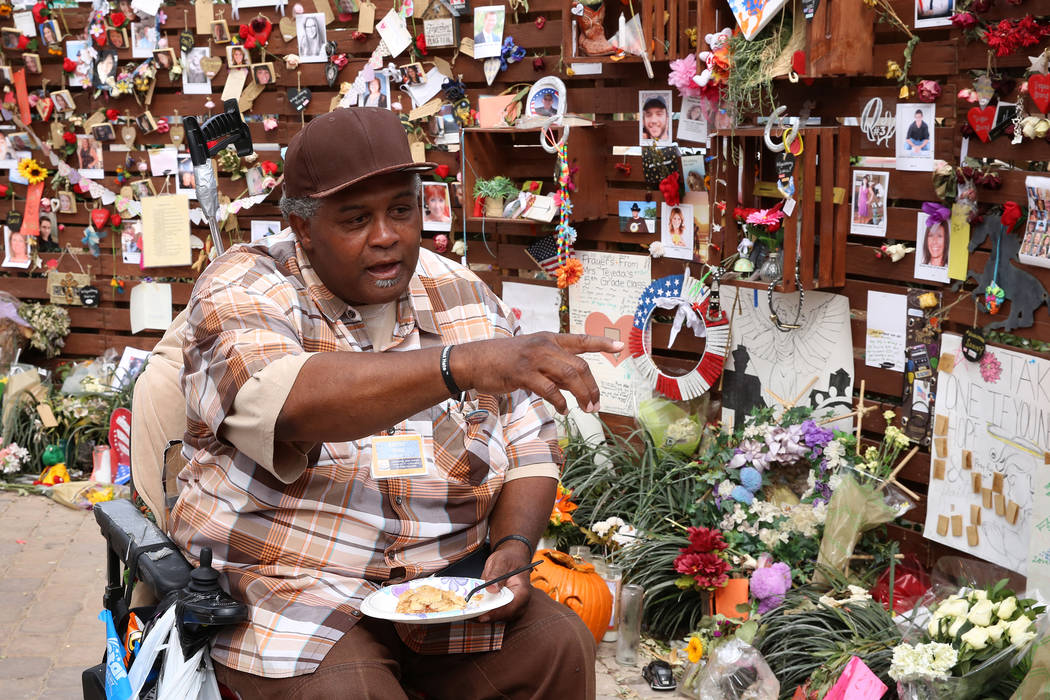 As the end-of-day sunlight lingered over downtown and spilled through the newly planted trees at the Las Vegas Community Healing Garden, Andre King scooted forward in his powered wheelchair.
Positioning himself in the shade, he opened a copy of the day's Las Vegas Review-Journal, scanning the stories. It was his 11th day at the site. After his 20-minute bus ride and 1-mile scoot to this spot Tuesday morning, he filled two white coolers with bottles of water, orange juice and fruit juice. He scattered packages of oatmeal cookies.
"Help yourself," the 58-year-old told people passing by. He adjusted his purple Kansas City Monarchs cap. "God bless you now."
The next eight hours, he lived off granola bars. He watched over the 58 pictures of those who were killed at the Route 91 Harvest festival on Oct. 1. He looked after the pumpkin carved with the words "Vegas Strong," the rose-filled cowboy boots and the artfully decorated stones for each victim.
The day grew older and the sun baked the asphalt. City buses emptied a few passengers at the stop on Casino Center Boulevard. As people parked their cars in the adjacent dirt lot, King greeted them.
So far, he has met 12 families whose lives were significantly altered. He offers each an ear, a tear and a hug. Because, "It don't cost nothing to show love."
And to some of the visitors, he tells his story. He swears he remembers the two gunshots outside his home when he was 3. The one that killed his mom, the other for the man who shot her and then himself. She was just 21. He keeps a photo of her on his phone: She's wearing dark lipstick on her parted lips and gazing at the camera.
Growing up in some Las Vegas neighborhoods, he'd been shot at himself. He spent 21 years in prison for "stealing people's hard-earned money." There, he found God, he said.
He tells a visitor that he lost his fiancee three years ago. He was on the phone with her when a blood vessel in her brain burst. She was his queen, the one who wiped tears from his face.
"I miss my queen," he said. "She was like God in the flesh."
'This is my family. The human race.'
Being at the garden brings him peace. It's like therapy, he said. Las Vegas is home. He moved here 54 years ago and graduated from Chaparral High School.
"What can I do?" King asked. "This is my family. The human race."
Three sisters in purple shirts with the Las Vegas skyline and a purple heart walked up to the garden. Their shirts read: "Fear will not silence the music in our hearts."
He told them the tree in the center of the heart-shaped garden had started falling over. The memorial didn't blow away.
"There's a reason for that," Dawn Cox said, smiling.
A need to come back
They were at the concert, they told him. They came from Los Angeles to spend 12 hours in Las Vegas.
They left in such a rush that Monday morning, Oct. 2, after they were finally allowed back in Mandalay Bay. On a silent and tearful plane ride, they thought about all the people who weren't lucky enough to come home. They needed to come back.
"You came back?" King asked.
Cox smiled. "We'll always be back."
They first saw the 58 crosses on the Las Vegas Strip. Then, Las Vegas Village, where they had spent every year at the concert. Cox saw where she had hit the ground Oct. 1 and didn't leave until the shots stopped. Where she and her sisters jumped over the VIP seats onto Las Vegas Boulevard.
"We needed to see it with clear eyes," Tina Ullmer, 48, said. "Get the fear part of it out of the way."
The nights are the hardest for the sisters. When there's silence, they said they feel like they need to run. It only helps to be with people that were there and understand.
"I'm glad we came," Cox said.
As the sun got ready to set, King sighed. "It's getting about that time."
A message delivered
A girl with long hair approached with her father, a tattooed man with a small goatee.
"You guys lost someone?" King asked.
Antonio Lopez shook his head no, holding his daughter's hand. "We feel like it."
His 11-year-old daughter, Stefania, drew a picture of a praying angel in the middle of the memorial. On Tuesday, she stuck tiny messages of hope onto the poster.
"Do you mind handing me one?" King asked.
He opened it.
At the end of the message, next to a hand-drawn flower, was the acronym H.O.P.E.
Hold on, pain ends.
Contact Briana Erickson at berickson@reviewjournal.com or 702-387-5244. Follow @brianarerick on Twitter.