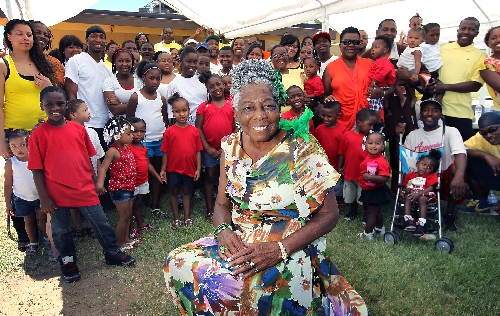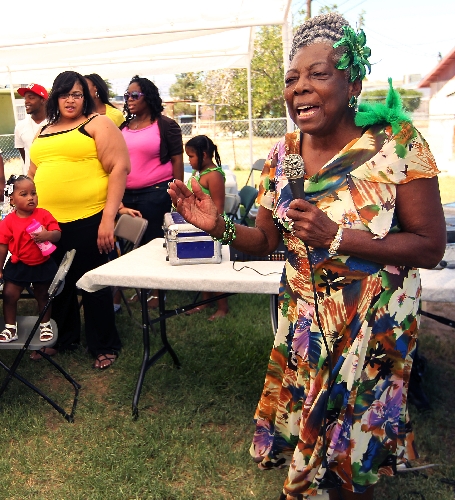 There are large families that come together for holidays and special occasions. And then there's Lucille Bryant's family.
Bryant, 81, hosted a family gathering June 23 at her home in West Las Vegas that featured 68 guests : her five children, 19 grandchildren, 28 great- grandchildren and 16 great-great-grandchildren. Guests wore specific colors that indicated the generation to which they belong, with her children in orange, her grandchildren in yellow, great-grandchildren in white, great-great-grandchildren in red and Bryant in green.
It was the first time – and probably the last, Bryant said – she would have every family member together in one place.
"Seeing all of my children together at one time in my backyard is just so wonderful," Bryant said. "We usually all get together for a sad occasion, like a funeral, but this day is all about unity and the family being together."
The Louisiana native moved to Las Vegas in 1953. Since then, Bryant has lived in the same house, where she holds memories of watching her children play outside and witnessing various changes made to the historic neighborhood. This gathering allowed her to bring together family members from throughout the valley and from Virginia and other states.
Bryant said one reason for hosting the shindig was to see granddaughter Leshay Lamour, 29, before she embarked on a three-year stint in Japan with her husband. Both are in the U.S. Navy and made the trip from Virginia Beach, Va., to attend Bryant's party.
"It's not that often that we all can get together," Lamour said. "Usually, we have a big family reunion, but we'll miss it in Japan. It's nothing like this, though. You get to see new family members and reconnect to reality."
Family members spent the afternoon socializing, dancing to music from a disc jockey, playing card games, watching children in the moon bounce and enjoying a home-cooked meal. Before eating, however, Bryant gave a speech to her family on what it personally meant to have everyone together.
"I am so blessed," Bryant said. "The good outweighs the bad. I have the best children in the world … It's love that keeps us together. Keep love in your life, believe in yourself and believe in each other."
Bryant grew up with a close family in Louisiana, one that came together after her mother died when she was 11 years old. Bryant tries to emulate the same close-knit relationships with her immediate family, which she hopes her children will continue to carry on through generations.
Her youngest daughter, Rosie Horner, 52, has the same idea.
"I hope everyone can take away that we are a large family, but we can still get together and enjoy each other," Horner said. "We're a close-knit family. I hope we can keep having get-togethers and keep this going."
In addition to gathering the family in one place, Bryant hoped to get a message across to the four generations.
"Every once in awhile, I get (family members) together and talk about love, unity, going to school, getting an education, staying with each other and staying with the Lord," Bryant said. "I want them to believe in family, being close and being united in love."
She said seeing family members healthy, socializing and enjoying each other's company made the time put into planning the event worth every minute. It's a once-in-a-lifetime opportunity, Bryant said, and one she wouldn't trade for the world.
"This is everything I expected and more," Bryant said. "I'm bubbling over with happiness."
Contact Downtown/Paradise View reporter Lisa Carter at lcarter@viewnews.com or 383-4686.