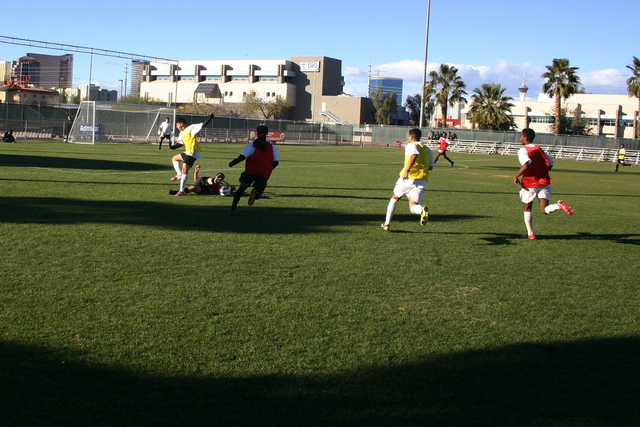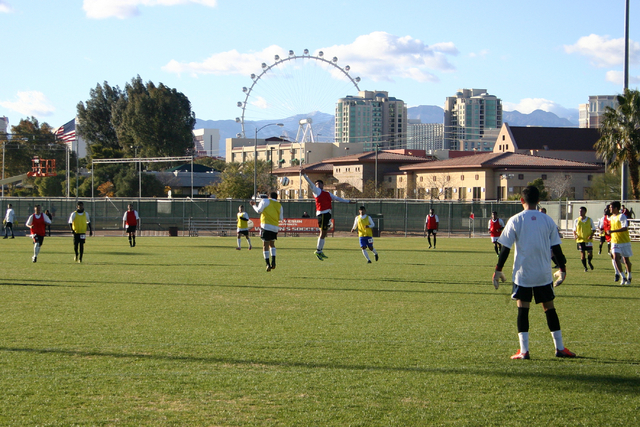 A vision for a local competitive and professional soccer team is quickly developing with the help of two entrepreneurial lawyers.
‪Las Vegas attorneys Geoffrey Hawkins and Martin Melendrez own and operate the Las Vegas Mobsters, a soccer team in the process of forming with the goal of playing in the Mountain Division of the Premier Development League.
"The nature of the league is essentially a Major League Soccer showcase," Hawkins said. "What the league is designed to do is to take the best of college, undiscovered talent, as well as foreign players and have them play in high-level competition that can be scouted by MLS — and other professional teams — for their SuperDraft."
The league, which includes more than 65 teams across the United States, consists primarily of a younger-than-23 age group that draws top high school, college, amateur and ex-professional players with some over-age exceptions.
The Mobsters plan to compete in the Western Conference and play a 14-game schedule against teams from Arizona, Utah, California and New Mexico.
The owners met each other about 14 years ago at a law firm. Both have been passionate about the sport and play soccer as a hobby.
"Las Vegas has a fantastic soccer community," Hawkins said. "We have been shocked and amazed by the amount of support we've received from the community in such a short period of time. In less than two months, we've had over 3,500 fans on Facebook alone."
Home games will be played at the 2,500-seat Peter Johann Memorial Soccer Field on UNLV's campus.
The owners chose the team's name to reflect the city's history.
"We felt that the mobsters and their influence on Las Vegas is historically significant," Hawkins said. "We thought it'd be an appropriate mascot, and we had overwhelming support for the name."
After holding open tryouts in December, Hawkins said more than 100 players participated in the event.
"We actually had a myriad of individuals that applied," Hawkins said. "We had everybody from high school level players to ex-professionals. There's a lot of undiscovered talent right here in the Las Vegas area."
Hawkins added that they had recruiting applications and background information from almost every state in the U.S. as well as France, England, Canada and Mexico.
In March, approximately 20 percent of the players who auditioned will be called for a second invitation-only tryout headed by coach Tony Asquith and assistants Fred Thompson and Ronny Charry.
"The prospect of playing in Las Vegas gives us a great appeal," Asquith said. "I want the team to have a cosmopolitan flavor. The nature of this city is that people come here from all over the world. I want our team to reflect that."
Asquith, a native of England, started coaching in 1984 with colleague and mentor Clive Charles. During his 30 years of coaching, Asquith said he has coached players who have gone on to play at the professional, Olympic and World Cup levels.
The coaching staff expects to have a team ready by early to mid-April. However, Asquith added that because there are many college-based soccer players who would still try out in May, the final roster would not be ready until June.
Despite having approximately two months to practice, both owners said they are confident their team will be adequately prepared to play its first game scheduled in May.
"The caliber of athletes that we are looking for are already training with their school or sports program," Melendrez said. "Practice will mainly focus on organization and understanding the game play."
Although the schedule has not been confirmed, the first game is planned for 7:30 p.m. May 3 at UNLV.
Hawkins said the team plans to have26 players plus a few additional players for a practice squad with the potential to move up to the roster as it changes throughout the season.
Among the four reserved MLS teams included in the Western Conference are the Seattle Sounders, Portland Timbers, Vancouver Whitecaps and San Jose Earthquakes.
"In the Western Conference, the quality of teams and players are significant competition in comparison to other leagues," Hawkins said. "Even though it's our inaugural season, we have long-term plans to move up the ranks."
For more information, visit lvmobsters.com.
Contact Sunrise/Whitney View reporter Sandy Lopez at slopez@viewnews.com or 702-383-4686.