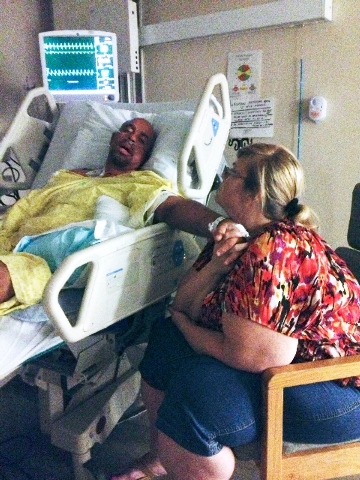 There are two developments in the effort to save heart attack victims. One is a way to do CPR that does not involve mouth-to-mouth contact. The other is a medically induced coma partnered with technology to lower one's core temperature. At least one Las Vegas resident has benefited from both.
Northwest Las Vegas resident Daniel Sanders, 40, had everything to live for — a loving wife and three children. But heart problems ran in his family, so when his weight ballooned past 300 pounds, he took matters into his own hands. He began eating healthily, started swimming and bought a bicycle. The pounds dropped off.
Even after achieving his goal weight, he continued his new lifestyle by choice. As an electrician, he worked on various job sites. He began commuting by bicycle, and sometimes he'd ride his bike to sites as far as 46 miles away.
On the evening of June 1, Sanders was playing a word game with his wife, Charlotte, when he had a heart attack. He remembers nothing past that point.
It was a deer-in-the-headlights moment for Charlotte. Her husband had collapsed suddenly in front of her.
"I was scared," she said. "I didn't know what to do. I just wanted somebody to come help."
She called 911 and, following the dispatcher's directions, got Daniel on the floor and began chest compressions.
Technology also played a role in the call. Charlotte disconnected accidentally, but the 911 operator was able to reopen the line to resume supplying reassurance and directions until the ambulance team arrived.
"What always occurs to me is 'it takes a village' to save a cardiac arrest patient," said Gretchen Papez, a spokeswoman for the Valley Health System. "The 911 operator played a huge role in saving Daniel's life because he talked Charlotte through how to administer CPR."
Sanders' medical emergency comes at a time when a spotlight is being placed on CPR procedures.
According to the Centers for Disease Control and Prevention, more than 300,000 Americans suffer a cardiac arrest each year, and a victim's chances of survival falls from 7 to 10 percent for every minute he's without bystander CPR until defibrillation. Roughly 5 percent of cardiac arrest victims survive.
Although 37.6 percent of heart attacks were witnessed by bystanders, the CDC reported, only 43.8 percent received CPR. Its research indicates that the reluctance of bystanders to perform CPR is due, in large part, to aversion to mouth-to-mouth ventilation.
In a 1995 survey, only 15 percent of 975 respondents reported a willingness to perform chest compressions with mouth-to-mouth ventilation on a stranger, where 68 percent responded that they would "definitely" perform chest compressions alone. Survival rates with compression-only CPR confers negligible negative impact, it found.
Las Vegas firefighters, whose heart attack survival rate is 26 percent, are working with the Red Cross of Southern Nevada to save more victims of cardiac arrest. They claim that with help from the community, they can save as many as 50 percent by getting bystanders to start compression-only CPR before their arrival.
"This is a simple and extremely effective form of CPR for adult cardiac arrest; there is no breathing into the victim's mouth, no interruption of compressions," said Scott Johnson, president of the Las Vegas Firefighters Association. "It is easy to teach and … (people can) learn this important lifesaving technique in a few minutes."
Red Cross of Southern Nevada is offering training on both ways to administer CPR.
"Compression-only CPR is one way to assist during an emergency," said Marie Tasker, service delivery manager for the Red Cross of Southern Nevada. "We encourage people to become fully trained in CPR, which encompasses breaths and compressions."
For information on training, call 800-733-2767. To schedule a free meeting for an HOA, senior center or other Las Vegas-based community group, call 702-538-6117 or visit thebest911response.com.
CPR saved Sanders' life. The paramedics whisked him to Valley Hospital Medical Center, 620 Shadow Lane, where it was found that his heart was operating at 15 percent capacity. Also, his right coronary artery had 90 percent blockage. Charlotte was shown the scans.
"It looked like a napkin ring," she said of the blockage.
The doctors decided to use Code Chill, Valley Hospital's term for lowering the body temperature to 93 degrees Fahrenheit for at least 24 hours. Being cold ensures that organs do not require a fully functioning heart.
"They told me they were putting him on propofol," Charlotte said. "I thought, 'Oh, my God, that's the Michael Jackson stuff.' "
Sanders was unconscious for 3½ days. When he was revived, he had no idea he'd been in cold therapy.
Dr. Jeffrey Davidson is chairman of the emergency room at Valley and said it was the first hospital to introduce the technique in 2010. The apparatus is called the Arctic Sun. It's a gel wrap that goes around the trunk and thighs of the individual and has cold water circulating through it.
"The change in temperature is done, like, point five degrees every time set, like 30 minutes … three to four hours is our target," Davidson said. "It's a controlled cooling of the body. We take it really slowly to 93 degrees. It slows the metabolism down, which helps protect the brain, the heart and some of the other organs from the inflammatory process in the cascade of events that occurs after you've suffered a heart attack or a life-threatening arrhythmia of the heart. … We're really trying to protect two organs, the heart and the brain."
Sanders' recovery was so complete, interns were brought in to get a look at the poster child for Code Chill. When taken for more scans, others got to meet him.
"My name wasn't 'Daniel' or 'Sanders,' it was, 'Oh, wait a minute, you're the (Code) Chill guy,' " he said.
Thanks to CPR and Code Chill, Sanders will be around to celebrate his birthday in August.
Contact Summerlin/Summerlin South View reporter Jan Hogan at jhogan@viewnews.com or 702-387-2949.
CPR training
For information on CPR training, call 800-733-2767. To schedule a free meeting for your HOA, senior center or other Las Vegas-based community group, call 702-538-6117 or visit thebest911response.com.