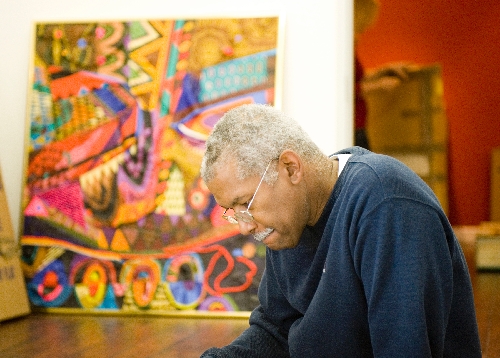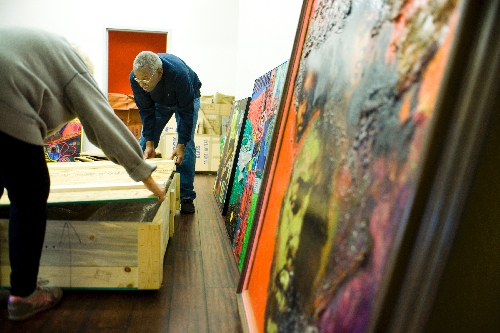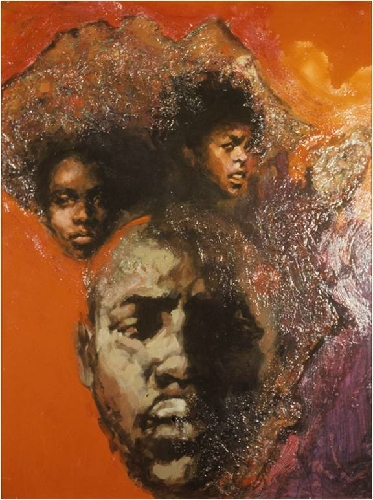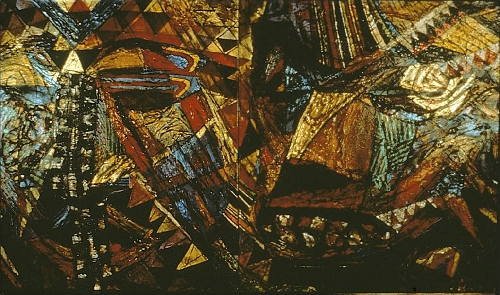 Kismet united Calvin B. Jones and Left of Center Gallery.
The late artist and the North Las Vegas gallery had separate paths but parallel philosophies: celebrate diversity and make fine art accessible to the public.
Their mission statements will be in force starting today through February, Black History Month, at 2207 W. Gowan Road. The gallery is to show about 16 of Calvin B. Jones' works and other personal effects — a representation of his perspective on the African-American experience — thanks to the efforts of his son, Byron Jones, a North Las Vegas resident.
A reception is planned from noon to 3 p.m. Saturday at the gallery. It is free and open to the public.
Calvin B. Jones' exhibit is to be a glimpse into the 50-year career of a classically trained, internationally known artist, painter, illustrator and muralist, Jones said.
His father, a Chicago native, was awarded a full scholarship to study at the Art Institute of Chicago in the 1960s and worked 17 years as a commercial artist. He left that arena and spent the rest of his career having works commissioned and exhibited throughout the world.
"He was very successful, and he was able to make a living without having to work for an industrial organization or corporate (entity)," Jones said.
His father worked in mixed media pieces throughout his career, but he was supportive when Byron, his only child, pursued natural sciences.
"He encouraged everyone to seek their potential and pursue their goals and life dreams," he said. "He happened to be very talented in art, and he thought everybody had some type of world class talent in something."
The world was not only Calvin B. Jones' inspiration but his canvas, his son said.
Calvin B. Jones traveled to Africa often to absorb culture and color palettes native to the region. He used African American models for his pieces and studied anatomy to perfect the nuances of their features, his son said.
His works were commissioned in various capacities, including nine murals on buildings in places such as Atlanta, Chicago and Detroit.
Calvin B. Jones was invited to the White House in 1980 by President Jimmy Carter to attend the National Conference of Artists. He was co-director of the avant garde AFAM Gallery Studio and Cultural Center in Chicago.
He represented the United States in African exhibits and put his touches on national advertising campaigns.
Jones didn't know the depths of his father's international acclaim until Calvin B. Jones died in 2010. He was 76 and had continued painting until his death.
Jones said his father was "very eccentric, like artists tend to be" but also was accepting and insightful.
Among his honors and effects, Jones found a copy of the words his father penned and lived by:
"We, as people, all have our idiosyncrasies, prejudices and stereotypes concerning art and culture. The only way this gap can be bridged is through exposure and education. My challenge and obligation is to document, sensitize and relate to the black experiences of the societies and cultures in which we live and to be a responsible communicator in the projection and relation of my heritage — the mirror of my spiritual center."
It is unknown when Calvin B. Jones wrote the motto.
Jones said his father's words align with the goals of Left of Center Gallery. He approached the gallery to host an exhibit, gallery director Mary Lou Evans said.
"Our goal is to bring really high-quality art to the public," she said. "We've been trying to get the word out of what we have to offer. This gallery is the kind of space an artist of this caliber would appreciate."
The exhibit is free and open to the public.
Jones invites the community to become acquainted with his father's past, present and future, he said.
"I prefer my dad's legacy to be his viewpoint of fine arts and diversified culture," he said.
For more information, visit leftofcenterart.org, call 647-7378 or email leftofcentergallery@gmail.com.
Contact Centennial and North Las Vegas View reporter Maggie Lillis at mlillis@viewnews.com or 477-3839.