Northwest Las Vegas residents report an upswing in scorpions — VIDEO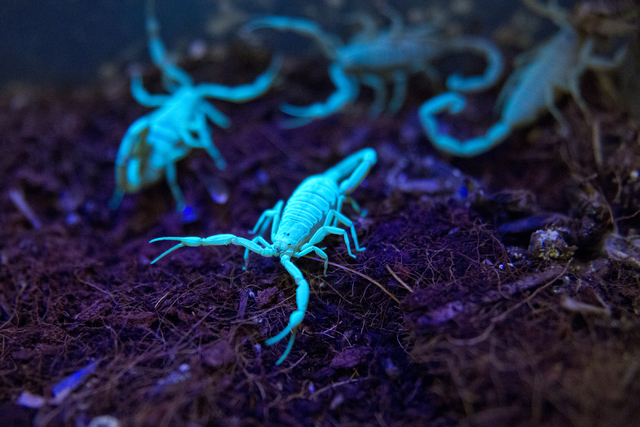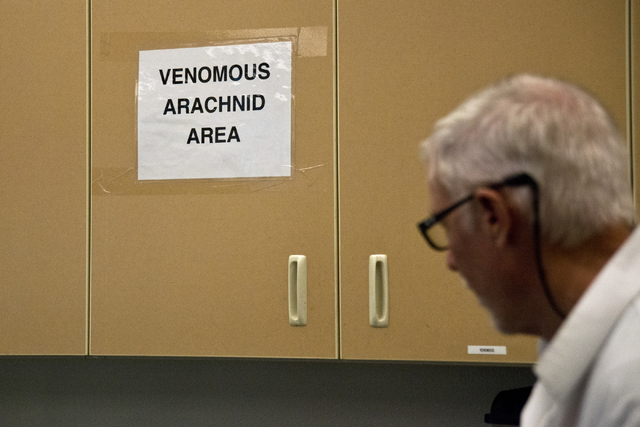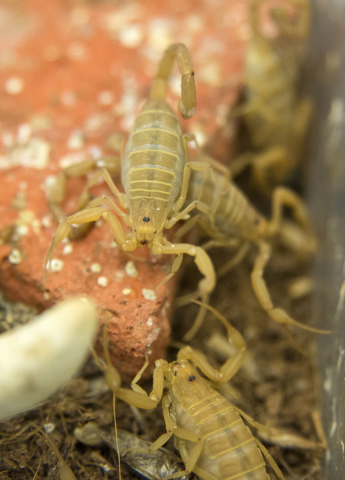 There are certain parts of the Las Vegas Valley where one can go a lifetime without seeing a scorpion. Then, there's the northwest area, conveniently located near the open desert and rapidly expanding.
For the past two years, residents who live near Ann Road and Durango Drive have been fighting scorpions.
"We've all been stung around here," said Sandra Salinas, a northwest resident. "Last year, I found them in my drawers, bathroom and hallways — they were all over the house. The neighbors that live two houses down from me had to stay in a hotel for a while because there were too many of them in the house. The cool weather has kept them down this year, but as soon as it gets hot, it'll get fierce. They've been breeding, and I figure they'll all come out at once."
The vast Las Vegas desert makes for a welcoming environment for scorpions to thrive, as desert landscaping is a favorable hiding spot for these creatures. It is, after all, their home.
There are about 25 species of scorpions in Nevada, but the Arizona bark scorpion is the most venomous in North America and a common pest in the Las Vegas Valley. Its light brown color makes it easy to camouflage, and it can range in size from 1 to 3 inches.
Many critics blame the lack of agricultural inspection in Nevada for the transportation of the bark scorpion. Most point the finger at the palm trees that were transported from Arizona to the region years ago, but others disagree.
"We can't blame the poor palm trees for the bark scorpions," said M.L. Robinson, associate professor and specialist at the University of Nevada Cooperative Extension. "There's been evidence of native bark scorpions. They're not necessarily an introduced species. They're also so tiny they can be transported in anything. When people move into a new neighborhood, they may have bark scorpions hiding in their boxes."
People may also be seeing more scorpions than usual due to the mild winter, which caused many of the younger scorpions and their food sources to survive, Robinson added.
"I personally like scorpions," Robinson said. "They are an important part of the environment, and they eat a lot of insects that we don't like. They even eat their babies sometimes. They do sting when they feel threatened, and it's easy to feel threatened when you're that tiny."
Scorpions live off crickets and cockroaches. They've been known to withstand extreme conditions, such as those found in the Nevada desert, and have been around for an estimated 300 million years, according to Robinson.
While a scorpion sting can be painful, deaths in the United States are rare.
Those who are most at risk are the elderly, children (especially those younger than 18 months) and pets. Those who are allergic to bee stings and have medical conditions are also vulnerable.
Anyone who fits these categories and is stung by a scorpion should be rushed to an emergency room.
A bark scorpion sting can feel similar to a wasp or hornet sting, Robinson said. The only difference is that they release neurotoxins that affect the nervous system.
Salinas was stung last year shortly after she got into the shower. After closing the shower curtain, a scorpion landed in the water below her and stung her leg.
"It's a hot stinging sensation that went right into my leg and spread into the center of my stomach," she said. "It started aching, and I felt so sick. I went to the emergency room, but there wasn't much they could do for me. The pain lasted about three to four days."
Symptoms may include pain, numbness, nausea, swelling and shortness of breath. More serious symptoms, which call for a trip to the hospital, include muscle twitching, unusual head, neck and eye movements, drooling, sweating, vomiting and an accelerated heart rate, according to the Mayo Clinic's website, mayoclinic.org.
It's typical for symptoms to last from 24 to 72 hours.
If people are stung, they should clean the area and monitor it to make sure it doesn't swell too fast, Robinson said.
"These creatures can withstand any type of climate, but they see your house as a warm and fuzzy place to be," said Andy Kuniyuki, dean at Nevada State College's School of Liberal Arts & Sciences and associate professor of biology. "Why be out in triple-digit temperatures when you can be inside?"
How can people get rid of these eight-legged arachnids?
One way is to have chickens in the backyard. Chickens enjoy eating scorpions. People can also place mouse sticky traps near all of their house openings to try to catch them or their food source, Robinson said.
Because scorpions are nocturnal, people can use an ultraviolet light to hunt for them at night. They can use chopsticks to pick them up and trap them, or they can kill them by squishing them with their shoes or using bug spray. Diatomaceous earth, a powder made of fossilized aquatic diatoms, can also be used to cause fast dehydration and eventual death.
Keep in mind, however, that for every one scorpion that is seen, there are six or seven hiding in the house because they tend to travel in packs, Kuniyuki said.
The best way to prevent them from entering a home is to block all of the gaps. The rule of thumb is if a credit card fits, so do any unwanted creatures, according to Robinson.
People should also be cautious with any clutter that they may have, as it makes a good hiding place. The inside of shoes and attics are also promising hiding spots.
"People shouldn't be afraid of these creatures," said Bruce Laisy, a technician at Progressive Pest Control in Las Vegas. "They're not aggressive and won't chase you. For the most part they want to get away from you. The reality is that these creatures have survived millions of years and lived through five extinctions. No pesticide we use will ever make them go away. We'll need to continue to live with them."
People who find scorpions are welcome to drop them off at: the University of Nevada Cooperative Extension, 8050 Paradise Road, No. 105 (call 702-222-3130); or Nevada State College's Liberal Arts & Sciences Building, 1021 E. Paradise Hills Drive (call 702-992-2000).
To reach North View reporter Sandy Lopez, email slopez@viewnews.com or call 702-383-4686. Find her on Twitter: @JournalismSandy.
Don't want to kill a scorpion?
People who find scorpions are welcome to drop them off at: the University of Nevada Cooperative Extension, 8050 Paradise Road, No. 105 (call 702-222-3130); or Nevada State College's Liberal Arts & Sciences Building, 1021 E. Paradise Hills Drive (call 702-992-2000).