Northwest resident, 32, pilots private charter plane business for everyman
February 28, 2016 - 9:38 pm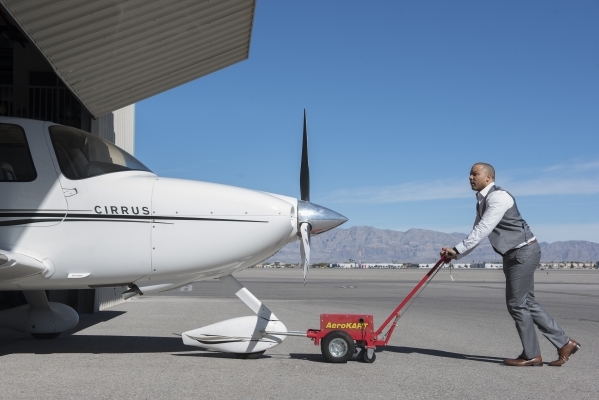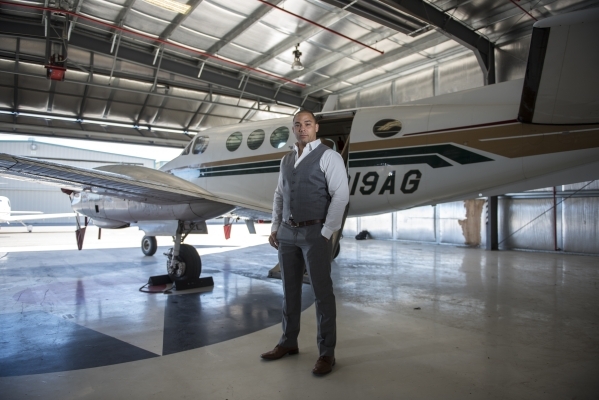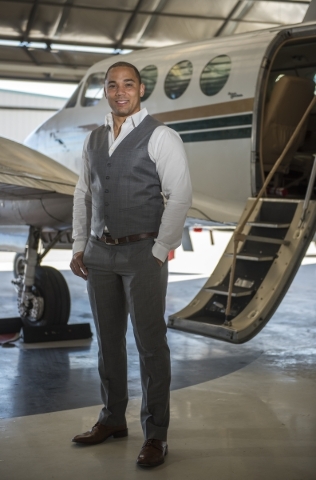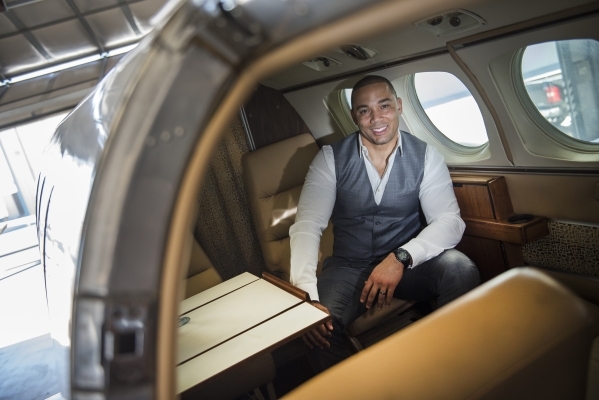 Wouldn't it be great if one could skip the long lines at the airport, breeze past security and have a first-class seat inside a private charter airplane? Top that with an added guarantee that one's luggage will not be lost or stolen, and that sums up the business model behind Quick Jet Charter, the brainchild of U.S. Air Force commander and northwest Las Vegas resident George Moore.
Quick Jet is an air charter service based at the North Las Vegas Airport that provides transportation from Nevada to nearby states such as California and Arizona. Founder and CEO Moore, 32, has more than 3,500 hours of flight experience and continues to serve on active duty for the Air Force.
"A charter service is nothing new," he said. "Traditional jet charters will take you to L.A., for example, drop you off and leave you. This business is all about letting people rent an aircraft."
His love of flying started when he was a child building airplanes with Legos in his hometown of Dallas. The passion came partially from his father, who worked as an air traffic controller at the Dallas-Fort Worth International Airport.
Moore attended the U.S. Air Force Academy and went on to complete a pilot training course. He moved up the ranks to captain and aircraft commander of the KC-135 Stratotanker before deciding to attend the Spears School of Business at Oklahoma State University.
After years of flying military jets, Moore found commercial airports to be inconvenient and time-consuming. When a fellow Air Force pilot was laid off due to sequestration, Moore pitched him the idea of creating their own airline. Armed with a master's degree in entrepreneurship, he began crunching numbers.
"I wanted to design it for short hops," Moore said.
His Air Force career led him to experience the business side of things while he was managing finances for a dozen KC-135 Stratotankers to scheduling 24-hour operations for a 120-member unit. He has also completed seven deployments to Iraq, Afghanistan and South America.
He saved enough money from his deployments to buy a King Air 90, a twin-engine turboprop plane known for low fuel and operating costs.
He moved to Las Vegas three years ago and launched Quick Jet Charter last spring. Moore claims Quick Jet is more than a business — it brings him joy to provide services that help others, he said.
"A few days ago, I rented the aircraft to a single father who had to do business in Lancaster, Calif., but needed to drop off and pick up his daughter from school. He used the aircraft to get back in time for it," Moore said.
Moore also has a network of pilots that he works with for those who need a pilot for hire.
What does the charter experience entail? It starts with the drive to the North Las Vegas Airport, 2730 Airport Drive, smaller and more personable than McCarran International. From there, a representative escorts passengers to the aircraft with their luggage, where it is loaded onto the aircraft as everyone enters the cabin. Once the passengers are ready, they fly off to their destination.
"My company used it last summer to fly out to Las Vegas from L.A.," said Chris Wizner, founder and CEO of Vivid Candi. "The jet was super nice, and everything about it felt luxurious. I think it's due to the attention to detail that George puts into it."
Complimentary amenities may also be included, such as beverages, snacks and local information.
The aircraft is suited to fit four people executive-style and is good for day trips to Los Angeles, San Diego, Napa Valley and Scottsdale, Moore said.
"Prices vary, but it's usually at around $400 to $600 per person for a four-people flight, round-trip," Moore said. "I tried to make it a price people could afford so that I could target the entry-level private jet customer."
Moore estimates that his service can reduce travel time by 50 to 70 percent. Another incentive is that people are able to bring pets on board.
He said he has plans to buy a few more King Airs and expand his business to other cities.
"It's your aircraft. If you're running late, I don't charge extra," Moore said. "Once you've had the private travel experience, you just can't go back. It's just a joy to look out at the clouds."
Visit quickjetcharter.com, call 844-784-5538 or text 702-321-0661.
— To reach North View reporter Sandy Lopez, email slopez@viewnews.com or call 702-383-4686. Find her on Twitter: @JournalismSandy.
Quick Jet Charter
Visit quickjetcharter.com, call 844-784-5538 or text 702-321-0661.