Opportunity Village supporters trade tracksuits for red suits for Great Santa Run
December 3, 2015 - 2:41 pm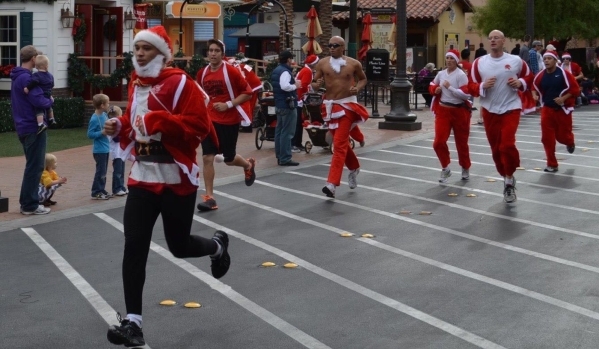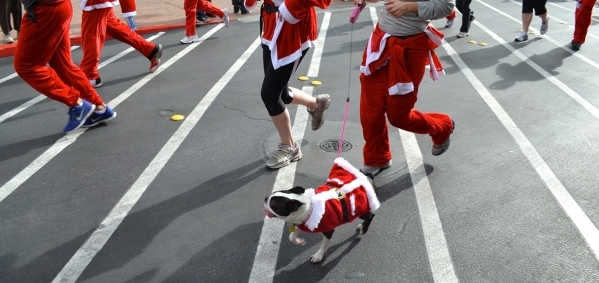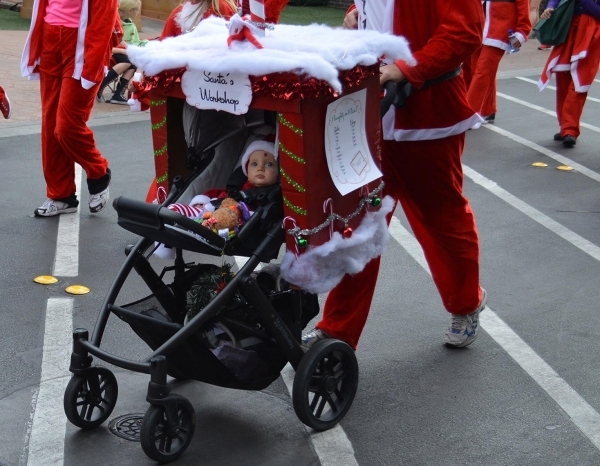 Ho, ho, ho — get ready to go. Thousands of runners in red are preparing to take to the downtown streets Dec. 5 for this year's Las Vegas Great Santa Run benefiting Opportunity Village.
Festivities and registration are set to begin at 8 a.m. with performances and appearances at the Fremont Street Experience.
"We have quite a lineup," said Veronica Atkins, special events manager for Opportunity Village. "Our grand marshals for the 5K are the "Jersey Boys," and our 1-mile Kris Kringle Jingle walk is going to be the Chippendales. We also have our friends Mayor (Carolyn) Goodman coming out, Wayne Newton, and we'll have the Jabbawockeez do a special performance. We have a few surprise entertainers, as well, who will be out there to spread some holiday cheer before the run takes off."
Daniel Robert Sullivan, who plays Tommy DeVito in "Jersey Boys," can't wait.
"I'm totally excited because I'm a cheeseball," he said. "I'm psyched that it's not only a fun event, but it's something that's actually giving back."
Sullivan, who was an active runner but now gets plenty of exercise in the show, said it doesn't hurt that the event is casual.
"It's funny; we get invited to do events periodically around town, but this will be one of the more exciting ones I think," he said. "Some of the events are a little more formal, where we walk the red carpet. But this one is actually getting out there and being with people who are helping with a really great cause."
The 11th annual run is more than just a race for a cause; it's a competition pitting Las Vegans against runners around the world hoping to come out on top as the largest gathering of Santa racers in the World Santa Alliance.
"Last year, the Liverpool Santa Dash beat us — just by a few runners, not by much," Atkins said. "Our numbers are looking similar this year. They're ahead by just a couple of hundred, so we're trying to do a push to beat them because they took our trophy away, and we need that back."
Atkins said every year, Opportunity Village orders 10,000 Santa suits in anticipation of having that many runners. Last year's race had more than 8,000. That total includes every man, woman, child and Santa baby in the race. It also includes canine Kris Kringles who trot the course in their own little red suits.
Despite the identical holiday uniforms, Atkins said people find a way to stand out.
"It's really great to see everyone try to decorate their Santa suits so they can be distinguished as they're looking for friends and family," she said. "Some people have even gone above the Santa suit. I saw people dressed as snowmen and Christmas trees, and I think the canine costumes are great, too. I don't know if the dogs appreciate their costumes, but they look fabulous."
Over the years, the race has moved around the valley, taking off from Town Square Las Vegas or downtown. Atkins said she loves to see it downtown.
"It's really great to be out there with all of that neon and really have that Vegas feel," she said.
Opportunity Village marketing director Marty Wood said he has nothing against Town Square, but he agrees.
"It just feels much more Vegasy being downtown," he said. "And we get just a ton of support from the downtown businesses, from the mayor's office and from potential partners."
Thanks to downtown partnerships, Wood said runners can look forward to after-parties at Inspire and Park on Fremont.
But why wait for the race to end to play? While Atkins said there are always plenty of serious runners who reach the finish line in 15 minutes, there are others who walk and chat with friends and family along the way.
"There's others that enjoy a few cocktails before, during and after the run," Wood added.
Race registration is $45 for adults, $30 for children 12 or younger and $10 for dogs.
Atkins said 100 percent of the proceeds go back to the program.
"We really try our hardest to find people that are willing to donate their time and services to help make this run great," she said. "That way, those registration fees go right back into our program so that we can make sure we have the best services available for our adults with intellectual disabilities."
For more information or to register, visit lasvegassantarun.org.
— Contact View contributing reporter Ginger Meurer at gmeurer@viewnews.com. Find her on Twitter: @gingermmm.
Las Vegas Great Santa Run
Festivities and registration: begin at 8 a.m.
Fremont Street Experience, downtown Las Vegas
Race registration: $45, adults; $30, children 12 and younger; $10, dogs