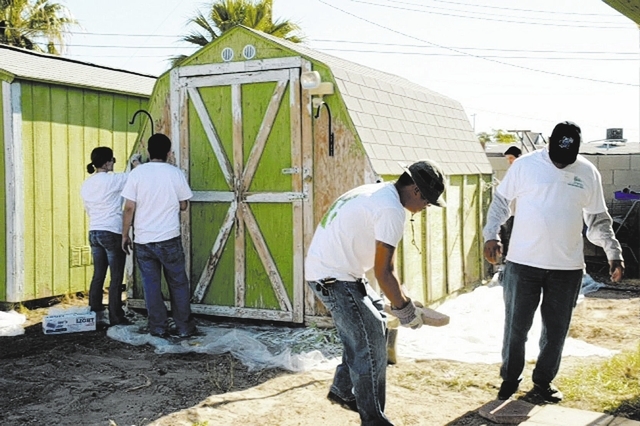 LAS VEGAS RESCUE MISSION TO BENEFIT FROM FOOD COLLECTION
Nevada State Bank is planning a food drive through Nov. 8 to benefit the Las Vegas Rescue Mission, 480 W. Bonanza Road. Nonperishable food items can be dropped off at any Nevada State Bank branch.
Suggested items to donate include instant potatoes, canned vegetables, rice, pasta, canned/instant soup, ramen noodles, cranberries/cranberry sauce and boxed stuffing.
For a list of branches, visit nsbank.com/locations.
TAX PREPARATION SERVICE SEEKS VOLUNTEERS
AARP Tax-Aide, a free, volunteer-run tax assistance and preparation service, is looking for volunteers.
Training is scheduled for the first week of January. To register, visit aarp.org/taxvolunteer or contact district coordinator Jerry Allen at 702-233-1918.
NEIGHBORHOOD MEETING TO ADDRESS PROPOSED PARK
A neighborhood meeting regarding plans for a new park is scheduled at 7 p.m. Nov. 13 in the first-floor conference room of the Clark County Department of Aviation building, 1845 E. Russell Road.
The meeting is set to address plans for the proposed Siegfried and Roy Park, slated to be built near the corner of Russell Road and Maryland Parkway. The meeting is also set to provide information about proposed improvements in transportation infrastructure on Maryland Parkway.
Clark County Commissioner Mary Beth Scow and representatives from the Regional Transportation Commission of Southern Nevada, McCarran International Airport, the Clark County Department of Public Works and the Metropolitan Police Department are set to be on hand to provide information and answer questions.
INTERIOR DESIGN COMPANY PLANS GRAND OPENING
The grand opening of Freddie Ramon interior design and furnishings is scheduled for 5 to 8 p.m. Nov. 9 at 1025 S. First St.
For more information, visit freddieramon.com or call 702-468-3232.
ENROLLMENT ASSISTANCE TO BE AVAILABLE FOR AFFORDABLE CARE ACT
The Las Vegas-Clark County Library District is partnering with East Valley Family Services to provide information and enrollment sessions at several libraries for the Affordable Care Act, commonly called Obamacare.
A session is scheduled from 10 a.m. to 5:45 p.m. Nov. 6 at the Clark County Library, 1401 E. Flamingo Road, where enrollment assistance is set to be available.
For more information, visit lvccld.org or call 702-507-3512.
LAS VEGAS SENIOR CENTER LUNCH TO HONOR VETERANS
A veterans' lunch for seniors 50 or older is scheduled at 11:30 a.m. Nov. 7 at the Las Vegas Senior Center, 451 E. Bonanza Road.
The event is set to honor veterans, and attending veterans can fill out an information form so they can be recognized.
Admission is free for veterans and $5 for others.
For more information, visit lasvegasnevada.gov or call 702-229-6454.