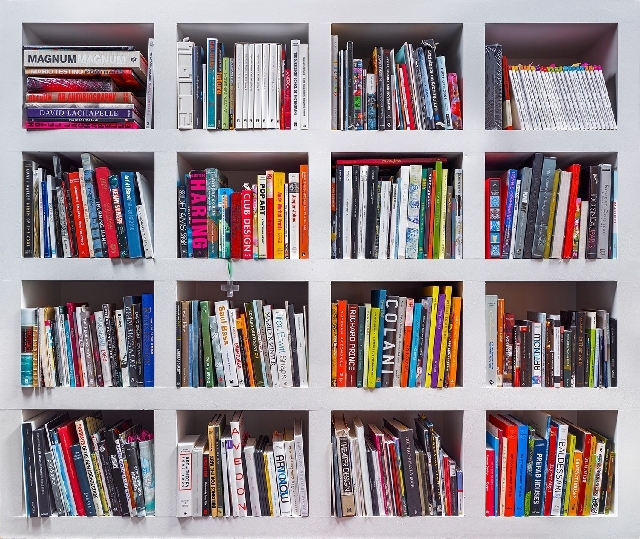 When Walter Jacques Taieb looked in a new direction after a taking a break from his music career, he started working on unusual portrait photography. He takes portraits not by shooting people but by photographing their bookcases.
"He came into my office and told me that he takes photographs of books, and at first, I didn't understand what he meant," said Las Vegas Mayor Carolyn Goodman, whose book collection was one of Taieb's subjects. "He came to our home, and he definitely had an eye and knew exactly what he wanted."
Goodman said Taieb spent about four hours selecting a bookcase, arranging her and her husband's books, setting up lights and shooting.
"I thought the idea of portraits through books was very interesting, but then I had to find people with books," Taieb said. "I put a post on Facebook, and when I would have dinner with friends, I would tell them about my idea."
His earliest work featured bookshelves of friends, but after he opened his gallery, Downtown Contemporary in Art Square, 1025 S. First St., people saw his work and started volunteering as subjects.
"We have a lovely library that includes so many collections of beautiful old books from our families," Goodman said. "I was surprised that he chose our more contemporary books. I thought that was very interesting."
Taieb is the son of a musician, and he had a successful career working on symphonies, concertos, ballets and soundtracks. He conducted music in eastern Europe and France and wrote electronic dance music in the 1990s, scoring a big hit with "I Luv U Baby," a song that Taieb co-wrote. He says it still sells about 500,000 digital copies annually.
"That one is a dance classic," Taieb said. "It shows up on every best dance music of the '90s album."
Taieb said that at least one of his songs seems to be used in every Olympics skating competition.
After two music projects fell through in rapid succession, Taieb decided to take a break from his career. He had visited Las Vegas a few times and said he always enjoyed it. He realized that for the same money he was paying for his apartment in Paris, he could live full time in a suite at the Palms — and for a time, he did.
About a year ago, he began growing serious about photography and started taking online classes and reading books on the subject. When he came up with the concept of portraits of bookshelves, he had to devise a new way to shoot pictures.
The finished pieces are life-size photographic prints . He designs the shots so that when they are hung in the middle of a wall, they provide the illusion that the books are in front of the viewer.
"I tried a lot of techniques to get the pictures just the way I wanted them," Taieb said. "It took me six months to work it out. I kept buying, selling and renting cameras. I made a bit of a lab out of my home."
Eventually, he settled on a hybrid system, using a large-format lens, the sort of equipment used by early photographers to catch an image on a huge negative . Taieb married the lens to a digital camera back.
The result is hyper-realistic shots of bookshelves that allow the viewer to read every title and see the wear and tear of each book.
"With preparing the shoot, taking the picture, post-production and printing, the fastest I can do one is in about a month," Taieb said.
Because of the laborious process, he has shot only 10 bookshelves, beginning with the music books he brought from France.
The three most recent photos and one of the earlier ones are set to be on display from July 25 to Sept. 23 at the Nevada State Museum, 309 S . Valley View Blvd.
For more information about Taieb's work, visit walterjacquestaieb.com.
Contact Paradise/Downtown View reporter F. Andrew Taylor at ataylor@viewnews.com or 702-380-4532.