Pigs for the Kids unites BBQ lovers, do-gooders for second year to support childhood cancer research
September 15, 2016 - 5:00 am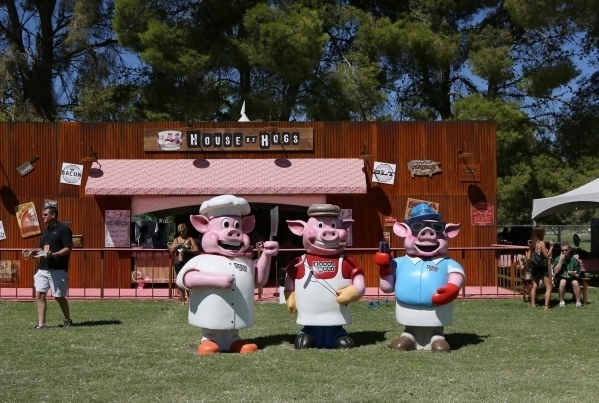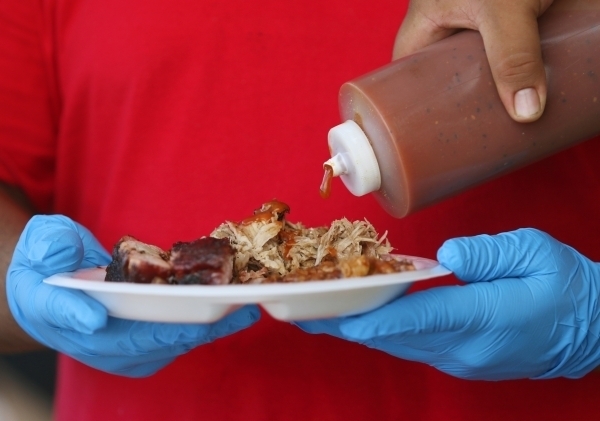 When Summerlin resident Adilyn Radwanski was 9 months old, she could have no idea she'd be the impetus for an event to support organizations who help children with cancer.
Adilyn had been taken to her pediatrician for a leg injury when her doctor noticed something disturbing in her left eye and referred the family to an ophthalmologist. The news was bad: retinoblastoma, eye cancer. They rushed her to Mattel Children's Hospital UCLA in Los Angeles.
"Our whole world got turned upside down," said her father, Todd, adding that seeing Adilyn undergo chemotherapy made it hit home. "When they put the needle in and started the drip, it's a surreal moment," said Todd Radwanski, her father. "You go, 'Wow, is this really happening to my child?' "
After a years-long battle that included surgery, Adilyn, now 12 and a student at Faith Lutheran Middle School, is considered a survivor. The cancer didn't take her eye, but it did take most of her eyesight there.
Soon after, the Radwanskis got involved in cancer events, attending galas, participating in 5Ks and donating their time. In 2015, they set up the event Pigs for the Kids, based on barbecuing with proceeds benefiting three childhood cancer-related charities — the Candlelighters Childhood Cancer Foundation of Nevada, the Cure 4 The Kids Foundation and the Nevada Childhood Cancer Foundation.
The 2016 Pigs for the Kids is planned from noon to 9 p.m. Sept. 17 at Craig Ranch Regional Park, 628 W. Craig Road in North Las Vegas.
The Nevada Childhood Cancer Foundation (NCCF) said such events are vital to its mission as a nonprofit.
"A large portion of our funds come from local events," said Jeff Gordon, president and CEO of NCCF. "Being a local charity without a national affiliation or government agency, we depend 70 to 80 percent on events such as this to help us fund more than 45 programs and services that we offer at no charge to the family. So, something like this is extremely important for us."
The first event saw 27 competitive barbecue teams — backyard grillers and professionals alike, such as Jesse Rae's BBQ, Rollin Smoke Barbeque, and Road Kill Grill. There were seven bands, a ViPig tent, a kids' play area, a beer garden and celebrity judges. The event raised $75,000.
This year? Same fun, but more celebrity judges and as many as 50 grill teams.
"We've got local restaurants, backyard guys and some who are part of the Nevada Barbecue Association," Radwanski said. Some of those local restaurants participating include Grape Street Cafe, chef Larry Vigil from Bellagio, Blue Martini, Ellis Island and Del Frisco's.
Radwanski said 90 percent of the grillers are from Las Vegas.Chicago and New Orleans will be represented, the latter because the Big Easy had a part in seeing Pigs for the Kids get its start.
Held each spring, Hogs for the Cause has been a staple in New Orleans. Radwanski's boss, Sam Panice, is credited with bringing the concept to Las Vegas.
"After attending Hogs for the Cause for several years and forming a team with my great friend in New Orleans, Ed Douglass, last year and experiencing such a great event with 85-plus teams and attendance of 25,000-plus people, it hit me like a fast-moving freight train: 'Wouldn't this be a great event for Las Vegas?' " Panice said.
Youngsters will have plenty to occupy them, with carnival games and a play area aptly named the Piggy Pen. Adilyn said she made sure a climbing wall was included.
"It gives kids a chance to face their fears and have fun," she said.
Panice said all three charities are deserving of the proceeds.
"What each of these charities do for the children fighting cancer and their families is priceless," he said. "Helping all three just drives me harder to grow Pigs for the Kids every year so we're able to donate more proceeds."
Radwanski said he sees a day when the event brings in $1 million to help the three nonprofits who helped his daughter.
General admission is $10 and includes one Piggy Buck, redeemable for food and drink as well as children's activities. Children 12 or younger will be admitted free. VIPig passes are $150. Visit pigsforthekids.org.
To reach Summerlin Area View reporter Jan Hogan, email jhogan@viewnews.com or call 702-387-2949.
Pigs for the Kids
When: noon to 9 p.m. Sept. 17
Where: Craig Ranch Regional Park, 628 W. Craig Road in North Las Vegas
Information: General admission is $10, and children 12 or younger will be admitted free. VIPig passes are $150. Visit pigsforthekids.org.