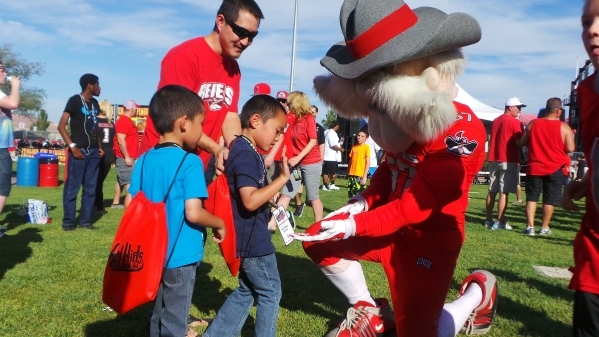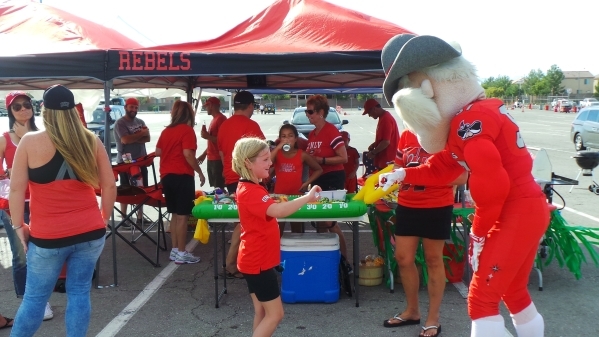 There are more than 15,000 documented homeless teens in Southern Nevada and possibly many more. It's hard to get a good estimate of how many there are in the Las Vegas Valley because, unlike the majority of the adult homeless population, most homeless teens expend a lot of energy in keeping their homeless status hidden. The holidays can be particularly challenging, and the Nevada Partnership for Homeless Youth is reaching out to the community to help feed the teens with plastic: food gift cards.
The nonprofit charity hopes its annual Plastic Food Drive will provide the more than 11,000 Clark County homeless youths with a hot meal for the holidays. To meet that goal, the partnership is asking the public to purchase and donate $5 or $10 fast-food restaurant gift cards or $25 or $50 grocery store gift cards.
"The holidays can be especially unsettling and scary for homeless youth," said Arash Ghafoori, executive director of the nonprofit. "They aren't able to be in the traditional family setting, compounded by the fact they're always wondering when they'll eat their next meal. Without access to stable shelter, a stove or microwave, donation of fast-food restaurant and grocery store gift cards is the easiest way to ensure these kids receive a hot meal."
He added that a $5 fast-food restaurant gift card equates to one meal for a homeless teen, and a $25 grocery store gift card provides meals for several days.
The partnership provides its clients at its William Fry Drop-In Center with outreach programs, emergency shelter, food, toiletries and other necessities. The center provides a lifeline for teens, many of whom have been let down by the adults in their lives. The goal is stabilization and integration back into a life that is more secure and stable. Many of the clients complete their high school education and move on to college or employment.
At an event on Oct. 29, 13 of the nonprofit's clients were honored at the partnership's fourth annual Graduation Dinner at its offices and drop-in center, 4981 Shirley St. The event celebrated their graduations from high school, GED completions and technical programs and/or the partnership's Independent Living Program or other programs.
"I'm not sure what I would have done without their help," said 18-year-old Tyric Collins. "The people here — the staff and the other kids — have been my support, and they've really been there when I needed them."
Collins, who graduated from the nonprofit's Independent Living Program, is working two jobs and now lives in an apartment. Other graduates have earned diplomas at their high schools, gained employment, received driver's licenses, enlisted in military service and in general moved forward to responsibility and adulthood with the help of the partnership.
This year, the Plastic Food Drive, co-hosted by the nonprofit and UNLV, is set to culminate with a tailgate party before the UNLV-San Diego State football game from 4 to 7:30 p.m. Nov. 21 at Sam Boyd Stadium, 7000 E. Russell Road. Entry is free, but donations are required for refreshments and the raffle. Those who bring fast-food restaurant or grocery store gift cards or other donations will be eligible to win food, game tickets or other prizes.
Prior to the tailgate party, gift cards and/or other cash donations can be dropped off between 9 a.m. and 6 p.m. Monday through Friday at the drop-in center, 4981 Shirley St., or at any business in the Village Square Shopping Center, 9400 W. Sahara Ave., during its normal operating hours. Donations can be made online at tinyurl.com/nphyplas, and businesses are encouraged to implement an employee or customer plastic food drive by contacting the nonprofit.
"With the growing number of homeless youth in Southern Nevada, the community's support for the Plastic Food Drive is more important than ever," Ghafoori said. "This initiative does make a powerful difference, and we are so appreciative of everyone's help in feeding these vulnerable kids for the holidays." Visit nphy.org/PFD or call 702-383-1332.
— To reach East Valley View reporter F. Andrew Taylor, email ataylor@viewnews.com or call 702-380-4532.
Nevada Partnership for Homeless Youth's Plastic Food Drive
Tailgate party before the UNLV-San Diego State football game
4-7:30 p.m. Nov. 21
Sam Boyd Stadium, 7000 E. Russell Road
Entry is free, but donations (fast-food restaurant or grocery store gift cards, cash) required for refreshments, raffle
Gift cards, cash donations
9 a.m. to 6 p.m. Monday-Friday
Drop-in center, 4981 Shirley St.
Businesses in Village Square Shopping Center, 9400 W. Sahara Ave., business hours
Donations can be made online
nphy.org/PFD
702-383-1332