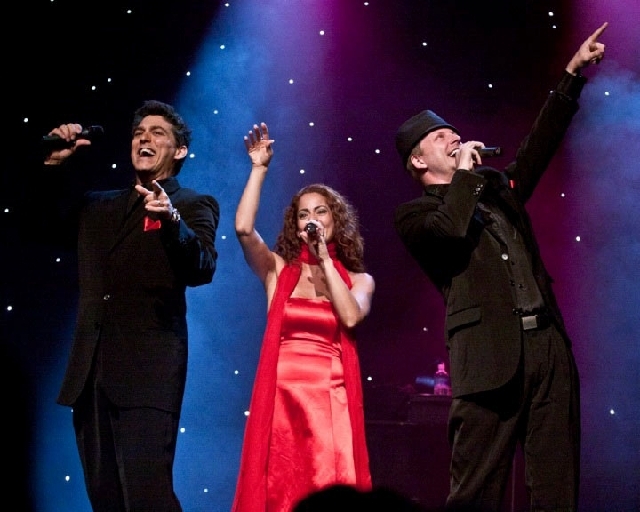 Want a little Italian flair to your weekend? Poperazzi plans to perform the music of Italy and songs made famous by Italian Americans in a hip, energetic way at the Starbright Theatre.
The performance is set for 3 p.m. June 2 at 2215 Thomas W. Ryan Blvd. Tickets are $17 for Sun City Summerlin residents and $20 for nonresidents.
Another performance is slated for 3 p.m. June 30 at Sun City Anthem's Freedom Hall Theatre, 1815 Hovenweep St. Tickets are $15 before June 23 and $18 after that. For more information, visit
mistinguettproductions.com/MPI/Poperazzi.html.
Expect everything from rock to opera and classic Frank Sinatra tunes to the Rolling Stones, mixing years of musical tradition in a contemporary format in the 80-minute show.
"These young, sexy and versatile entertainers are like a classic Vegas martini, performing a delicate musical mix of opera with a twist," producer Mistinguett said.
The three performers were on a cruise ship to Alaska when View caught up with them via email. Each singer comes to Poperazzi with different musical backgrounds, although all have classical training.
Soprano Janien Valentine has been singing and dancing since she was 5. By 16, she had a recording contract with Amherst Records, which was followed by numerous awards. She landed in Las Vegas with "Starlight Express." She is in the cast of "Peepshow" at Planet Hollywood Resort.
"It's amazing to be the only girl in the group because the boys treat me like the princess that I am," Valentine joked. "I'm a handful, so I don't think they would want to have another girl in the group."
After studying in the U.S. and abroad, Cody Shawn Gay has performed for corporations from Tokyo to Berlin. Besides Poperazzi, the tenor can be heard at Bellagio's Fontana Room, where he performs with the band Fuse.
Tenor George DeMott was a recipient of the National Italian-American Foundation's Luciano Pavarotti Scholarship. He's been a featured entertainer aboard several cruise ships, namely Crystal Cruises. He's won several awards, including the 1993 Metropolitan Opera National Council audition's regional finals in Los Angeles.
Ellisa Lanza Bregman saw DeMott perform and said, "George is very talented. His grace and ease with the audience reminded me of my father, Mario Lanza (a tenor, actor and Hollywood movie star of the late 1940s and '50s). He, too, was from a very large Italian family and, like George, was very proud of his Italian American heritage."
Poperazzi took a while to form.
The two tenors met in 1995 while under contract for Crystal Cruises and worked together in different capacities since then. But they were in need of another voice, a female. It wasn't until Valentine auditioned at the end of 2009 that Poperazzi was born.
DeMott came up with the name, which fits two of the main styles of music they feature.
"At the time we chose the name Poperazzi, Lady Gaga had just had the hit song 'Paparazzi,' " DeMott said. "We were hoping people wouldn't think we were a Lady Gaga tribute band. But, thankfully, the bulk of the people we were performing to probably had no idea who Lady Gaga was."
Poperazzi's first tour was called Viva Italia!, and the singers' inaugural performance was in July 2010 in Madison, Wis., with the Wisconsin Chamber Orchestra.
The downside was it was outside, and they were in black tuxedos during a heat wave. The upside was they drew an audience of 12,000, and the performance was taped and later aired by PBS. Their North America tour included a full symphony Pops debut on New Year's Eve 2010, done with the Atlanta Symphony Orchestra.
"That was a dream come true," DeMott said.
Some songs are done as solos. DeMott does the classic Neapolitan song "Torna a Surriento," Valentine performs Whitney Houston's version of "I Will Always Love You," and Gay sings Michael Jackson's "Man In The Mirror" while accompanying himself on guitar.
But "the bulk of the show and what we offer includes all three of us," said Gay. "Depending on the show's length, we will usually each do one or two solos."
"The great thing about this Starbright Theatre show is it is an intimate theater, only about 300 seats," DeMott said. "That allows us to do some fun musical things like an "unplugged" section where we can bring it down and do some numbers with just acoustic guitar or piano. We usually go into the audience anyway, or Cody does, in a 'Jersey Boys' (segment). He charms the ladies up close."
The dream venue for DeMott would be Carnegie Hall in New York City.
"It doesn't get much bigger than New York City," he said. "(It says) 'You've arrived.' "
"Definitely the Sydney Opera House would be amazing," Gay said. "Carnegie Hall and Boston Pops would be amazing as well."
"I agree with the boys — Carnegie Hall, Boston Pops or anywhere in Italy," Valentine said. "I still haven't been there."
Meanwhile, the three performers are working with maestro Michael Krajewski, principal pops conductor for the Atlanta, Houston and Jacksonville symphonies, on a CD. They are also starting to write their own material and said they have hopes for a show on the Strip.
Contact Summerlin/Summerlin South View reporter Jan Hogan at jhogan@viewnews.com or 702-387-2949.