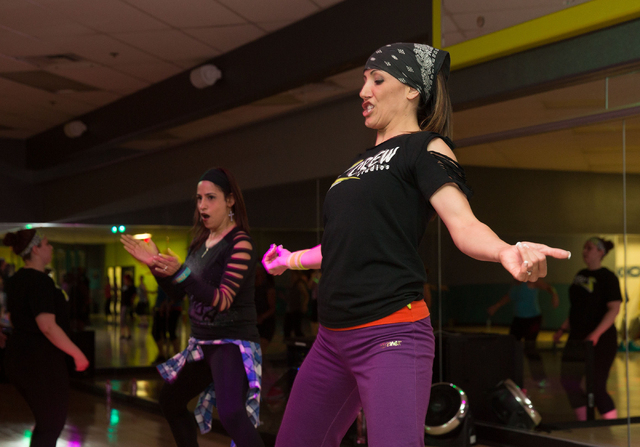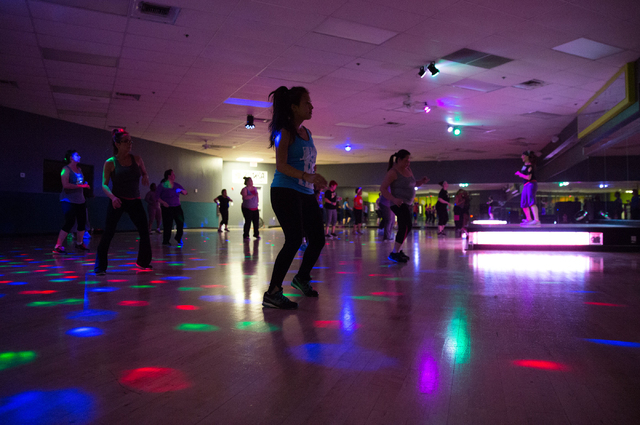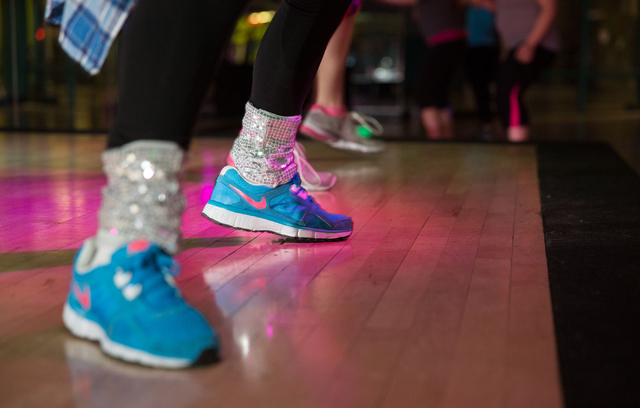 The first week of January saw the opening of Z Crew Studios, 3165 N. Rainbow Blvd., near Pier 1 Imports. The new fitness center offers daily classes.
"Once a month we hold a special Zumba-a-Thon," said Michelle Velez, studio director. "It's a two-hour event featuring multiple instructors, and it's just a chance to get everyone together to dance, exercise … and have a Zumba party."
Z Crew also offers yoga, Pilates, Yogalates (a mix of both), Bokwa (a new fitness craze imported from England) and burlesque classes. Drop-in classes are $8 each, or one can attend unlimited classes for $55 a month. Unlike many facilities, Z Crew does not require long-term contracts.
Instructor Miche Wilk said Zumba participants learn fun dance moves with "a few squats thrown in for good measure."
Z Crew was started by local business owners Mandy McKellar and Denise Schoepf. They said they noticed how much weight loss success people were having with this nontraditional form of exercise and decided more people needed to experience it.
Fitness clothes are sold in the boutique. One popular item is the belly dancing scarf, which comes in a variety of colors, plus camouflage. The ching-ching of the dangling coins helps participants feel the rhythm. Velez picked one up and gave it a shake.
"Aren't these fun?" she said.
"Fun" is a favorite word at Z Crew. Describing the program as Zumba-inspired, the studio offers a dance club feel with light effects to embellish things. It can easily handle 200 participants. Velez said it's a great way to exercise without feeling as though one is working out.
Besides helping people get their New Year's resolutions on track, some Zumba instructors have a history of helping good causes via the exercise sensation.
In the past, Z Crew instructors have participated in various valley fundraisers, dealing with social awareness efforts such as human trafficking. On Feb. 28, a Zumba event raised funds for Three Square food bank.
"We don't do a car wash, we do Zumba," said instructor Katherine Johnson.
A March 15 fundraiser at the studio raised funds for Johnson to travel to Africa for missionary work. She needs about $3,200 for the May 15 trip. Johnson plans to travel with members of her church, Valley Bible Fellowship, 4500 W. Sahara Ave., to Lusaka, Zambia, where the church has adopted a school for orphans.
"Sometimes, the only meal the children get is what the church supplies," Johnson said. "My pastor said you can't even compare the poverty there to the poverty here."
Z Crew instructors announce upcoming fundraiser events to class participants. Why the interest in supporting charities?
"Zumba is such a fun way to get people together," Velez said. "I used to do this a lot when I was (an instructor) in Arizona. We used to do what we called 'Zumba for a Cure,' and we'd raise money during the Relay For Life (event) and donate it to the American Cancer Society. It's just a good way to get people to want to come out and spend money to exercise and donate to a good cause, rather than just asking people to donate."
Raising money was already in full gear, with other area studio instructors joining in, when a Guinness Book of World Records attempt for the most Zumba participants was made Feb 8. It was held on Fremont Street, a location chosen to entice tourists to join in. While going for the record, the effort also collected more than 6,000 new and gently used children's books for the Clark County School District.
The Las Vegas record attempt involved 6,218 participants, the largest in the U.S. to date. It missed beating the record, held by India, which had 6,721.
Not all Zumba efforts involve so many participants, of course. Sometimes, businesses and organizations invite instructors to their events.
"The American Heart Association called us up and asked if we could come and do a quick little, what they call an energy break," Wilk said, referring to the Association's annual Go Red luncheon. "It's something NV Energy was sponsoring, so we … got everybody off their feet and do a five-minute (exercise) to a Black Eyed Peas song."
She said they have a lot of fun with it and appreciate the chance to further health commitments and help good causes.
For more information, visit zcrewstudios.com or call 702-826-2700.
Contact Summerlin/Summerlin South View reporter Jan Hogan at jhogan@viewnews.com or 702-387-2949.
Z Crew Studios
Z Crew Studios is at 3165 N. Rainbow Blvd.
For more information, visit zcrewstudios.com or call 702-826-2700.