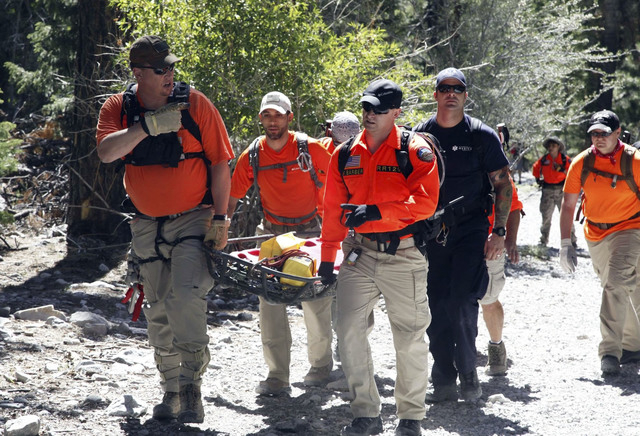 Christmas came early for Red Rock Search and Rescue.
First, the city of Las Vegas found affordable new headquarters for the nonprofit group. Then, it was awarded a $35,000 kit that will convert a bus into an ambulance transport vehicle.
"It's capable of transporting 18 people at a time," said the group's commander, Dave Cummings. "It's designed for real-life disasters, which is something I think we need to be prepared for here in Las Vegas. God forbid anything happens, but you have to be realistic. We are a terrorist target. That's what all the agencies prepare for, but then again, we could have a large hotel disaster."
The group is an independent team of about 230 volunteers who serve Southern Nevada and portions of Utah and California. News of the first gift came Sept. 18, when the Las Vegas City Council approved a lease agreement for a new headquarters for the group in a former community school space at 330 and 340 Villa Monterey Drive. Red Rock Search and Rescue will pay the city a monthly rent of $150. As part of the agreement, the city pays the utilities.
It had used a facility that cost $1,700 in rent, but with insurance and utilities, it was closer to $2,200, Cummings said. There were only about 1,500 square feet of usable space, barely enough for its needs. About three months ago, it moved out. The new facility from the city has 2,200 square feet.
The second bit of good news came Oct. 1. That day, using a live feed, AmbuBus announced which search and rescue group would be the recipient of a fully equipped unit, valued at $35,000. Las Vegas was one of about a dozen groups in the running. The contest was vote-based, and the team knew it was a top contender.
On the day of the announcement, members of Red Rock Search and Rescue were crowded around a big-screen TV. It was announced that the Galveston County Office of Emergency Management in Texas was the big winner. Still, the Las Vegas members stayed glued to the TV screen. AmbuBus went on to say that the decision had been a hard one and that Las Vegas had been such a top contender, a second prize was going to it: the equipment to outfit its own bus. Cummings said he had an inkling there would be a second prize but had no idea it would be so generous.
Cummings said that if the group was going to lose, it had no problem losing to the team from Galveston.
"We know what they go through on almost an annual basis," Cummings said. "Our hats are tipped to them."
Red Rock Search and Rescue formed in February 2012. It performed more than 100 missions in its first year. Having a bus would provide another level of assistance, especially if many victims were involved.
"You'll always have an ambulance for the critical care people," Cummings said. "But the people who can wait a little bit to get to the hospital, it'll take 18 at one time … So we don't have so many vehicles on scene."
Cummings said the group would see if the Clark County School District had an old bus it no longer needed.
Las Vegas' search and rescue group has the advantage over other cities. Being a 24-hour town, it has volunteers for every shift. It is growing by about a dozen people a month. Each volunteer has to be certified in CPR, learn rescue methods and become a ham radio operator.
Cummings said he would cap membership at 300 to ensure that the group didn't suffer from growing pains. Each person who expresses an interest is given a short course in how demanding the effort is, what's required and how finding a body can take an emotional toll.
"I literally try to scare them away," Cummings said.
When someone goes missing, a search is begun from the person's last known position. They cover every square foot in a regulated pattern, he said.
"Some (searches) are line, some are grid. It depends on the terrain," said member David Sidle. "Most search and rescue teams involve 30 to 40 people."
The new headquarters will be known as the Red Rock Search and Rescue Training Campus, Cummings said. It will serve as a learning center for members and also the community.
He said that in 2014, the group expects to hold first-aid and CPR training classes, a safe trails program so hiking clubs and day hikers have knowledge of how to stay safe and a good understanding of what they should carry in their backpacks. It also anticipates having online classes for its members.
"The term 'search and rescue' is very romantic. Who wouldn't want to say, 'I've gone and rescued someone?' " Cummings said. "But we do an enormous amount of recovery (looking for a body). Metro will go out and do a thorough search and do a very good job. But once they determine that the job is a recovery … We deploy immediately and continue the search."
For more information or applications, visit redrocksar.com.
Contact Summerlin/Summerlin South View reporter Jan Hogan at jhogan@viewnews.com or 702-387-2949.