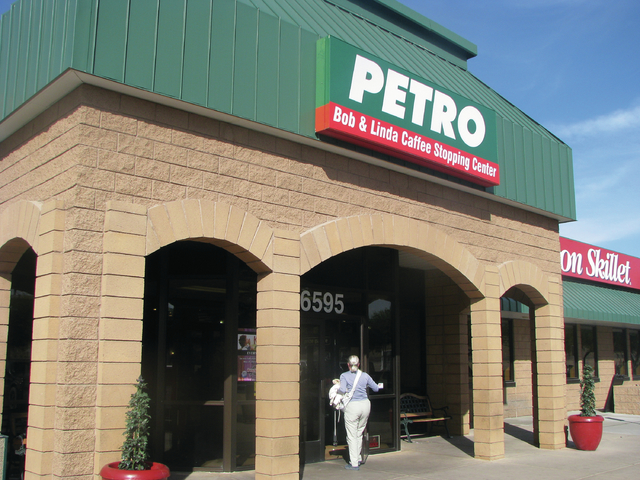 The Bob & Linda Caffee Stopping Center, a truck stop at 6595 N. Hollywood Blvd., just off Interstate 15 at the Las Vegas Motor Speedway exit, is named for a couple of drivers who are noted for their citizenship and their safe driving.
In May 2013, TravelCenters of America launched its Citizen Driver Award program, designed to recognize professional drivers who evoked public respect for the truck driving profession through good citizenship, safety, community involvement, health and wellness and leadership.
The company put out the word that it was looking for exemplary drivers to reward by naming a TA Stopping Center or a Petro Stopping Center of their choice in their honor. Only seven stopping centers were renamed, and the Missouri-based Caffees chose this one even though there's one near their home where they fuel up before trips.
"We chose it because it's our favorite stopping place in the United States," said Linda Caffee. "When you walk into a business, you can tell if people like their jobs, and they do. We like the sound of the (Las Vegas Motor) Speedway and watching the planes flying out of Nellis Air Force Base."
Tom Liutkus, vice president, marketing and public relations employee for TravelCenters of America, cited the couple's many accomplishments, including winning multiple awards for their volunteer work for driver-related charities, writing a blog for a drivers organization and doing public speaking events.
"They're both members of Trucker Buddy International, a pen pal program that connects drivers to schools and offers the kids real-world applications of what they're learning in school," Liutkus said. "The drivers might explain how they use math in their job or share information about historical sites that the drivers are passing through when the students are studying about events that happened there."
The Caffees drive for FedEx, traveling to Canada and almost every state. They have been driving together for 14 years and are co-drivers for 10 years. They hit the road after their children left for college because they didn't like the empty nest.
"Bob was a diesel mechanic, so he's always been around trucks," Linda Caffee said. "He felt it was time to get out from underneath one and start driving it."
The Caffees are on the road a lot, and they like their now-namesake stopping center so much that they have spent several holidays there.
"Last year we were there for Thanksgiving with several of our driver friends," Linda Caffee said. "We've always liked the people working there."
The Caffees' youngest daughter is a captain in the U.S. Air Force and was stationed for three years at Nellis Air Force Base. They visited her often while she was in the Las Vegas area and saw a lot of the valley.
"We only visited the Strip to see a few shows," Linda Caffee said. "We did a lot of hiking. We visited Mount Charleston and hiked the railroad tunnel trail in Boulder City. We watched the bridge near Hoover Dam being built. I don't think people realize how much there is to do around Las Vegas. We love it."
Contact East Valley View reporter F. Andrew Taylor at ataylor@viewnews.com or 702-380-4532.