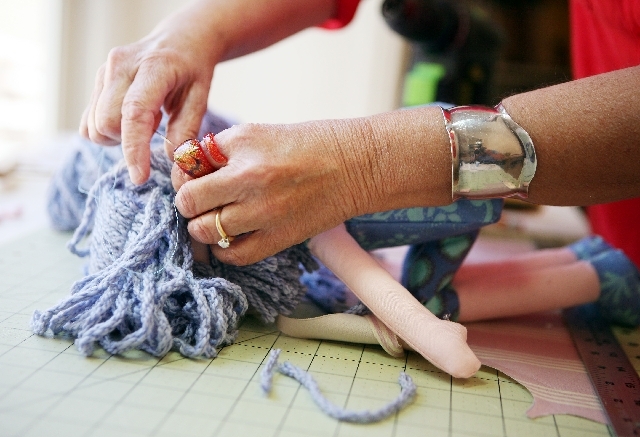 For the past 15 years, Diane Eugster was known for her fine art paintings, sold in galleries on both coasts. But she was ready for a change.
The economic recession was still making the art market slow, but then came the day, about three years ago, when five boxed items arrived on her doorstep.
They were from the Weatherburn Gallery in Naples, Fla.
"They were all my paintings, wrapped up and no explanation at all, no note, no nothing," she said. "I went on the Internet and learned they'd closed."
Eugster said it was a sign that it was time for a change.
"Everyone knows me as 'Diane the artist,' " she said. "I asked myself, 'Can I stop painting?' And I went, 'Yes, I can.' "
Always handy with a sewing machine, she decided to turn to soft art, doll making. Her dolls, she decided, would be fabric, simple, huggable and unique. She set about deciding on a design, considering various aspects –– round feet or pointed, flat-faced or with 3-D elements.
She made patterns and sewed prototypes.
"The first 10 were pretty rough, but they got a little better," she said. "I could change things, their shoes, add hats. … I experimented a lot. I wanted them to be floppy, so a kid could carry it around by the leg or whatever. I wanted them to be happy and simple. 'Simple' was a big thing. It's like I did with my paintings, I made them impressionistic and left it to the viewer to sort of 'finish' the painting."
She made dolls with themes –– a cowboy, a showgirl and a police officer. Friends suggested more and more themes, each requiring more intricate features and custom changes, until Eugster was crafting dolls that cost more to make than sell.
"I thought, 'Back up. Simplify,' " Eugster said.
She set them aside to start a new design. The past 24 months have seen that design morphing into a more sophisticated look. A bias cut now helps the face maintain its form. The body has bulk at its base to allow it to sit upright. The hair is now made a more uniform way, thanks to her husband, John, who devised a way to spin the yarn around a form attached to a hand drill.
Another big change is the materials she's committed to using. These are now eco-friendly dolls. The batting is Kona cotton. The yarn is recycled. The filling is fiber from bamboo, a renewable resource. Eugster calls them Rag Dolls Rising.
What caused her to commit to eco-friendly dolls? A trip to New York City last year.
"We were walking down the street, and I guess it was garbage day," she said. "There were just mounds of plastic garbage bags on the sidewalk, and every time you'd turn a corner, there were heaps of them. … I thought, 'This much trash, and this is just one city.' It started making me think about how I live and what can I do."
She switched to biodegradable detergent and stopped buying plastic drinking bottles. Then her attention turned to her dolls. She'd been making them for about 1½ years at this point but decided to make them into a subtle statement about saving the planet.
Instead of polyester stuffing, which doesn't degrade, Eugster opted for a filling made from corn derivatives. The change came with sticker shock. Polyester filling costs about $4 for a 12-ounce bag. The same size bag of bamboo filling runs $14.
"I'd just bought this 10-pound bag of fiber fill," she said. "I'm just going to donate it."
Her next goal was to secure organic cottons. She already has bought T-shirts at a thrift store and made the body of the dolls out of them. One T-shirt can result in three dolls.
Her eco-friendly dolls sell for $50.
She said cutting out the pattern pieces is the most tedious part. Then she starts sewing the pieces together, making the doll shell inside out. Her in-home studio contains three sewing machines, including a serger for finishing off edges. She works assembly line-style until they're ready to be stuffed.
"When you stuff it, put on the hair, then, to me, they really start becoming individuals," she said. "They start taking on personalities. I look at them and go, 'OK, I feel you need to be a blonde.' "
Eugster said perhaps a child would appreciate a soft doll more than a hard plastic one that came off of a factory floor. Maybe Rag Dolls Rising will influence them so they'll appreciate the arts more, she added.
She can make four a week, putting in about six hours a day. They are sold on etsy.com, a website that sells handmade and vintage items. She has gotten orders from as far away as Great Britain, Australia and Belgium. Eugster is looking into a toy store in California as another possible outlet.
"I don't think of myself as 'not an artist,' now," she said. "It's just that I'm doing something different. I'm sinking everything I know about color theory and texture, composition and balance into it. It's a soft sculpture, as far as I'm concerned."
She helps at a once-a-week craft circle called Helping Hands. It meets every Thursday morning at Shadow Hills Baptist Church, 7811 Vegas Drive. The women there make quilts, carry bags, hospital pillow cases and crochet items, which are sent to various people in need, such as the homeless and those in convalescent homes. The women also make smocks for expectant mothers and newborn layettes. Eugster has donated two of her dolls to them.
Phyllis Noble is the director of Helping Hands, which sees about 90 women meeting weekly. She said Eugster's dolls were given to children at University Medical Center.
"We make dolls, too," said Noble, "but they're not anything like Diane's. Ours are just plain."
The Helping Hands dolls have their own purpose. They are used by doctors to explain to young children what their surgery will be like.
Eugster plans to have a Rag Dolls Rising booth at Summerlin's art festival this fall.
She said she's not going to become a millionaire making her dolls and has no intention of mass-producing them but there's a message she's sending out with each one.
"I want to create an awareness, that the ecological realness of it is, how we can all do something … and really make a difference," she said.
Contact Summerlin/Summerlin South View reporter Jan Hogan at jhogan@viewnews.com or 702-387-2949.