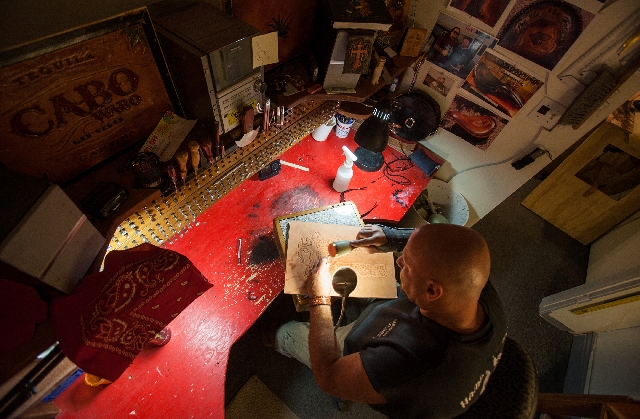 If you're a fan of the History Channel's "Pawn Stars" or "Counting Cars," chances are you've seen Steve Gilworth, or at least his work. Gilworth, 61 and a Summerlin resident, is the owner/operator of Hammered Hide Leatherworks.
He's the man to whom those shows' stars turn when they want customized motorcycle seats or leather jackets. Gilworth designed and crafted a motorcycle seat for Chumlee of "Pawn Stars" when he was presented with a tricked-out bike for his trip to the motorcycle rally in Sturgis, S.D.
Gilworth's studio is tucked within Count's Kustoms, the auto repair and detailing shop at 2714 S. Highland Drive, on which "Counting Cars" is based. But if Gilworth's plans come to fruition, he'll have a new studio downtown, near The Arts Factory, 107 E. Charleston Blvd.
"It has a heart. It's got a pulse," he said. "I always said, 'There's going to come a time when Fremont is really going to explode.' It's got character, where the Strip doesn't have all that much character."
His two-room space at Count's Kustoms has cutting boards hanging on the wall. Awls (long, pointed spikes) and leather saddlery stamps are lined up on pegs, and a bright light highlights his work space. A $3,000 Cobra Class 4 Leather Machine Co. sewing machine sits in one corner. It's so heavy-duty, it can sew through a stack of leather an inch thick with ease.
An American flag graces the wall, and below it is a large insignia from his Marine Corps days.
The whirring sounds of the auto body shop fade away as he gets to work, tapping a stamp to wet leather. His work can be seen at facebook.com/hammered
hideleatherworks.
After moving to Las Vegas for the first time in 2001, he opened a stained glass studio. That transitioned into building custom cabinetry, and his expertise saw him getting plenty of work, including the Binion home and the 21,000-square-foot house in Spanish Hills that was later sold to Nicolas Cage. It was seven-days-a-week, nonstop work for weeks.
He needed a break. Gilworth and his wife, Claire, a nurse, packed up and moved to the Big Island of Hawaii. It was supposed to be a laid-back lifestyle. His cabinetry shop there received a contract to build and install much of the cabinetry for Michael Dell's –– of Dell computer fame –– "home" there. The home was a complex of 19 buildings.
"When I got to Hawaii, it was even worse," he said of the demands of his job. "I wanted to spend time on the beach, and I hardly ever saw the beach."
Three years later, he sold his shop and returned to Las Vegas during the building boom. Gilworth used his carpenters' union affiliation to secure work at The Venetian, the Palazzo and CityCenter.
"I was back to working seven days a week, but it wasn't 'my' stress," he said. "I was just a foreman for a company, so it was 'their' stress."
About four years ago, he bought a Harley-Davidson motorcycle and turned to leather tooling as a hobby. When jobs on CityCenter stopped, everyone received their pink slip.
"We thought we'd be off a couple months and go right back," he said. "But as things turned out, the teeter-totter went from this (leather working) being a hobby to being a little bit more of a profession. Then it was on the verge of being a business, and now it is a business."
The first year, he said, was hard to get established as an artist. He credited his wife with seeing him through it.
About four years ago, Rob "The Chop" Wilkinson, owner of O School Choppers, lost his leather worker. Gilworth came to his attention as a possible replacement. Wilkinson asked him to make a motorcycle seat, something he'd never attempted before.
His first attempt was not quite what the customer ordered. It didn't properly fit the bump at the back of the seat.
"And he'd braided it in cowhide; the thing was about the size of my fist," Wilkinson said.
Gilworth gave it a couple of more tries before getting it right. It was a learning experience, he said, and he appreciated that he was encouraged to keep trying instead of being shot down out of the gate. Artists, he said, need such encouragement.
"He stuck with me until I learned how to do it," he said. "I still do work for him."
He gained more customers through Danny Koker, who was affiliated with "Pawn Stars."
When Koker was offered his own show, "Counting Cars," Gilworth got some of the spotlight as well. His inclusion is set to be expanded for season two. He doesn't know how many episodes he'll be in.
"They're always here filming," he said with a shrug.
Gilworth takes pride in his workmanship. Once his design is approved, a chopper seat can take 50 hours to complete. He uses only vegetable-tanned kangaroo hide for the braiding. Kangaroo leather is thin but stronger and will not fray like other types of leather. It also holds up to heat.
"I like the braiding as much as the tooling," he said. "It's instant gratification. … It's very Zen-like, like meditation. You get into it, and it can be, like, 12 hours, and you end up not knowing what time it is."
Tooling means modifying saddlery stamps or using them in ways they're not made to be used. It's all in how he keeps his work unique and creative. He said he doesn't want his seats to look "like cowboy saddles."
Airbrush artist Michael Henry often works on the same motorcycle as Gilworth.
"It's artist to artist," Henry said. "He understands what I'm (envisioning) as far as detail work, and I understand what he's saying when we talk about stuff like that. It's always good to bounce stuff off each other."
Chumlee's seat for the Sturgis trip cost $1,500. The most expensive seat Gilworth has made went for $2,000. He finishes off his motorcycle seats with a clear coat protectant. As much as he cautions bike riders to take care of the seat with special conditioners, he knows it's not going to happen and winces at what his seats endure.
"The closest thing to a conditioner they see is beer," he said.
The artist in him is itching for the next phase of his artistic talents –– making leather clothing. He said he wants to transition into making women's outfits and handbags "with a rock and roll edge." That will be the focus of his downtown studio.
The exposure from being on the History Channel already has him making outfits for Hogs & Heifers Saloon.
"I'm hoping this show allows me to (attract customers) without going through the 'starving artist' thing again," he said.
Contact Summerlin/Summerlin South View reporter Jan Hogan at jhogan@viewnews.com or 702-387-2949.