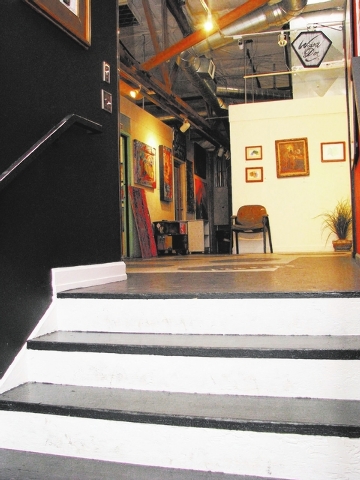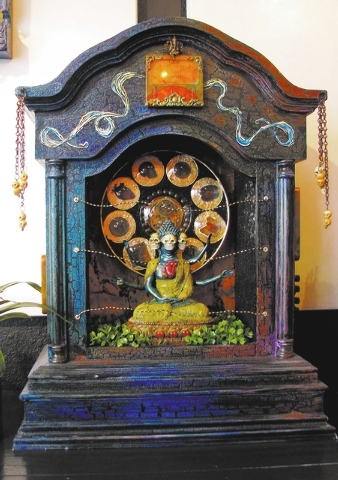 Editor's note — This is the sixth article in a monthly series highlighting segments of the 18b Arts District and surrounding arts locations.
The ground floor of The Arts Factory, 107 E. Charleston Blvd., is a major center of activity in the 18b Arts District, and it has been for years. Upstairs, it's a little quieter.
"The first two years I was up here, it was like a ghost town," said Alexander Huerta, who has had a gallery and studio there for five years. "I didn't get the foot traffic that I do now. People didn't know I was up here."
That placid start gave Huerta time to get his place in order and establish a presence.
"I'm glad now that it was quiet," he said. "It gave me a chance to prepare for all the people that come in now. I made the place mine, made it for me. It just so happens that people like the energy of the space."
Before getting the studio/gallery at The Arts Factory, Huerta did his art at home and set up on easels on the sidewalk for First Fridays. He said coming to the studio brought a new audience to his art, and he generated more sales, but sales weren't his primary motivation for coming to The Arts Factory.
"I was a gallery sitter at the CAC (Contemporary Arts Center) and had just sold my first commissioned piece for a chunk of money," he said. "I heard there was a space open. I came here because I wanted to be around creative people, because I get stagnant at home."
Recently, another artist moved to the building to be more in the thick of things. Michael Delacruz brought his studio/gallery to The Arts Factory from a converted apartment on Casino Center Boulevard.
"I was there for five years, and nobody found me," Delacruz said. "I came here in November, and now a lot of people are starting to see my work."
He works in assemblage, building art from odd objects he finds trashed or in a thrift store.
"It's a lot of reuse and recycle," Delacruz said. "I'm always looking for things I can make into something different."
Despite the varied appearance of the materials he uses, the works form a cohesive whole, looking less like a collection of junk and more like a religious cabinet or a 19th-century piece of scientific equipment.
"I think a lot of people like it because it's comforting," he said. "It's almost like comfort food, but it's art. It's got a lot of pieces in it you might have seen in your mom's house."
Brian Swanson and his partner Dar Freeland have operated Cricket Studio and Face Up Gallery on the second floor of The Arts Factory for almost 17 years. They are the longest-standing upstairs tenants. Only building owner Wes Myles has been there longer.
"It's a great work space, and it has worked out to be a great gallery and working studio," Swanson said.
Swanson said that even when the business started and the arts district wasn't as well known or established, they never had trouble getting clients to come to their offices.
"It's almost like a treat for them to come down here," he said. "They tell me they've got to get out of the office, and they come down here. It's a different scene for them."
Part of that may be the decor, including a bright yellow floor that was created to resemble giant puzzle pieces and cartoon-like 3-D art work on the wall. Other works are done in a whimsical style and include life-affirming messages.
"We've tried to make it an experience, where people can come in and read something and get something out of it," Swanson said. "It's hard to get depressed in here. We've tried to make it a positive place, and it has been. People get in a good mood when they come in."
The second floor has benefited greatly from The Arts Factory's remodeling and wall shifting over the years. In the early days, if the central gallery was closed, getting upstairs to a particular room meant knowing from which of three doors to enter the building. The addition of the a second staircase or more pass-through spaces have made the second floor more accessible.
Huerta is one of the biggest boosters for the building, organizing the painters on the patio events, which he hopes to relaunch in March when the weather warms up. He's pleased with his second-floor gallery.
"I kind of like being away from the main floor," Huerta said. "There's a serenity for an artist up here."
Contact Paradise/Downtown View reporter F. Andrew Taylor at ataylor@viewnews.com or 702-380-4532