December 28, 2013 - 3:50 pm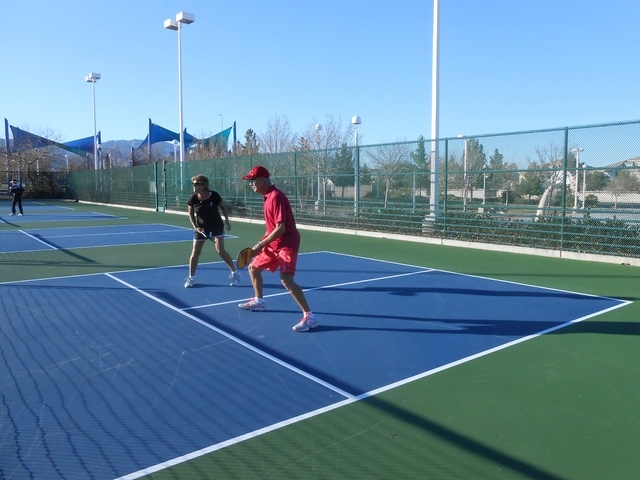 Pickleball is extending its reach into the Summerlin area. On Dec. 12, Las Vegas Mayor Pro Tem Stavros Anthony officially opened five new courts for the sport at Durango Hills Park, 3521 N. Durango Drive. What don't most people know about the game?
"They don't know that it exists,"said John Sloan, a pickleball ambassador in a volunteer capacity. "The appeal is primarily older people, active seniors, are playing the game. It was invented in 1965 in Washington and taken down to Arizona by snowbirds. Now it's in every state. It's very social, very competitive and exhilarating. … It's the only sport I know where the grandparents can play competitively with their grandkids."
The Durango Hills Community Center YMCA, at the same location, has also addressed the need for pickleball courts by extending its offerings to four indoor courts.
Breezy Bolden, branch executive for the YMCA of Southern Nevada, said it first offered one pickleball court about two years ago. It opened its fourth court Nov. 18. The YMCA offers open gym for pickleball from 9 a.m. to noon five days a week.
Bolden said about 20 players are on the indoor courts every day.
"I was looking for a program around a physical activity for adults, a way to engage seniors outside our traditional exercise classes," she said. "We wanted something fun, something a little competitive."
The court was just striping, done with painter's tape. Older adult members bought the equipment for a second court.
"I said, 'As it grows, I will grow with you,' " Bolden said.
Why is this a better use?
"We had these roller rinks put in a long time ago, and they weren't being put to use. Nobody was coming out here," Anthony said. "You try to create the activities that people want to play."
"It's a totally addictive game, said Geri Grodzinsky, Henderson's pickelball ambassador.
Contact Summerlin/Summerlin South View reporter Jan Hogan at jhogan@viewnews.com or 702-387-2949.