Town Square Las Vegas welcomes new additions
January 15, 2014 - 12:14 pm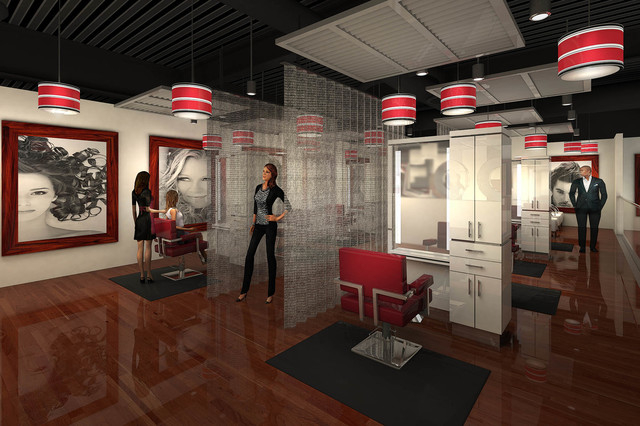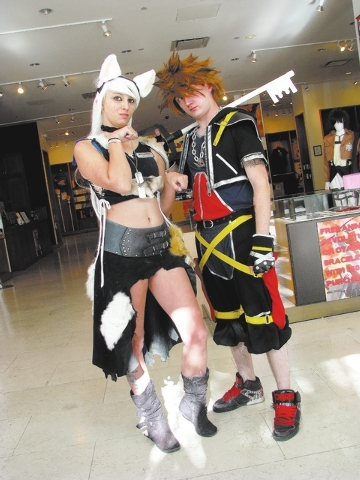 Not long after Town Square Las Vegas, 6605 Las Vegas Blvd. South, opened in 2007, the economy took a turn for the worse. That hasn't slowed it down much.
"Like most shopping centers, we went through some changes during the economic downturn," said Jaimesen Mapes, the marketing director of Town Square Las Vegas. "We had some tenants leave, but we were lucky enough and proactive enough to be able to fill those spaces with new tenants quickly."
Several new businesses have opened there in the past few months, and several others are slated to open in the coming weeks and months.
"When GameWorks opens, we'll be at over 90 percent occupancy, and that's what you're always striving for," said Mapes, who has been with the company since before the shopping center opened. "GameWorks is aiming for late March, and it will include some elements that weren't in the original one, most notably eight lanes of bowling."
Some of the latest additions were restaurants, including Crazy Pita Rotisserie & Grill, featuring casual Mediterranean food, and Potato Corner, a kiosk that features mostly potato-based foods, including chili cheese fries and baked potatoes. Both opened in December.
"One of the requests we've gotten from our guests was for food options that were more fast and casual," Mapes said. "We have quite a few restaurants on the property, but people were looking for something that was more grab-and-go. We looked for some quicker options that would still maintain the quality and service people have come to expect here."
Mapes said many of the new fast and casual options, including a Panda Express that opened in 2013, are at the west side of the shopping center, near the AMC Town Square 18 movie theater, where people are more likely to be looking for a quick bite before a movie.
The Sugar Factory American Brasserie also opened up on the west side of Town Square Las Vegas in November. The restaurant has a wide selection of breakfast and dinner options, but it shines in the dessert department, with options such as the Cookie Jar Sundae, Red Velvet Fondue and a large selection of dessert-inspired cocktails, such as the Cotton Candy Cosmopolitan.
Another recent addition that caters to the sweet tooth is Pink Box Doughnuts.
"This is our third location," said Lance Graulich, who teamed with Robert Armanino to open the doughnut shops. "We were invited by Town Square. We've got a fourth one that will open soon."
Before this venture, Graulich was the mind behind Create, a gourmet hamburger and frozen custard restaurant.
"I've known Robert a long time," said Graulich. "He's in the food ingredient business. One day, he called me up and said, 'Create us a doughnut concept,' and here we are."
In addition to doughnuts such as raspberry-filled and Bavarian cream, Pink Box Doughnuts sells ones such as Campfire S'mores and Date With a Nutty Pig, which includes dates, almonds, blue cheese, bacon, balsamic glaze and a date/balsamic reduction filling.
"It's a savory doughnut, and we're working on more savory doughnuts," Graulich said. "That and The Fat Elvis were featured on the Cooking Channel."
The shop sells doughnuts for $1 each individually and gourmet doughnuts for a little more.
"Our prices are incredibly fair," Graulich said. "A dozen doughnuts are $8.50 or $12.50 for a gourmet dozen."
He crafts the recipe for each doughnut.
"Some shops just make a bunch of vanilla doughnuts and put different toppings on them," Graulich said. "Our Orange Blossom Cake doughnut has orange essence in the cake mix. That's the way we do it here."
Another store that is different is Anime Revolution, which sells items related to anime but no anime. Instead, the store has high-end anime statues, game-related products, specialty T-shirts, and items such as Necomimi Brainwave Cat Ears, which are emotion-controlled.
"We have cosplayers (costumed performers) in here every weekend and on holidays," said the store's owner, Jacob Anderson. "It really stops people in their tracks when they see them. Everybody has a great time with them."
The store also sells costumes for cosplayers.
A few other businesses are slated to open at Town Square Las Vegas before GameWorks.
Scottsdale, Ariz.-based Minibar.ber.shop is set to open in February. The combination bar and barber shop has just begun franchising.
"You can get a haircut, a drink or do both at the same time," said Mapes. "Town Square Las Vegas lends itself to a lot of first-to-market businesses that come into town and want a central location."
Mapes said Minibar.ber.shop caters more to men but offers services to everyone, including kids.
Another business set to open soon is the LOOK Style Society, a new beauty venue that is set to offer hair service, a blow dry bar, a skin spa, a nail spa, a makeup lounge, sunless tanning and a coffee bar. The location is part company-operated but is also set to include stations for independent contractors and office space for related businesses, including a cosmetic surgeon.
"The mezzanine level will be available to rent for special events, like bachelorette and bridal parties," said Shannon Mariani, director of the LOOK Style Society. "It can also be used as a photo studio. Clients can get their hair and makeup done and then go straight over for a photo shoot."
Kailee Coll, director of operations for the Sam Villa styling bar at the location, said it will include a large retail component dominated by a large portrait of Grace Kelly.
"The image will be switched out with another Hollywood figure each quarter," she said. "(LOOK Style Society) is being built in two phases, but we're hoping to get everything opened at once, in mid-January."
For businesses such as Fleming's Prime Steakhouse & Wine Bar, which is set to open on Jan. 17, the chance to cater to locals and tourists was too good to pass up.
"The location of Town Square is great for Fleming's," said a spokeswoman for the steakhouse. "The new building is right between the Strip and the main shopping center."
Fleming's is being built on one of five remote building pads Town Square Las Vegas has in place for future expansion.
"That's the direction we're going to have to go to grow at this point," Mapes said. "It's all part of the long-range plans ."
Contact Paradise/Downtown View reporter F. Andrew Taylor at ataylor@viewnews.com or 702-380-4532.