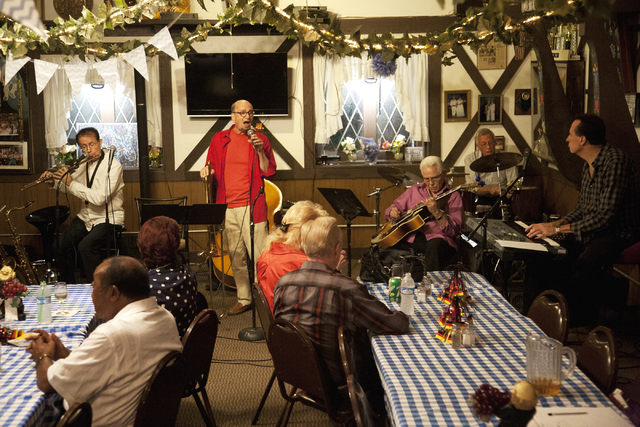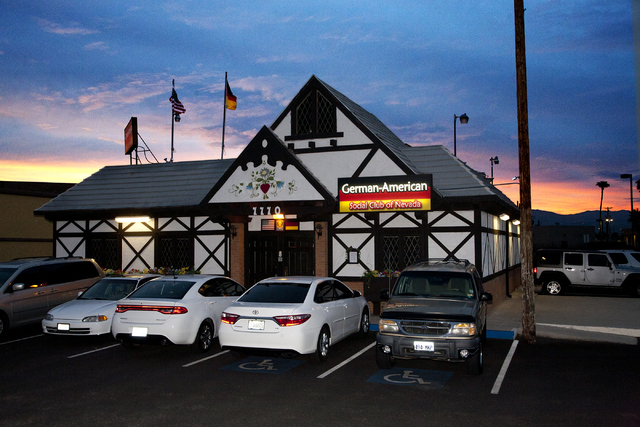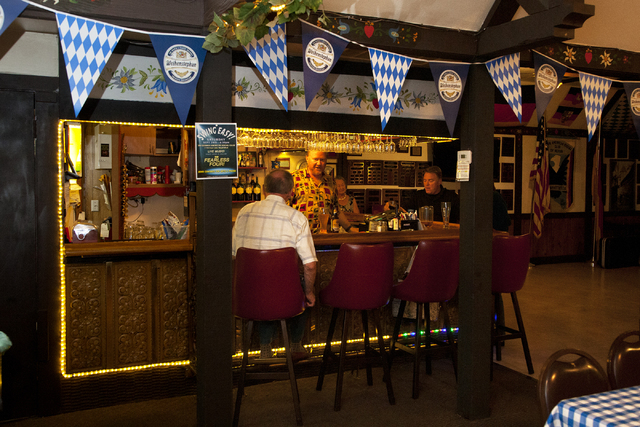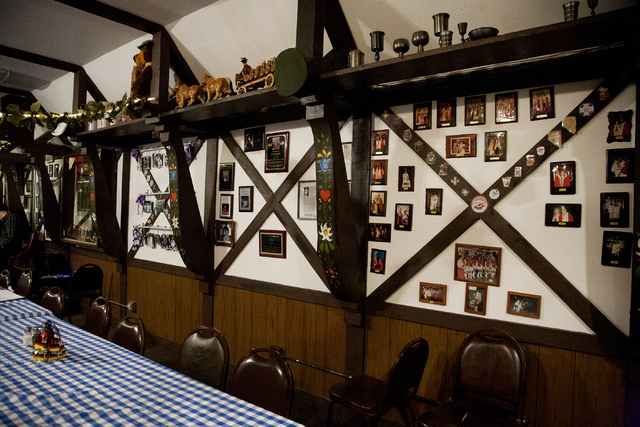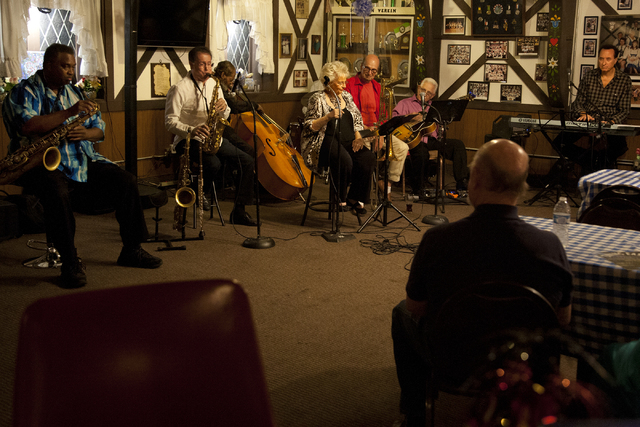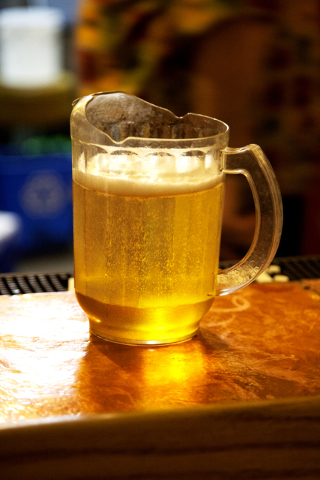 You don't have to be German American to come to Jazz Night Tuesdays at the German-American Social Club of Nevada, 1110 E. Lake Mead Blvd., but it does raise the price of admission from the $2 members pay to a whopping $7, which really isn't much for three hours of jazz by seasoned performers.
Some of them have put in decades of time performing on the Strip, backing some of the biggest names from the heights of Las Vegas' entertainment history.
"I've had piano players in the band who have backed the Rat Pack, Barbra Streisand, Perry Como, Xavier Cugat and others," said Marsha Ross, who acts as host, master of ceremonies and singer for the regular quintet. "That's the caliber of musicians we have here."
The band has been playing Tuesday nights for a little over three years and has grown a following of regulars who show up for the show. Initially, club member Bruce Woodbury was looking for events that would increase the nights that the club was open.
"I put the word out, and a friend hooked me up with Marsha," Woodbury said. "She had a group that was willing to play for a price we could afford, and the event has just kept moving along since then. I'm a little biased, but I find the club very comfortable. I guess the people who come out on Tuesday night do, too, because a lot of them have joined the club."
The club was organized 45 years ago, but it didn't get a home until the members purchased its current building 35 years ago. It's an unassuming building, just on the North Las Vegas border with architectural conceit designed to look like the old half-timbered buildings typical of small German villages.
Inside, the room is divided in half with long tables typical of a German beer hall on one side and a dance floor and the bar on the other side. The "stage" is simply the area in the front of the building.
"We usually get 40 to 60 people in here on a Tuesday night, so it isn't crowded, but there's enough people here to make it a fun night," Woodbury said. "There's something special about it. They mostly play standards, the kind of things Frank Sinatra and Ella Fitzgerald sang."
The quintet is just one musical project for Ross, who also hops on stage for a song or two at other people's shows and frequent big band shows at Sun City MacDonald Ranch.
Ross said that Woodbury remembered her husband playing at a long-running jazz night at a now-defunct bar called Pogo's, and he hoped she could bring together a group that could bring back the feel of those shows.
"I've been calling it the Vintage Vegas Music Night," Woodbury said. "To me, it's sort of the feel that the lounges used to have. There are a lot of guest singers or musicians that will sit in."
The quintet has had a mostly stable bunch of members, including Bobby Lee Howard on guitar, Jim Snodgrass on sax and flute, Cary Stratton on drums and Marsha's husband, Norm Ross, on bass.
Recently, when the piano player moved on to other projects, it allowed Marsha Ross to bring in a rotating group of three piano players, each doing one or two shows per month, including Doug Taylor, Larry Millonzi and Marlane Coker. The guests she brings up are mostly longtime performers with an occasional up-and-comer thrown into the mix.
"For the most part, the singers I bring up have performed professionally on the stage," she said, "but now we're older and don't have a regular band or venue, but here we have a place to play."
On a recent night, the guests who stepped up included Gary Marshal, Jeanne Brei, Michael Batise, David Sebastian Bach and relative newcomer Jonathan Karrant, who performed a captivating rendition of the jazz classic "Twisted." Also performing that evening was Maggie Peterson, who played Charlene Darling on "The Andy Griffith Show."
"It's a super fun venue," Marsha Ross said. "Bring your dancing shoes. It's the best-kept secret in Las Vegas."
Jazz Night Tuesdays are scheduled from 7 to 10 p.m. Tuesdays at the German-American Social Club of Nevada, 1110 E. Lake Mead Blvd. Food and beverages are available for purchase.
Visit germanamericanclubnv.com or call 702-649-8503.
To reach East Valley View reporter F. Andrew Taylor, email ataylor@viewnews.com or call 702-380-4532.
Jazz Night Tuesdays
Address: German-American Social Club of Nevada, 110 E. Lake Mead Blvd.
When: 7 to 10 p.m. Tuesdays
Information: The cost is $2 for club members and $7 for nonmembers. Visit germanamericanclubnv.com or call 702-649-8503.