Wheelchair-bound former magician gets a hand in home repairs from nonprofit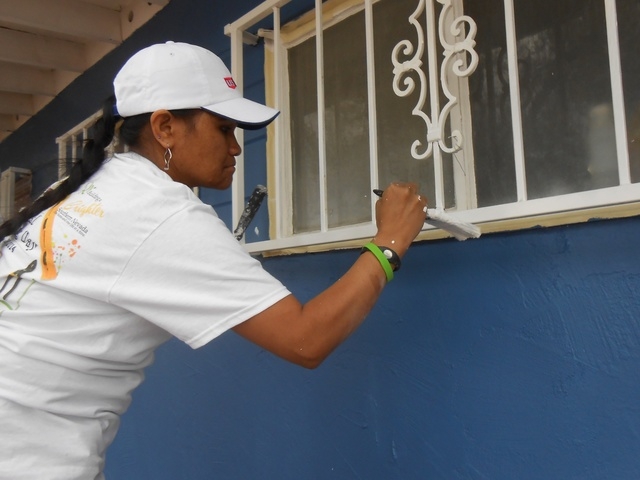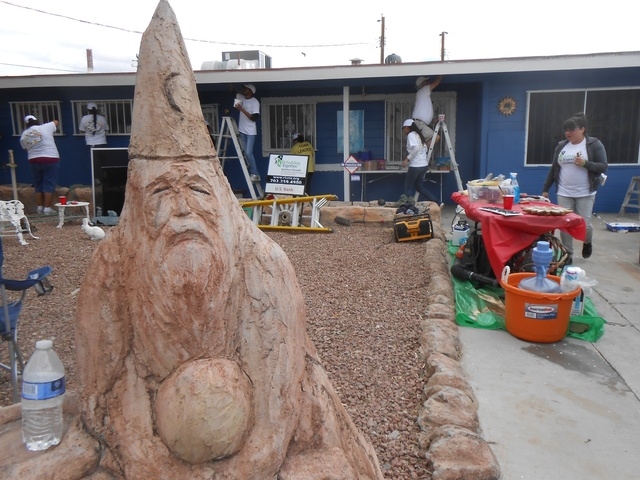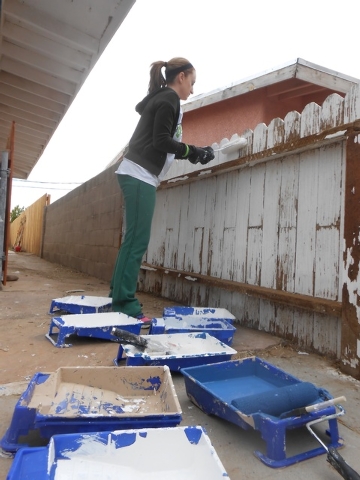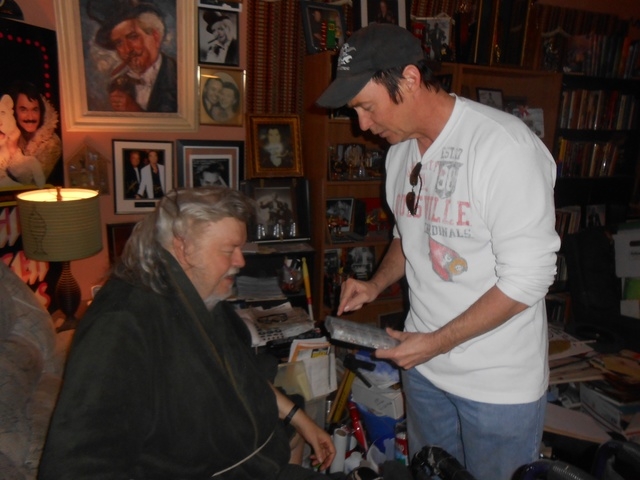 For the past 20 years, Rebuilding Together Southern Nevada has been making a difference in the lives of eligible homeowners.
On April 26, the nonprofit was out in full force, repairing as many as 20 Southern Nevada homes.
"There's no one else to help," said Bob Cleveland, project manager for Rebuilding Together. "There are not a lot of (people) who want to help seniors. It's not glamorous."
He said the nonprofit helps 500 to 600 families annually with emergency repairs, such as roof leaks, air-conditioning problems and water heater leaks.
One of those homes belonged to Gary Meador, 78, a former magician. The team at his house came from U.S. Bank and consisted of about two dozen employees.
"We did emergency home repairs for Mr. Meador three months ago," Cleveland said. "The roof was one of the issues, and there were two locations in the backyard where he had no fence, so his house was wide open to his neighbors' yards. So those were safety issues we needed to take care of."
The estimated cost of the repairs was $5,000. The money came from a city Community Development Block Grant. Rebuilding Together uses contract workers for such repairs.
Meador's air-conditioning unit gave out last year. He said it got to be 120 degrees inside, and he became so dehydrated, he wound up at the hospital. A former girlfriend knew of Rebuilding Together and told him to fill out an application. His house now sports a new air-conditioning unit.
Outside, volunteers filled a dumpster with trash and debris, power washed the concrete areas and painted the house. A couple of them set up a security camera to allow anyone inside to see who was at the door.
Why volunteer on a Saturday?
"It means a lot to me to help somebody who can't do things for themselves," said Christina Shutt, volunteer. "And usually, we get to know the back story of the people we're helping."
She said that makes it all the more meaningful.
Meador's back story is an interesting one. He was born in Denver, but the family moved every few years, leaving Meador with few friends and an advanced case of shyness. When he was 12, he met Tommy Woo, who had a magic shop.
"I'd mow lawns all day, then I'd take my money to his shop and buy a trick," he said. "He would show me things. He taught me sleight of hand with billiard balls."
He began doing magic at parties, school events and church functions. At 18, while living in Tucson, Ariz., he was booked at a nightclub, his first real job. He went by the stage name Darwin.
"There was one dressing room backstage with a bunch of nude girls, and I thought, 'I like this job,' " he said. "… That's when I decided to be a professional magician."
He came to Las Vegas and was booked at the Thunderbird Hotel as part of an afternoon show. That two-week gig turned into a nine-month job.
"You were on stage, and people were gambling, so it was good training because you had to earn their applause," he said.
From there, he worked at the Mint and the Hacienda. He spent four months at the Desert Inn. At each gig, he was part of an ensemble of talent.
"Here I am, working for six minutes and making pretty good money," Meador said. "Everybody else has to work eight hours."
His resume grew. He tried new tricks. One time, he said, he nearly drowned, trying to outdo Houdini's water tank escape trick.
At one point, he took a gig in Canada, where he was hired at $1,000 a night. There was a catch: He would have to do 30 minutes, nonstop. Meador didn't know if he could do a half-hour straight, so he asked the band leader to cue him when his time was up. Somehow, the cue was missed.
"When I walked off stage, he said, 'Gary, you did an hour and 10 minutes,' " he said. "I felt like Wayne Newton. That guy could go on forever."
He founded the Darwin Magic Club, which meets at 8 p.m. each Wednesday at Boomers Bar, 3200 W. Sirius Ave. Meador said he's looking forward to September, when his magic club celebrates its 50th year.
Meador made Las Vegas his permanent base when his parents bought his current home in 1960. The 1,346-square-foot, three-bedroom, two-bath house cost $30,000. His father died about 30 years ago, and his mother died 10 years ago. Now it's his house.
Rebuilding Together and its 1,200 community partners and volunteers have renovated and rehabilitated more than 6,500 homes, affecting the lives of more than 14,000 Southern Nevada homeowners and families. Services are provided free to qualified homeowners.
For more information, visit rtsnv.org.
Contact Summerlin Area View reporter Jan Hogan at jhogan@viewnews.com or 702-387-2949.