Winter weather has Vegas Valley diners seeking comfort by the bowlful
January 13, 2016 - 3:30 pm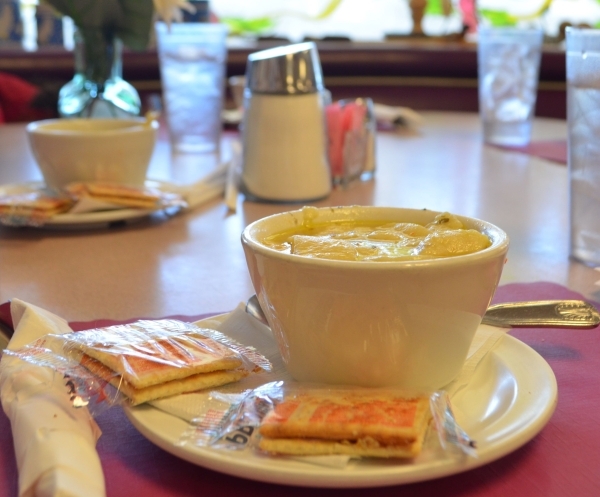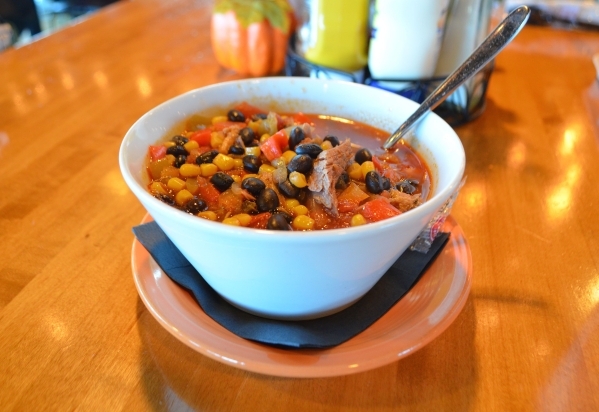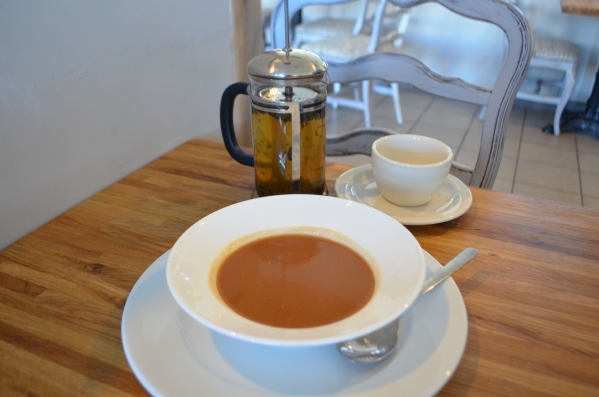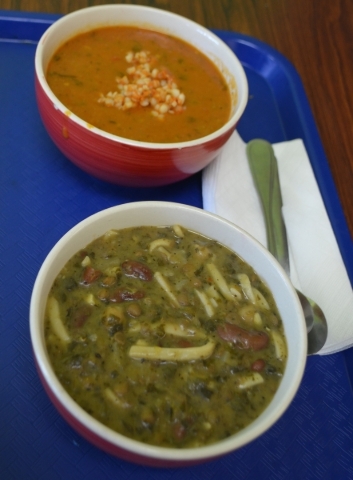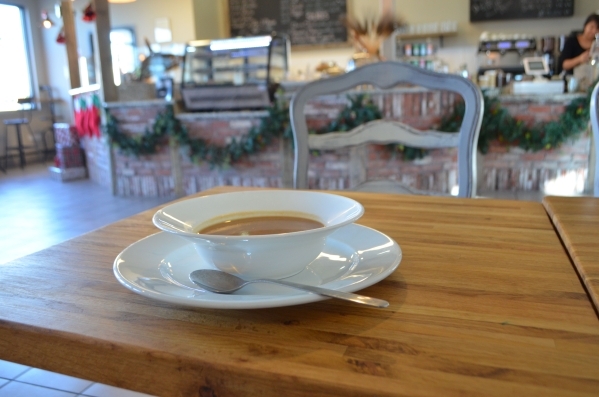 Baby, it's cold outside. Even though it's not up to your knees out there, Southern Nevada's whirling winds call for culinary therapy. To fight the chilly season, Southwest View offers a small sampling of the southwest and Spring Valley's finest soups.
DIVINE CAFE
Divine Cafe executive chef Steve Piamchuntar said heavy, cream-based soups and hearty stews are popular with winter visitors in the cafe at the Springs Preserve, 333 S. Valley View Blvd.
When picking soups, Piamchuntar doesn't stick to a rigid schedule; instead, he considers creativity, seasonality and "truth be told, what product you have extra."
He added that making soup is time-consuming.
"To make a decent soup, it takes a good, solid hour from chopping vegetables and making stocks, but I'll tell you that making the soup the day before you actually serve it is best," he said. "It gives it some time to let it set and do its magic."
Visit springspreserve.org/plan/cafe.html or call 702-822-7700.
LOU'S DINER
Brian Genco bought Lou's Diner, 431 S. Decatur Blvd., from longtime owner and namesake Louise Lauber on Dec. 7.
"And we're not changing anything," Genco said. "Our motto is, if it's not broken, don't fix it."
Daily soup specials are set to remain with cheddar broccoli soup on Mondays, chicken noodle on Tuesdays and Sundays, pepperpot beef barley on Wednesdays, ham and bean on Thursdays, and clam chowder on Fridays. As for Saturdays, longtime waitress Patty Misuraca said, "We just fly by the night. Tomato, whatever."
Lauber's son Kip and Misuraca took on chicken soup duties a while ago when Lauber was going through chemotherapy and didn't have the strength to roll the noodles. The labor-intensive dish features fresh-stewed chicken, from-scratch stock and hand-rolled and cut noodles.
"We start cooking the chicken about 4:30, and it's out by about 7," Misuraca said. And, yes, that's 4:30 a.m.
She and Kip make two big pots of soup, each with its own chicken and a complement of carrots, celery and spices.
"We're not changing anything," Misuraca said. "It's good soup. I love it. It's delicious, but it takes a lot of work. A little bit of love goes into it."
Call 702-870-1876.
MCMULLAN'S IRISH PUB
Diddy's Irish Stew, packed with potatoes, lamb and vegetables and served with fresh homemade brown bread, is a staple at Brian and Lynn McMullan's pub at 4650 W. Tropicana Ave.
"The Irish stew is named after Diddy, my beloved dad," Lynn said. "My dad was a man's man who loved meat and potatoes and was always a fan of meat and veggie stews and, in particular, lamb stew."
She said the stew is an important part of creating an authentic Irish pub experience where attention is paid to everything from ambience to "the perfect pint."
"We try in every way to indulge being as authentic as possible and to be true to who we are," she said.
The time-intensive stew takes more than two hours to prepare and is crafted in small batches several times a week year-round and more frequently in winter.
"We start with lamb, stock, spices, and slowly add parsley, thyme, carrots, celery, onion and potatoes," Lynn said. "It simmers gently with all the ingredients and is tested by the chefs until it's just right."
Visit mcmullansirishpub.com or call 702-247-7000.
PHO KIM LONG
Come prepared for crowds at Pho Kim Long, 4029 Spring Mountain Road. Lauded by local, national and even international media, the restaurant features a book of Asian dishes with a variety of Vietnamese soups as the stars.
Sure, there's wonton soup, hot and sour, egg drop, chowders and more, but pho (pronounced "fuh") is what most visitors are after.
Featuring a richly flavorful broth that takes more than eight hours to simmer and tender rice noodles, diners can choose meats ranging from rare beef to chicken to shrimp, or there are vegan options. A plate of garnishes packed with lime wedges, bean sprouts, sliced jalapeno peppers and basil accompanies each piping bowl. While many soups are designed as a prelude to an entree, the pho at Pho Kim Long is served in huge bowls that leave little to no room for a follow-up meal.
Call 702-220-3613.
PRESTO CAFE
Reza Arshadi said, "It takes a special person to make aush," the daily soup at his family's restaurant, Presto Cafe, 4950 S. Rainbow Blvd. "Just chopping it takes hours."
Arshadi's mother, Giti, makes the hearty Afghan dish from scratch several times a week. It's made with seven greens, three beans and wheat noodles.
"My mom puts her magic into it," Arshadi said. "She doesn't even disclose to me all that goes into it."
When he pleads with her to put the recipe to paper she insists, "It's job security."
"The secret isn't in the ingredients; it's in the technique," Arshadi said, explaining that it's a little like bread. Flour, water, yeast and salt are the basic ingredients in all breads, but look at the variety.
In addition to aush, the cafe offers a soup of the day that's always changing.
"It just depends on what we have in our arsenal," Ashadi said. "Whatever we haven't made in a while. They're all popular."
Visit prestocafelv.com or call 702-293-3332.
ROSALLIE LE FRENCH CAFE
French native Jonathan Pluvinet's menu at Rosallie, 6090 S. Rainbow Blvd.,features cold soups in the summer, but now that winter has arrived, hot soups have been added.
So now patrons can enjoy a rotating variety of soups with their flaky-fresh croissants and French press tea.
Visit rosallie.com or call 702-998-4121.
SPAGHETTY WESTERN
Milena D'alba and Lidia Cicoria craft the soups at Italian deli Spaghetty Western, 10690 Southern Highlands Parkway, Suite 103. Most days, there are at least two soups of the day, ranging from tomato to pasta fagioli.
"There are new soups every day," said Andrea D'albaof her family's offerings.
The one soup constant is cheese tortellini and fresh spinach in homemade chicken broth. The simple soup isn't ladled from a pot that has been sitting. It's freshly crafted for every diner with fresh tortellini and spinach cooked in the broth and delivered warm to the table. It's easy to see how much work goes into the dishes, as the restaurant features an open kitchen with constant flickers of flame as chefs prepare foods.
Served in dinner plate-sized bowls, the flat edges come with garnishes, such as parsley or fresh-ground pepper.
Visit spaghettywestern.com or call 702-834-4611.
— Contact View contributing reporter Ginger Meurer at gmeurer@viewnews.com. Find her on Twitter: @gingermmm
What's your favorite?
Have we missed your favorite Sin City soup? Tell us about it, and we may include your comments in a follow-up story in February. Email
gmeurer@viewnews.com
.