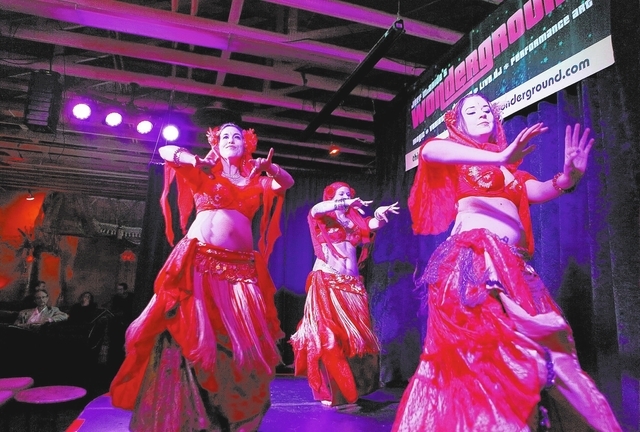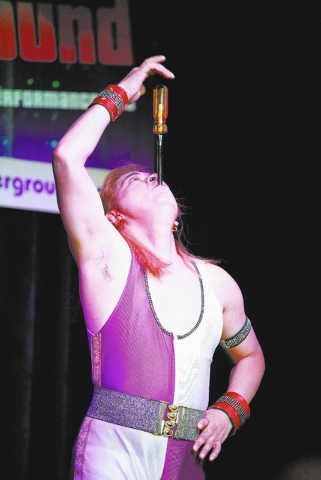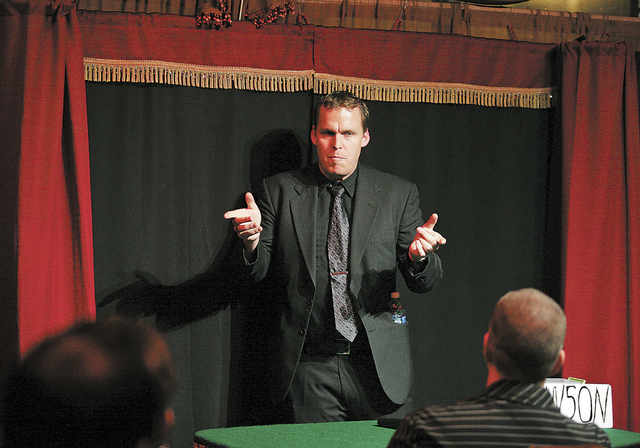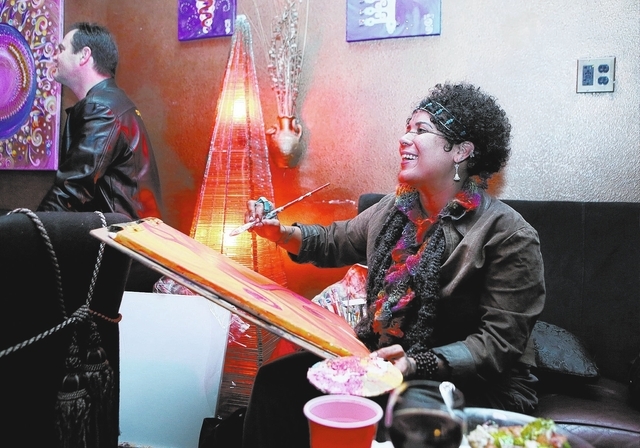 It happens every third Thursday of the month. A room inside The Olive, a Mediterranean restaurant at 3850 E. Sunset Road, is transformed into a dimly lit chamber filled with belly dancers, magicians, tarot readers, painters, musicians and the smell of hookah.
For $10, people are transported to the magical world of Jeff McBride's "Wonderground." It's a place where artists engage in color therapy, magicians interact with audience members and local and international performers show off their talents.
"It's like Magic Castle in Hollywood meets Burning Man," McBride said. "Every show is unique and features different artists from the Strip."
The players behind "Wonderground" are diverse in backgrounds and talents but all have a passion for magic and performing.
Disc jockey Leo Diaz, otherwise known as DJ-LD, has been playing music for the event since it started. He mixes live tribal techno music and performs magic involving martial arts, coins, cards or objects belonging to guests.
His three passions of magic, music and martial arts led him to re-create himself as Shinobi, or ninja.
"Jeff and I brought magic into the club scene," Diaz said. "We started inviting people from around the world to join our show."
"Wonderground" was initially offered twice a week approximately eight years ago at Palace Station, where McBride was performing at the time.
Once the event found its permanent home at The Olive five years ago, it was switched to the third Thursday of every month to accommodate performers' busy schedules.
"It's a tight crew," said performer Christian Diamond, maitre d' and host of the parlor room. "The word spread, and this became a meeting place for the arts community. Half of the performers have had shows on the Strip."
Diamond said despite the event's lack of advertising, the venue brings in a large number of people, ranging from magicians and performers to participants of Burning Man in Northern Nevada.
Regulars at the venue have included magician Criss Angel and comedy magician The Amazing Johnathan, said Bladen Ficarrotta, bartender and manager at The Olive.
Past acts have included Zamora the Torture King, who can endure extreme physical pain, and Harrah's Las Vegas headliner Mac King.
"You don't get bothered here," Diamond said. "It's become a (networking) place for magicians."
The average "Wonderground" schedule begins with a stage show featuring magicians, comedians, and other variety acts at 8 p.m. Following the show, a close-up show takes place in the back parlor room, where a group of 50 people can experience magic in a more intimate setting. Seating begins at 9 p.m.
At the same time, the New World Rhythmatism dancers perform belly dancing on the main stage while patrons eat and socialize.
The lounge action also includes live painters, sculptors and ambient performers.
During every show, Areeya Marie Sharpe creates a painting she said is inspired by the kinetic energy at the performance.
"There's energy all around me," Sharpe said. "It's perpetual perception. I paint vocal and visual movements."
She sells or gives away her art after the end of every show.
At 10 p.m., the late stage show begins, featuring magicians, jugglers, dancers, fire eaters and poets, with different performers each month.
Tim Wise, former producer and host of a traveling version of the television game show "Let's Make A Deal," is a regular co-host of "Wonderground."
Wise quit high school when he was 16 to pursue magic, and 36 years later, he has no regrets.
He has known McBride for five years. As the co-host, Wise entertains people and introduces upcoming performances to the audience.
"Magic intrigued me because when I was a child, I didn't understand how it worked," Wise said. "I became really passionate about it."
Dyno Staats, a steampunk scientist, travels to Las Vegas from California every month. He performs tricks that involve science and magic.
"I'm like a mad scientist," Dyno Staats said, adding that The Olive is a great place to perform and hang out. "We all do it because we love it. There's no paycheck involved. It's our passion. It's a very spirited event."
Husband-and-wife team Kyle and Mistie Knight have performed as illusionists in 70 countries, primarily on cruise ships.
Kyle has been a magician for more than 30 years. He introduced Mistie, a former Miss Las Vegas 2006, to his art, and she has been his stage partner for 10 years.
The international performers do acts that involve sawing Mistie in half, disappearing acts, mind reading and comedy magic.
"We travel a lot and do shows everywhere," Mistie said. "But we always look forward to 'Wonderground' because it's a big community of magicians and friends. It's a very intimate venue."
Another performer, who goes by the stage name Bizzarro, started performing at the event more than five years ago. He was one of the original entertainers at Palace Station and performs an all-silent act.
The performer, who is originally from Texas, swallows balloons, pulls clothes from his hands and tells stories through his actions.
"People who come here appreciate magic," Bizzarro said.
"Magic is like a healing art," Wise said. "It causes you to let go of your disbelief for a few minutes. Magic crosses all cultures and boundaries."
The next "Wonderground" is scheduled for Feb. 20. Doors are set to open at 7:30 p.m., and sets are scheduled to begin at 8, 9 and 10 p.m. Admission is $10.
For more information, visit vegaswonderground.com.
Contact Sunrise/Whitney View reporter Sandy Lopez at slopez@viewnews.com or 702-383-4686.