Working with 'Les Folies Bergere' showgirl costumes is dream job for Nevada State Museum exhibit curator
September 29, 2016 - 5:00 am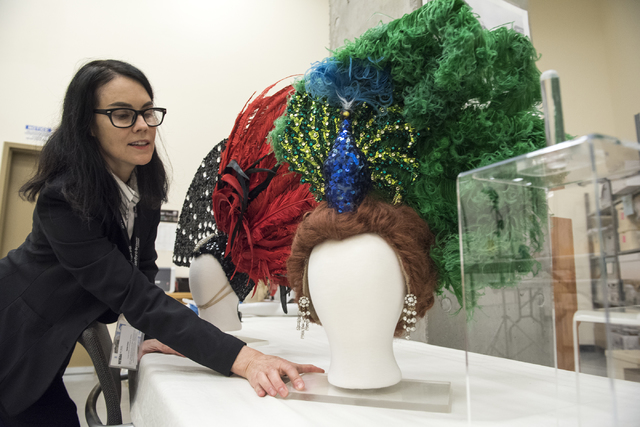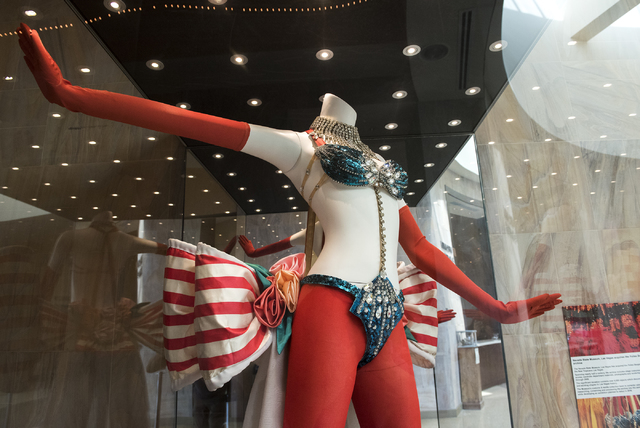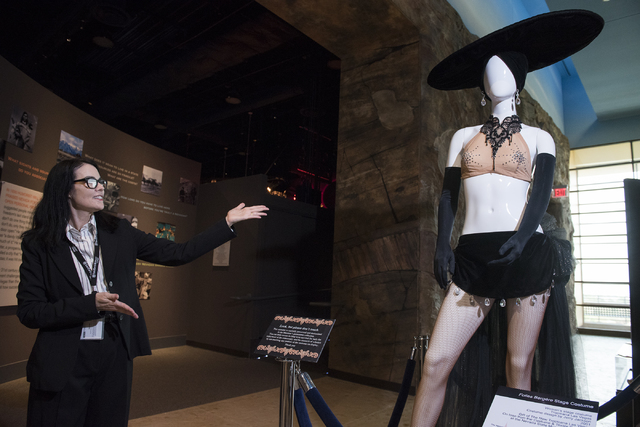 Some people enjoy their work so much, they'd do it even if they didn't get paid. Summerlin-area resident Karan Feder is one such person.
Not only is she curating the showgirl costume exhibit "Les Folies Bergere: Entertaining Las Vegas One Rhinestone at a Time" at the Nevada State Museum on a pro bono basis, she sought the position immediately.
"There's enough work for at least one full-time person to do this job," she said.
Feder, a member of the Costume Society of America, worked with the Wisconsin Historical Society, where she learned preservation techniques. She came to Las Vegas in 2004 and worked with the Liberace collection for a few years.
The "Les Folies Bergere" exhibit at the state museum — located within the Springs Preserve at 309 S. Valley View Blvd. — opened in June and will remain on display until Jan. 15. It proved so successful that it was expanded, doubling the number of mannequins from five to 10 and adding more objects of interest.
Museum visitors are greeted by the sight of a mannequin dressed in one of the iconic show's outfits, a red-, white- and blue-themed bra top and G-string with colored tights, matching gloves and a feathered hat.
The display has more than just costumes. A video interview with a showgirl and her husband — they met when he was a stagehand — tells about the early days of the Parisian-based show. There are showroom placards and a weight warning slip from management, warning the showgirl about putting on weight.
The latter is signed by Chuck Augusto, who oversaw entertainment in the early days at the Tropicana Las Vegas. He was known to have mob ties.
Some costumes used upholstery-grade fabrics, while others incorporated a new material at the time — spandex.
"In the early days, the rhinestones were attached to metal chain. The problem with that is, if you have a different shape body trying to go into that (costume), you have to call a welder in to refit it," Feder said. "There's no stitching and sewing it. But, being metal, it lasted forever."
Pulling off the exhibit meant sorting through 8,000 costumes, many of which came to the museum in boxes — some holding tights, some G-strings and gloves.
"The hardest part was trying to figure out what went with what," Feder said. "I looked at the photographs, which helped, but they were in black and white."
She contacted some of the dancers and showgirls for help. When they arrived, they'd flashback to their days on stage.
"It was so funny," Feder said. "They'd come in, see (a costume) on the rack, and it immediately took them back to the choreography for that number, and they'd begin going through the steps and turns."
Below floors, where the costumes are kept in a 70-degree, fire-proof and 55 percent humidity environment, Feder showed off items not on display to the public. There was a sequined hat with a half circle on top. It was made of foamcore. Another hat had a ponytail popping out the fabric top. Hidden underneath was half of a plastic soda bottle.
Hats with elaborate plumes hung upside down to preserve their feathers. Handwritten inside each skull cap was the name of the woman who last wore it: Kim; Tracy; Sharon; Lori. Dancer's shoes were stacked on shelves, scrapes showing the color scheme of the previous show.
Dennis McBride, director and curator of photography for the museum, said he could not put a price tag on the collection.
"What makes this collection particularly worthwhile is that you have costumes from entire numbers, not just one or two costumes from here and there," he said. "Historically, they're invaluable. What they mean to the history of the entertainment industry and to Las Vegas itself, emotionally and personally to the dancers who wore them, that can't be calculated. "
Feder has a liberal arts degree from the University of Wisconsin-Madison and a degree from Long Beach State University in collections management for costume and textiles. One of her first jobs was with "South Pacific" actress Mitzi Gaynor.
Feder said she answered the ad not understanding the true scope of the job.
"I thought I was interviewing for a job with Gloria Gaynor, the singer," she said.
Instead, she toured with Mitzi for about three years and worked with Bob Mackie, who designed the actress/singer's stage clothes.
Feder later worked in TV and movies. She studied fashion design and merchandising in Los Angeles and went on to found Entertainment Exhibitions. She began curating the "Les Folies Bergere" exhibit in 2013.
"She runs circles around us," said Caroline Kunioka, curator of history and collections at the museum. "She makes it look fun, and she only does it three days a week."
Visit museums.nevadaculture.org/nsmlv-home.
To reach Summerlin Area View reporter Jan Hogan, email jhogan@viewnews.com or call 702-387-2949.
"Les Folies Bergere: Entertaining Las Vegas One Rhinestone at a Time"
Where: Nevada State Museum at the Springs Preserve, 309 S. Valley View Blvd.
When: The exhibit is on display through Jan. 15.
Information: Visit museums.nevadaculture.org/nsmlv-home.