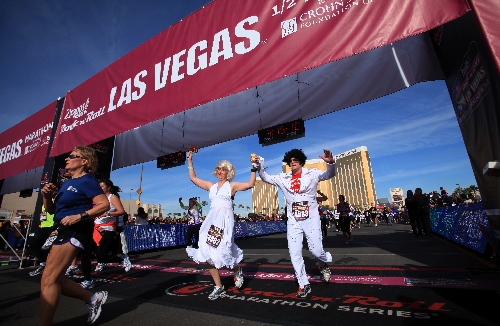 It used to be that just before sunrise, Las Vegas Boulevard was occupied by tourists stumbling along the sidewalk clutching plastic coin tubs.
The tubs are now rarely seen. Early Sunday morning, tourists, partyers and even National Finals Rodeo fans were also hard to spot. If the Strip had been bustling with revelers Saturday night, there wasn't much evidence of it at dawn.
Gatorade and banana peels replaced the empty beer bottles that typically crowd newspaper racks. The only strip show involved athletes shedding sweatshirts as the sun peaked over the casinos.
Did some fitness craze overtake Las Vegas overnight?
That was the case — at least temporarily — as 28,000 runners took part in the Zappos.com Rock 'n' Roll Marathon and Half-Marathon.
San Diego native Josh Cox and Poland's Dorota Gruca won the full marathon . They each earned $2,000 in prize money.
Scott Bauhs of Mammoth Lakes, Calif., and three-time Olympian Jen Rhines, also of Mammoth Lakes, took the half-marathon . Each won $1,000.
All the athletes shared in the fun. And fitness craze or not, some things on the Strip will never change.
Elvis impersonators? Only about 200 of them.
"You'll never be more popular than being Elvis in Las Vegas," said Mark George, a marathon participant from St. Louis who bought a costume made out of material suitable for running.
"If I'm going to run the Las Vegas Marathon, I'm going to do it as Elvis," added George's friend Brad Smith, a Wisconsin resident taking on his first long race.
Colorful folks? How about the Cookie Monster, Elmo and Big Bird?
Showgirls? Heck yes. Just ask Christina Stark of Salt Lake City, who had tall white feathers sprouting around her head and below her waist. She hoped they would help her fly.
"I came prepared," Stark said. "I love this event. It's on the Strip, an iconic location, it's flat and fast, and there are lots of crazy people just like me."
Speaking of crazy, shoeless Glen Raines arrived at the finish line in the first collection of runners behind the winners, both of whom accomplished the half-marathon in a little more than an hour.
Raines said he has qualified for the Boston Marathon. But no matter how well he does back East, he's not likely to land a shoe endorsement with Nike.
"I've been running barefoot for a year and a half," said Raines, who wore little besides his bib No. 1900. "I don't have any knee problems, back problems or ankle problems. I am never going back to shoes."
What's the Strip without faux celebrities? A Blues Brothers cover band fired up participants from a stage near the starting line, belting out "Soul Man" and other hits. On the side of the road, runners paused for a photograph with Tina Turner and Elton John impersonators. They didn't sing but offered encouragement to the athletes.
"We're here to help create the environment," said Minnie Foxx, aka Tina Turner. "I love to see the unity of the community. People are so hyped, it's awesome."
Finishing a half-marathon is difficult enough, but imagine running the course as SpongeBob SquarePants. Jonathan Jefferson's SpongeBob outfit added an extra seven pounds to his upper body. His greatest concern was not crossing the finish line, but staying upright.
"I almost took a header coming down the stairs," said Jefferson, of San Diego.
Sightseers? The event had those, too. Melanie Thatcher has lived in Las Vegas for two decades but has never seen the Strip from Sunday's vantage point. The chance to run through the heart of Vegas without worrying about traffic is a rare opportunity.
"It's cool to see it from that perspective; when you're driving on the Strip, you can't see all that," she said.
And Las Vegas wouldn't be Las Vegas without some quickie weddings, six-minute ceremonies to be exact.
Between miles two and three, workers and volunteers rushed to finish setting up the run-thru wedding stage in front of The Venetian, where 55 couples said "I do" before continuing on the half-marathon course.
The run-thru wedding chapel has become a marathon tradition, with couples marrying one year and returning the next to renew their vows, said the Running Reverend, Jamie Firzlaff. She has officiated over the run-thru weddings for the past four years.
Of the 55 couples, 22 were newlyweds. The rest were there to renew their vows.
"They're all different, and they're all fun," Firzlaff said.
San Diego native Jennifer Hughes ran the Las Vegas Marathon five years ago but stood on the sidelines Sunday, cheering participants while waiting for the couples to arrive. Her friend, Maresa Jurczynski, planned to marry fiancé Scott Zenner.
Hughes and another bystander agreed that "it takes a special man and woman to do something like this."
And when they said "special," they meant "nuts."
San Francisco residents Chelle Schauben and Anthea Charles waited by the wedding stage for their friend and co-worker Rhanee Parrenas. They wore homemade capes decorated with "Brides Maids Team Rhadio," a combination of the bride and groom's first names, Rhanee and Claudio.
By 8 a.m., all of the couples had arrived for the ceremony. Everyone gathered on the canal bridge: SpongeBob SquarePants (still upright), Elvis Presley, Marilyn Monroe, a few homemade superheroes.
Locals Marsha and Ernie Spear renewed their vows. They tried to do it last year for their 20th anniversary but didn't register for the race in time.
Ernie Spear worked his graveyard shift with the Metropolitan Police Department before donning an Elvis jumpsuit, glasses and wig to accompany his wife, who dressed as Marilyn Monroe. With 10 miles to go, he was tired.
"I wish this was further down the course, we would be almost done," he said.
Parrenas and her new husband, Claudio Palma, ran last year's half-marathon. When they saw the run-thru wedding chapel, he told her "don't get any ideas," she recalled.
It took her four months to persuade Palma to do it, Parrenas said.
Will it become a tradition for them, as it has other couples?
Palma shook his head no while Parrenas said, "Yes!"
The wedding crowd dissipated as the runners returned to the course. Team Rhadio left to have Bloody Marys and mimosas.
By 10 a.m., the east side of the Strip had almost returned to normal. A lone jogger ran on the sidewalk in front of the Palazzo, oblivious to the pack of marathoners passing the 11th mile marker on the other side of the Strip.
Tourists leaving town wearily dragged their suitcases down sidewalks littered with water bottles. Cowboys re-emerged from their hotels, Miller Lites in hand. Normalcy on the Strip had returned, probably before most late-night partyers had rolled out of bed.
Review-Journal writer Patrick Everson contributed to this report. Contact reporter Adrienne Packer at apacker@reviewjournal.com or 702-387-2904. Contact reporter Sonya Padgett at spadgett@reviewjournal.com or 702-380-4564.
2010 Rock 'n' Roll Las-Vegas Marathon
Nearly 30,000 participate in Rock 'n' Roll Las Vegas Marathon