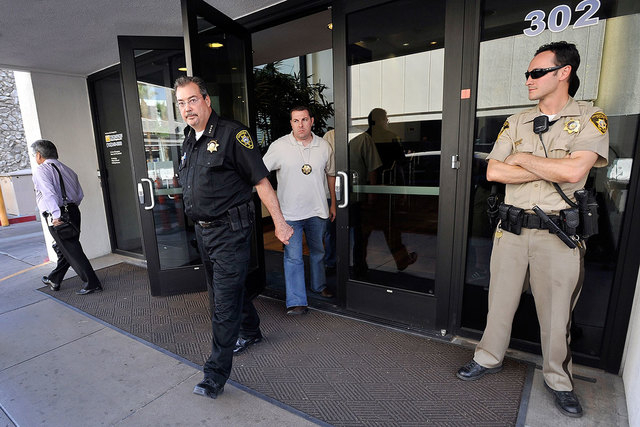 Las Vegas Township Constable John Bonaventura once said in a surreptitiously recorded conversation with a staff member that he wanted to spend all the office's money before Clark County takes over the remnants of his abolished office.
That was in April, when his battle with the County Commission was running at full tilt, which included an unsuccessful run for a commission seat. Now, Bonaventura appears poised to quietly depart in January after a tumultuous four-year term.
But it appears he has accomplished his privately stated goal of leaving the county with nothing when he leaves office. County commissioners on Tuesday voted for a $2 million loan to support the Las Vegas constable's operation and the constable offices of Henderson and North Las Vegas for the rest of the fiscal year, which ends July 1.
"The constable's fund is drained down to zero dollars and cents," commission Chairman Steve Sisolak said.
As for that recorded conversation in April, Bonaventura had said he wishes he could "spend all the money."
Moving forward, Sisolak said, the loan gives the county the necessary seed money for the office. The loan must be repaid to the county in a year.
County commissioners in March 2013 voted to abolish Bonaventura's elected office, which is effective when his four-year term ends in January. That decision, in turn, led to discussions for the Metropolitan Police Department to take over the operation.
The commission's action came after a variety of high-profile controversies under Bonaventura's watch, which included a reality television pilot with foul-mouthed deputies and hiring deputies with questionable backgrounds.
Bonaventura didn't hold back in the recorded conversation about his desire to spend money, which the Las Vegas Review-Journal obtained and first reported in June.
"Right now, with everything going on, I want to spend all the money," Bonaventura is heard saying. "You know, we've got $3.9 million in there. I wish I could just spend it all and then if they did eliminate the office say, 'F- – – you Sisolak, you got nothing. What happened to the money … you're trying to get the money and guess what, what do you got? You get nothing.' I wish I could do that somehow but you can't spend that much money."
Constable offices are primarily supported not by taxpayer money but by fees collected for services that include evictions and serving court papers. The Las Vegas constable's office has an enterprise fund, which requires it to submit expenditure requests to the county.
In an email Tuesday, Bonaventura said the financial problems with the fund come from a variety of reasons, such as a malfunctioning county computer program that miscalculated fees, neighboring constables doing business in his jurisdiction and customers going elsewhere after learning of the office's abolishment.
Bonaventura also blamed the county for transferring $2 million from his enterprise fund at the start of his term without his approval.
County budget records show the enterprise fund still had $4.9 million left in May 2011 after the transfer of $2 million to the county general fund. By July 1, when the current fiscal year started, the fund was down to about $1 million. The county created a new enterprise fund in October that included North Las Vegas and Henderson constable offices to increase transparency for those two operations, which are headed by different constables.
In the final weeks of Bonaventura's term, county auditors are spending a lot of time in the office reviewing and accessing financial records.
Visitor logs of the constable's office obtained by the Review-Journal show that county auditors had a near-constant presence in late November, checking in nearly every day and often staying from about 8 a.m. to 5 p.m.
The county auditor's office is looking at the fees coming into the office and comparing them with the fee figures that the county received from the office, according to county officials.
Sisolak, chairman of the county's audit committee, said he looks forward to seeing the audit's results, adding that it will be important to look at purchase orders and ensure there aren't outstanding claims.
Asked about the audit, Bonaventura said in an email that it's "just normal standard operating procedure" before the county closes the enterprise fund. He didn't elaborate.
Bonaventura's financial conflicts with the county are well-documented. When the county didn't pay Bonaventura's legal fees for a lawsuit he filed against neighboring constables in a jurisdictional dispute, he deputized his attorneys, paying their bills through a part of the constable's payroll system that lacks county oversight.
The payroll records for deputies are largely out of the public eye, as deputies aren't county employees. Bonaventura has provided the county with a year's worth of bank statements for the account that pays deputies.
Those records, obtained by the Review-Journal from multiple sources, show that a Nevada State Bank account has issued checks that range from about $167,000 a month to a high of $277,631 a month.
Contact Ben Botkin at bbotkin@reviewjournal.com or 702-405-9781. Follow @BenBotkin1 on Twitter.