Ex-Strip employee jailed in death threat case
August 15, 2014 - 3:55 pm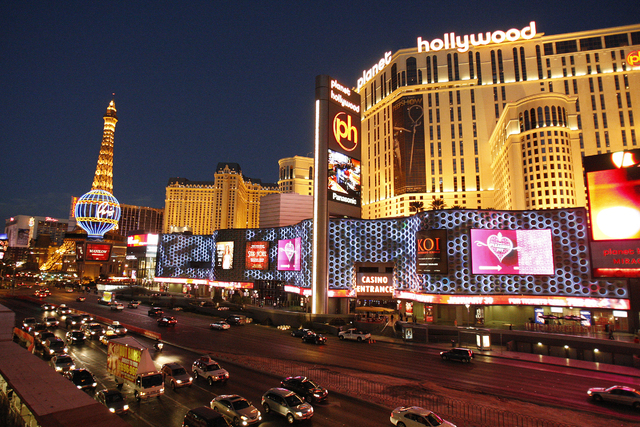 A fired Strip housekeeper was back behind bars this week in a bizarre death threat case where he's accused of sending dead cockroaches and pigeon body parts to former employers.
Following his original arrest in July 2013, Manuel Espronceda, 54, confessed to going too far in sending death threats to his Harrah's supervisor after he was fired in 2007 and then to his Planet Hollywood supervisors after he was let go in 2012.
According to court documents, Espronceda admitted that he mailed threatening packages to his Harrah's supervisor in 2007 and 2008 and had an associate hand-deliver similar envelopes to his Planet Hollywood supervisors in 2012. He also admitted delivering threatening packages himself to the Culinary Union representative who handled his grievances.
One package contained dead cockroaches, several included pigeon body parts and most came with a mysterious white powder and a written suggestion the person soon would be dead.
Detectives and FBI agents assigned to the Southern Nevada Joint Terrorism Task Force investigated the series of threats and authorities determined the white powder was not dangerous.
In January, Espronceda pleaded guilty to one count of mailing threatening communications and six counts of false information or hoaxes, and U.S. District Judge Andrew Gordon allowed him to remain free on his own recognizance until his May 22 sentencing.
But when it came time to be sentenced, Espronceda failed to show up, prompting Gordon to issue a warrant for his arrest from the bench.
Earlier this week, FBI agents arrested Espronceda again in Las Vegas, and a federal magistrate ordered him to remain in custody until his new Sept. 4 sentencing before Gordon.
Espronceda's threats on the Strip began on March 22, 2007, three days after he was fired, according to a criminal complaint.
A Harrah's housekeeping supervisor received a letter that contained dead cockroaches and "various rambling statements in English and Spanish alluding to a dead cockroach epidemic at Harrah's." The letter warned that it also contained insecticide and should be kept out of the "reach of children."
Months later in October 2008, the supervisor received another letter at Harrah's, this time including white powder and the words, "DEAD DEAD DEAD DEAD DEAD," the complaint alleged.
Hazardous materials investigators were called to the scene and eventually determined the white powder was not dangerous.
The threats resumed in April 2012 after Espronceda was fired at Planet Hollywood.
On April 2, 2012, a Culinary Union grievance representative found a package addressed to her that had been placed on her office chair, the complaint alleged. The union employee opened the envelope and a white powder spilled onto her hands and clothes. Inside the package was a piece of paper wrapped around the wing of a pigeon that read, "dead person."
Tests later determined the white powder was chalk.
On April 3, 2012, according to the complaint, Joint Terrorism Task Force agents and hazardous materials investigators were called to Planet Hollywood, where two housekeeping managers and a human resources staffer had received death threat letters containing white powder and bird feathers.
Then on April 22, 2012, the Culinary Union representative received another white powder letter.
Eventually, with the help of the Espronceda associate who delivered the packages at Planet Hollywood, agents tied Espronceda to the death threats, and they arrested him last year.
Espronceda told agents he was behind the letters because he wanted to intimidate the people he believed played a role in his dismissals and unsuccessful grievances.
Contact Jeff German at jgerman@reviewjournal.com or 702-380-8135. Find him on Twitter: @JGermanRJ.