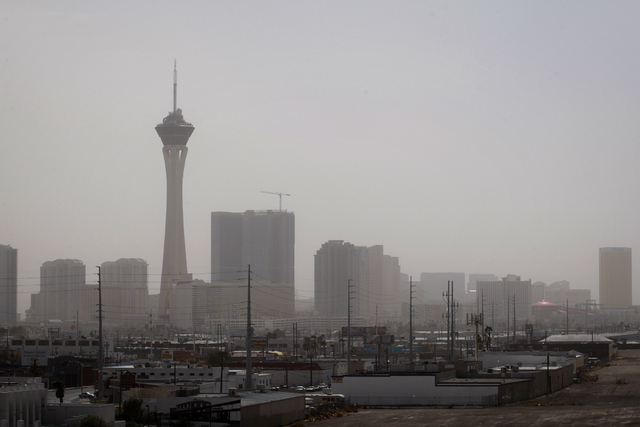 A chilly Friday morning had Las Vegas Valley residents bundling up, and cold days next weekend could bring the first snow of the year to Mount Charleston.
Friday morning temperature began at 58 degrees, and the temperature is expected to reach 73 degrees. By Monday, the forecasted high will be back up to 86 degrees.
This is not uncommon, said Larry Jensen, a meteorologist with the National Weather Service.
The average temperature for Oct. 8 in Las Vegas is 84 degrees, he said. Once this storm leaves the area, the valley will return to average temperatures.
The fall storm is common this time of year. A dry storm, it brings no precipitation and few clouds. Wind is usually the main component, bringing chilly gusts of 20 mph Friday.
The winds prompted the Clark County Department of Air Quality to issue a dust advisory through Saturday afternoon. The current dust levels are not unhealthy, said Clark County spokeswoman Stacey Welling.
Another storm is forecasted for late next week, according to the weather service.
"This one may not be so dry," Jensen said, referring to rain and the potential for snow on Mount Charleston, which would be the first recorded this season.
Freeze watches and warnings were in effect Friday morning for northern Nevada, Tonopah and areas east of Elko.
Contact reporter Annalise Porter at aporter@reviewjournal.com or 702-383-0264.