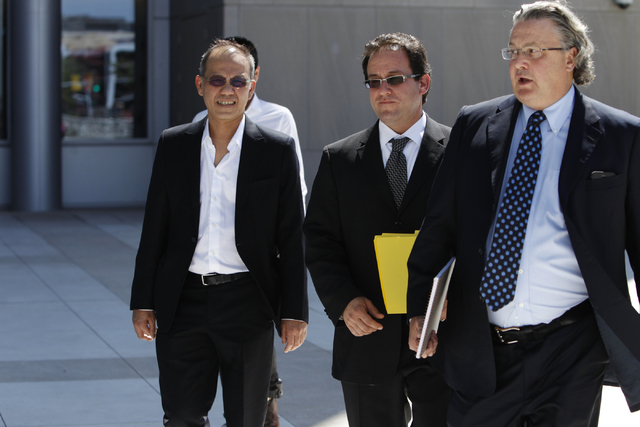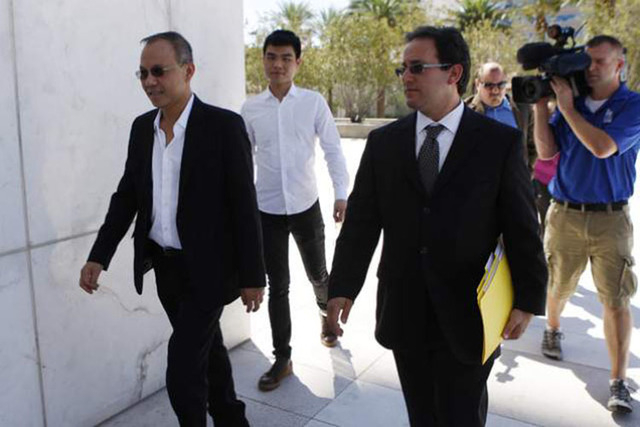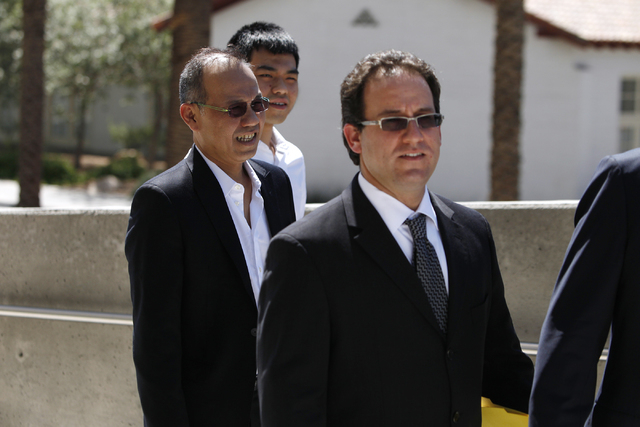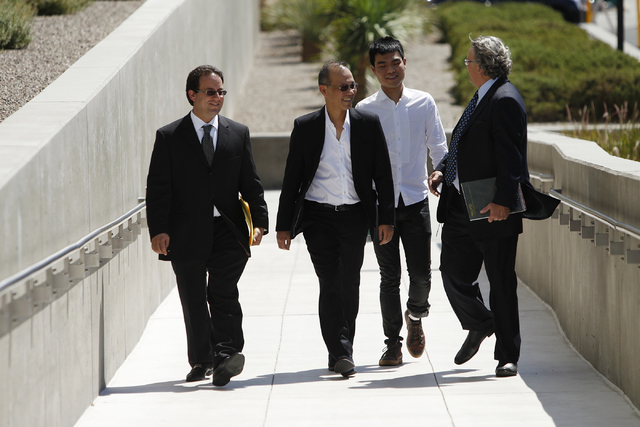 A federal magistrate Thursday denied a bid by wealthy Malaysian businessman Paul Phua and his son to resume playing poker in casinos while they await trial on illegal gambling charges.
Phua and his son, Darren Phua, were among eight defendants charged in a multimillion-dollar scheme that accepted wagers on the World Cup soccer tournament last year.
Prosecutors opposed the effort, arguing the Phuas failed to establish that the poker ban is too restrictive "in light of the nature of the charges pending against them" stemming from a July 9 FBI-led gambling raid at Caesars Palace luxury villas.
U.S. Magistrate Judge Bill Hoffman agreed in his decision, saying the father and son presented no new evidence to justify removing the restriction. He said the Phuas are still a danger to the community, particularly casinos.
Five defendants from Malaysia and China pleaded guilty last month and were each fined and sentenced to five years of probation with the condition they stay out of the United States during that period. The case against a sixth defendant was dismissed.
The elder Phua, who is well-known at Las Vegas poker tables, and his son are free on a combined $2.5 million in bail posted by World Series of Poker bracelet winner Phil Ivey and another professional poker player.
The Phuas' push to play poker comes while another magistrate judg is considering whether to toss out the bulk of the criminal case against them because of due process violations.
Defense lawyers contend agents conducted a warrantless search to gather evidence before the raid that violated their clients' constitutional rights.
They also have criticized FBI agents for withholding information from a judge in a search warrant affidavit about the ruse they used to enter one of the villas to gather evidence days earlier.
Agents cut off Internet service inside the villa on July 5 and then entered posing as computer technicians for a Caesars electronics contractor looking to fix the problem.
Prosecutors have alleged that Phua and his group made a $13 million profit in June and July accepting World Cup bets in a scheme that stretched to Macau.
Contact Jeff German at jgerman@reviewjournal.com or 702-380-8135. Follow @JGermanRJ on Twitter.
RELATED:
Agent testifies about raid on gambling operation
Caesars security discovered World Cup betting room before feds brought in, witness says
Lawyers grill FBI agent about Caesars search warrants
Three take plea deals in federal World Cup betting ring case
Federal prosecutors: World Cup betting suspect may have bribed his way to freedom in Macau
Chinese mob linked to World Cup betting ring bust in Las Vegas
Lawyers: Agents spied on suspects in World Cup betting scheme
Caesars lawyers deny privacy violation in World Cup betting sting
Malaysian man pleads not guilty in World Cup betting case
Prosecutors seek to detain World Cup betting suspects
3 key defendants in World Cup case ordered released
Malaysian businessman charged in betting scheme released
8 indicted in World Cup betting scheme
International mob-connected ring linked to illegal World Cup betting at Caesars