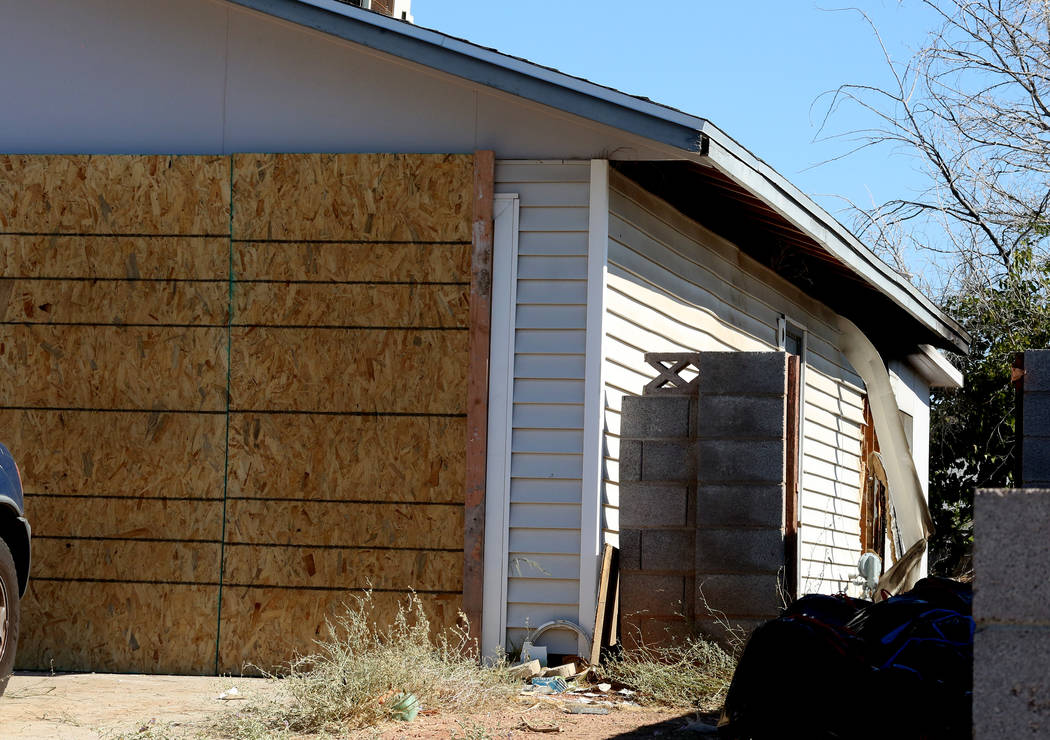 Though the Las Vegas Fire Department responded to about 100 more calls this Fourth of July than they usually do on shift, they received fewer this Independence Day holiday than the previous year — 409 responses in 2017, compared with 425 in 2016.
A department report showed most calls in the 24-hour shift beginning 7:30 a.m. Tuesday were for emergency medical services. At 266 calls, there were 50 fewer emergency medical requests on the holiday than on a typical night.
Still, there were more fire responses this year than last — 127 calls, compared with 108 in 2016. Metropolitan Police hadn't compiled its citation, arrest and fireworks collection numbers as of Wednesday evening.
Illegal fireworks at all-time high
Tuesday also marked the most illegal fireworks use that Las Vegas Fire Department spokesman Tim Szymanski said he had seen on Fourth of July.
Szymanski blamed fireworks for multiple fires throughout the valley. Authorities received hundreds of fire calls — the Metropolitan Police Department got about 550 fire calls between 6 p.m. and midnight Wednesday alone.
At least three calls were house fires crews attributed to nearby fireworks.
The Clark County Fire Department received about 374 calls between 5 p.m. Tuesday and 5 a.m. Wednesday, approximately two-thirds more than usual, Deputy Fire Chief Jeff Buchanan wrote in an email.
About 40 percent of those calls were fire related. Two burn injuries were reported.
Metro police deployed its officers to patrol for illegal fireworks for the first time this year. Whether they'll continue the practice will depend on citation and arrest data, public information officer Jay Rivera said.
"If the numbers are the same as last year or similar to last year, then maybe the resources should be spent otherwise," he said.
Las Vegas firefighters responded to one fire that started in a palm tree before spreading to four other palm trees and two houses on Canosa Avenue, near St. Louis and Eastern avenues, Szymanski said. Crews were dispatched about 8:20 p.m. When they arrived, firefighters called in a second alarm.
CANOSA UPDATE: Fire is OUT, palm trees on fire spread to 2 house, no inj's. Fireworks everywhere in the air as FFs work, no inj's. PIO1 pic.twitter.com/hwXgNGa32j

— Las Vegas FireRescue (@LasVegasFD) July 5, 2017
He said one house had exterior and interior damage while the other had minor exterior damage. Seven people were displaced. Nobody was injured.
The American Red Cross assisted another man after his house on the 7400 block of Bagdad Court, near Alta and Buffalo drives, caught fire about 11 p.m. Szymanski said the man awoke to banging on his front door and yelling about his house being on fire.
Firefighters think the fire started in some dead grass in his backyard before spreading to the house and attic.
F3H 7404 Baghdad Ct smoke from roof of 1-sto house, checking for extension in attic, no one home, firework ps heavy in area. PIO1 pic.twitter.com/GxcTg9laMx

— Las Vegas FireRescue (@LasVegasFD) July 5, 2017
A nearby block party had used "extensive" amounts of illegal fireworks, Szymanski said. They continued using them as crews worked.
Two adults and four children were displaced after a house fire near Southern Highlands Parkway and West Cactus Avenue, according to the Red Cross. An additional four adults were displaced after a house fire in North Las Vegas, near Cheyenne Avenue and Scott Robinson Boulevard.
Early estimates from Clark County fire total $230,000 in damage resulting from two structure fires, Buchanan said.
"I've been here for a few years, and it seemed like a very busy night across our region," public information officer Frank Rutkowski said. "Anytime we have this many calls in a short time, it does affect our resources."
Average number of lost animals
The Animal Foundation is at capacity after the holiday weekend, when about 250 animals were brought to the shelter, spokeswoman Kelly Leahy said. Though that's about average for the foundation, and slightly fewer than last year's July 4, she said the shelter expects to take in more animals who strayed from their homes over the weekend.
"We just see a lot more lost animals, particularly dogs, that are scared by fireworks," Leahy said. Lost animals can be picked up with proof of ownership within 72 hours, after which they're placed for adoption. All pickup and adoption fees are waived until Monday, so people can retrieve their pets or welcome a new one to their family.
Contact Mike Shoro at mshoro@reviewjournal.com. Follow @mike_shoro on Twitter. Contact Jessie Bekker at jbekker@reviewjournal.com or 702-380-4563. Follow @jessiebekks on Twitter.