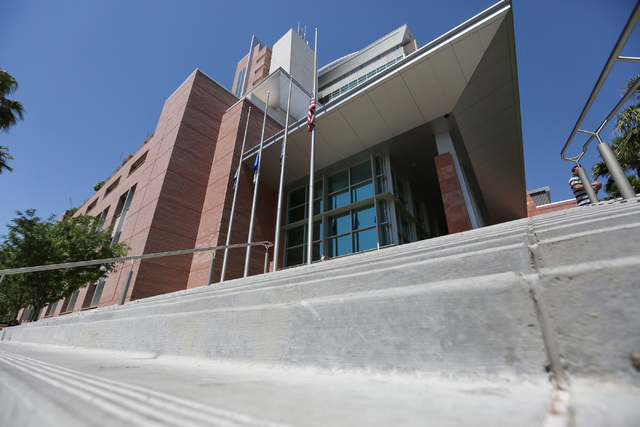 Four flags dangled limply Thursday in front of the Regional Justice Center, swaying as a slight breeze ruffled their corners.
They hung in limbo about halfway down their poles, lowered in response to an executive order that had expired 11 days earlier. Down the street, at Las Vegas City Hall, the flags were at full-staff.
By Friday, the flags at the justice center had returned to the tops of their poles.
Deputy Public Defender Howard Brooks, 58, can see the flags from his office across Lewis Avenue. He said he's gone multiple times to administrators at the courthouse to remind them about orders issued by the governor and president.
"But it seems that no one in the judicial system will take ownership of the issue and guarantee that the flag is properly displayed," Brooks said in a statement prepared for the Las Vegas Review-Journal. "That's why the problem persists over the years."
President Barack Obama issued a proclamation designating May 15 as Peace Officers Memorial Day and calling on governors to direct that flags be flown at half-staff on that date. Gov. Brian Sandoval followed with an executive order, which required U.S. and Nevada flags at all state buildings to be flown at half-staff from sunrise to sunset May 15.
That was the most recent executive order by Sandoval requiring flags to be flown at half-staff. This year he has issued seven flag orders; he issued a dozen such directives in 2015.
Brooks said Regional Justice Center doesn't always follow details of the orders, although the position of the flags tends to change after he's made a few phone calls. The largest judicial facility in Nevada should be a place where flag protocols are followed, the attorney argued.
He said the proper display of flags honors the people who served in wars.
"I believe the individual judges and justices care about the issue. But somewhere in the bureaucracy over there, no one seems willing to take responsibility, and I find that sad," Brooks said.
On Friday, court spokeswoman Mary Ann Price said she does not know who is charge of raising and lowering the flags at the justice center, which houses courtrooms for Clark County district judges and the Nevada Supreme Court.
According to Title 4 of the U.S. Code, the flag should be displayed at half-staff until noon only on Memorial Day, then raised to the top of the staff.
Contact Melissa Gomez at mgomez@reviewjournal.com or at 702-383-0278. Follow @melissagomez004 on Twitter.