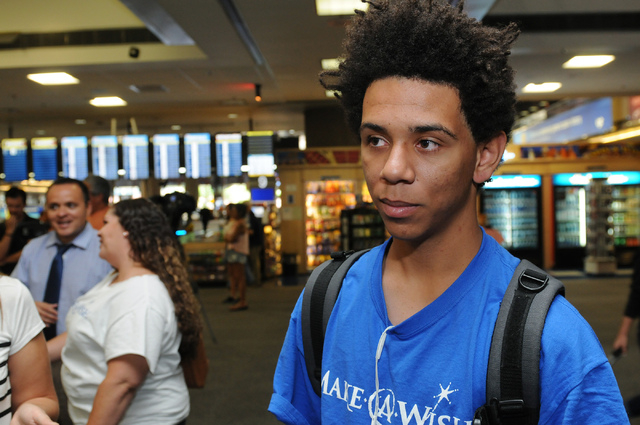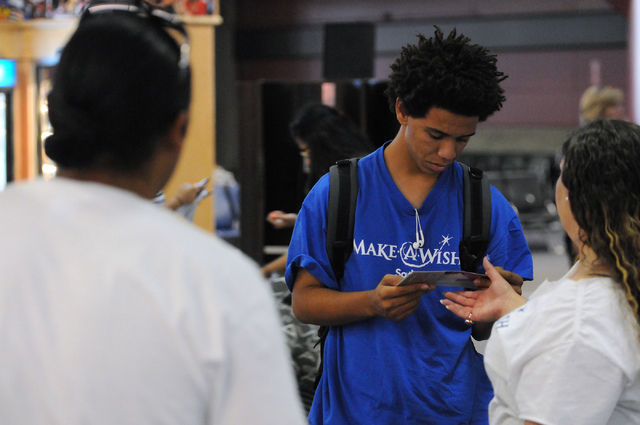 As a child, Tavori Lockhart could always be found on the field kicking a ball around, dreaming of becoming a professional soccer player. But all of that changed two years ago when the 17-year-old from Las Vegas was diagnosed with hypertrophic cardiomyopathy, a condition that involves a thickening of the heart muscle, making it harder to pump blood.
In some cases, the heart muscle can fail. Hypertrophic cardiomyopathy is the leading cause of heart-related sudden death in people under 30, although literature provided by the Mayo Clinic describes such deaths as rare.
Lockhart's soccer career was over.
"Tavori has played soccer since he was in kindergarten. Because of his heart condition he can no longer play," said his mother, Carissa Noe-Robles. "Soccer is a big deal in our family; my dad played and then coached my brother and I."
But he can still watch.
Thanks to the Make-A-Wish Foundation, Lockhart was at McCarran International Airport Friday on his way to the World Cup in Brazil.
He was the center of attention as he waited to board his first international flight.
"I didn't know it would be much of a big deal, and it is a little overwhelming, and I feel very excited," he said.
The Sierra Vista High School senior, whose family moved to Las Vegas from San Diego in September, is one of 40 young people Make-A-Wish will send, all expenses paid, to the World Cup.
During a week in Curitiba, Brazil, Lockhart and his family will attend the Australia-Spain and Algeria-Russia matches, go sightseeing and visit the FIFA Fan Fest.
Although he hopes Italy will be the last team standing, Tavori said he is excited about seeing Spain play and hopes Team USA makes it to the final.
For Noe-Robles, the trip is all about her son.
"This is a huge blessing for us, and it is all about what he wants. He is the boss," she said.
Make-A-Wish works with families nationwide whose children face life-threatening medical conditions, giving them some relief from the stress of daily life.
"Its amazing; having a wish come true is really a game-changer for the child," said Caroline Ciocca, president and CEO of Make-A-Wish Foundation of Southern Nevada. "When they are dealing with an illness that is life-threatening, we give them an opportunity to be reconnected with life."
Regardless of his condition, Lockhart is like any other teenager. In addition to soccer, he enjoys skateboarding and listening to hip-hop.
"It is nice to see him smile again" his mother said.
Contact Paulina Rojas at projas@reviewjournal.com or 702-383-0206.