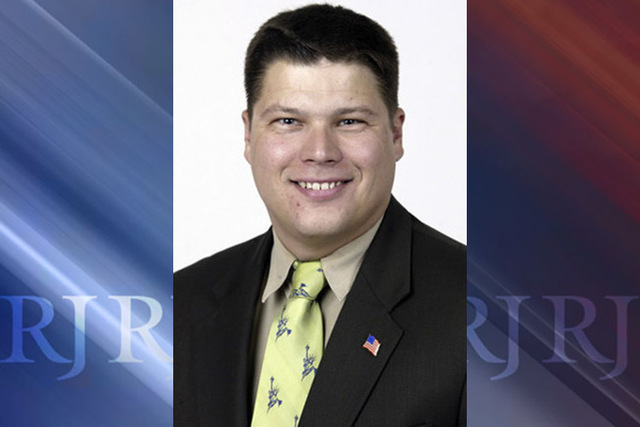 A former attorney who ran an unsuccessful bid for Clark County District Attorney was sentenced Thursday to five years probation on three felony charges stemming from a roadside confrontation with Las Vegas police.
Raymond James "Jim" Duensing, 38, was convicted in November on charges of resisting a police officer, carrying a concealed weapon, and unlawful possession of a firearm in connection with an Oct. 2009 traffic stop in the northwest valley. An officer shot Duensing three times when he tried to run.
The Pahrump attorney ran an unsuccessful bid on the Libertarian ticket this year to become Clark County's top prosecutor and head the office that pursued the criminal case against him. He was the only opponent to incumbent Steve Wolfson, who was elected with 72 percent of the vote.
At the sentencing Thursday, Duensing called himself a "pillar of the community," who has long been a civic activist. He was returning home to Las Vegas from a political rally in northern Nevada the afternoon he was stopped by Metro motorcycle officer David Gilbert on a traffic violation.
"I've maintained my innocence from day one," Duensing said of the encounter, though he admitted to running from the officer after being hit with the Taser stun gun.
At the encounter along Cheyenne Avenue near Jones Boulevard five years ago, Gilbert asked Duensing at least three times to turn around before the officer grabbed his stun gun. Duensing had outstanding traffic warrants, and Gilbert wanted to arrest him.
"His conduct was entirely inappropriate, especially for someone who is a lawyer," prosecutor Elizabeth Mercer told District Judge Michelle Leavitt. "He should have known that when he interacted with the officer it was not appropriate for him to draw a weapon in any way, shape or form."
Mercer, who had asked the judge for a sentence of two to five years in prison, argued that Duensing lied on the witness stand about where he was hit with the Taser stun gun. Duensing said he still has the same scars, and pointed out that he was not prosecuted for perjury.
At trial, Duensing testified that the officer never told him why he was being arrested.
"I have not gone a single day since that afternoon without significant pain from those injuries," Duensing told the judge. "I don't expect those wounds will ever heal."
Because of the conviction, Duensing also lost his license to practice law and a license to conduct firearms training.
Gilbert testified that he shot Duensing as he reached for a handgun. Defense lawyer Tom Pitaro argued that Gilbert could not have seen the gun because it was in the buttoned-up cargo pocket of Duensing's pants. A knife in his right hip pocket was not found by police until after he was shot.
Along with probation, Leavitt also ordered Duensing to undergo a mental health evaluation, remain on house arrest, not consume drugs or alcohol and refrain from any contact with Gilbert.
Gilbert told the judge Duensing and his friends have threatened the officer since the shooting.
"For five years, myself, my wife, my family and my friends have had to endure the defendant's delusional account of what transpired," Gilbert said. "The defendant and his ilk are disturbing to me."
Questioning Gilbert during the sentencing hearing, Pitaro said the officer targeted minorities and had shot an unarmed man before shooting Duensing.
In court documents, Pitaro wrote that when asked during the traffic stop, Duensing gave Gilbert his address in Spanish.
Pitaro also pointed to a forum post from someone who identified himself as David Gilbert, a 12-year Metro officer, on a blog called Veterans for Secure Borders. There is no time stamp on the post.
Prosecutors objected.
"You're opinion is well known to me," the judge told Pitaro.
"I want his opinion well known," Pitaro said. "That his opinion is that he's a racist."
The author of the post states that 55 percent to 65 percent of the calls police receive involve illegal aliens. He writes that "the borders are there for a reason. To keep an eye on who is coming and going. To keep disease out."
The post continues: "As a cop, I almost always get the standard reply to my request for 'drivers license, registration and insurance please' of any hispanic (sic) person… 'Uh, me no speak english (sic), you get some one who does; I no talk to you till spanish (sic) here.'"
Gilbert refused to comment when asked, outside of court, about the blog post.
Contact reporter David Ferrara at dferrara@reviewjournal.com or 702-380-1039. Find him on Twitter: @randompoker.