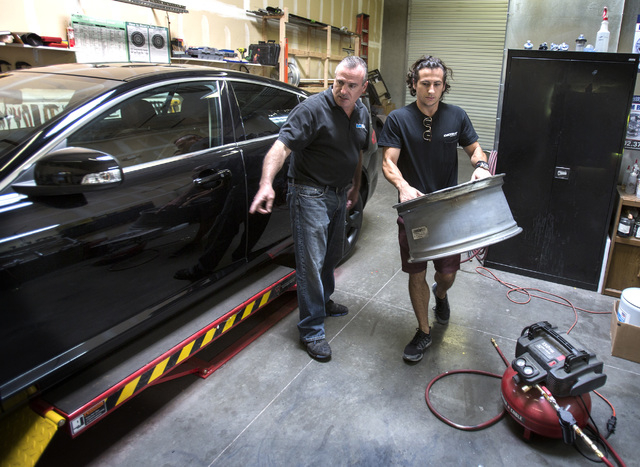 In a small Henderson workshop, Paul Seidler Jr. repairs a bent Jaguar XF wheel rim amid the acrid smell of paint.
Sitting on his rolling chair with a head of curls held back with a black headband, he works studiously to ensure that the result will be perfect.
"I've always wanted to be an entrepreneur, and I have always wanted to open up my own office and shop," he said.
In an economy that is still rebounding, investing in a new business can sound like the stuff of nightmares — but for some, shifting gears is what sparks the dream.
Paul Seidler Jr., 23, and his father, Paul Seidler, 53 are pursuing that dream. In March, they opened a rim repair shop under the Kwicksilver franchise.
But the elder Seidler took a different route to the startup. He is a former presidential appointee who served in the senior executive office in the Obama administration.
From May 2012 to August 2013, he worked in the federal government's Environmental Management Program, using his expertise in nuclear science to help clean up Cold War weapons complexes.
Upon returning home, Seidler was looking for an economic opportunity that he and his son could pursue. While looking for a place to repair his damaged wheel rim, he discovered there were few places that offered that service.
"We thought there was a real need for something like this, and it's the type of business we think could grow very significantly and be a contributor in its own small way to the economy," Seidler said. "I saw the economy rebounding in Southern Nevada. I had the desire of getting into a business with my son and getting him started in a business at the right time. We saw it as a good opportunity."
Seidler and his son share a love for cars and after months of research, they decided a franchise was the best option.
"We went the franchise route for a number of reasons — No. 1 is the training that they have and the ongoing technical support that they have and people want to go to a name that they recognize and that the work that is going to be done is going to be backed up and guaranteed," Seidler said.
Research conducted by FranNet, a company that provides consulting services to prospective franchisees, shows that the most successful are those that pursue businesses that play up their skills.
"Make sure it is a good fit for you. That it leverages what you are good at and fits your lifestyle," advised Sarah Brown, consultant for FranNet.
For Seidler, the franchise lets him to explore his other passions.
"I love automobiles, and I am an artist. I work a lot with metal as an artist and I thought this would be a neat blending of my artistic capabilities and my love for cars," he said.
The repair shop is located close to the Valley Automall at 50 Gibson Road.
Although the father-son team is already reaping the benefits of their business, it has come with a hefty price.
"We have invested about a quarter of a million dollars and the royalties are six percent," Seidler said.
According to FranNet, it can take anywhere from six to 24 months for a franchise to break even.
Brown believes the Seidlers have carved out a successful niche.
"I think the auto industry is recession-resistant. Automotive franchises tend to do very well," Brown said.
To Seidler, it's all about seizing an opportunity at the right time.
"I think this industry has a lot of growth opportunity. In this town people, really love their cars. It's a neat business because it works both in a rebounding economy and when it picks up even more," he said. "Henderson has an amazing business climate."
Contact Review-Journal reporter Paulina Rojas at projas@reviewjournal.com or 702-383-0206. Follow @PerpetuallyPau on Twitter.