Four found guilty in massive Las Vegas HOA fraud case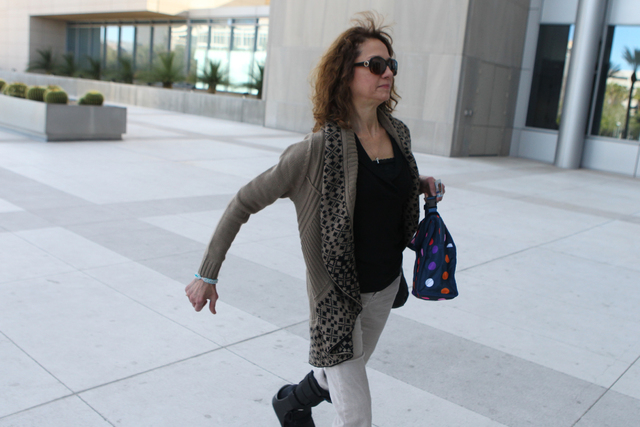 Nearing an end to one of the longest and widest-ranging criminal cases in Las Vegas history, a federal jury Tuesday convicted four defendants charged in the massive scheme to take over and defraud homeowners associations.
The jury deliberated several hours before reaching its verdict on the heels of a three-week trial in the courtroom of U.S. District Judge James Mahan.
Prosecutors contended the multimillion-dollar scheme was carried out between 2003 and 2009 by former construction company boss Leon Benzer and the late construction defects lawyer Nancy Quon. Benzer has since pleaded guilty. Quon committed suicide in 2012 under the weight of the high-profile investigation.
The four defendants, including former Benzer attorney Keith Gregory, were convicted of conspiracy and wire fraud charges. Also found guilty were Benzer's half-sister Edith Gillespie, who recruited straw homebuyers; Salvatore Ruvolo, a Benzer-controlled HOA board member at Park Avenue and Chateau Nouveau; and David Ball, whom Benzer placed on the Chateau Nouveau HOA board.
The long-running investigation, spearheaded by the Justice Department's fraud section in Washington, is considered the largest public corruption case federal authorities have brought here. The investigation became public in September 2008 with FBI-led raids across the valley.
The defendants, who were indicted with Benzer in January 2013, showed little emotion in court as the clerk read the verdicts. Lawyers for some of the defendants said afterward they plan to appeal.
Charles La Bella, a seasoned fraud section deputy chief who led the prosecution team, hailed the verdicts.
"The jury spoke loudly and clearly as to the evidence in this case," he told the Las Vegas Review-Journal outside the courtroom.
Mahan is to sentence the four, who remain free on their own recognizance, on June 17.
La Bella asked Mahan in court to issue an order barring Gregory from practicing law or supervising people practicing law in his office while he waits to be sentenced. Gregory's attorneys opposed the move, and Mahan set a March 26 hearing to discuss the matter further.
In their closing arguments Monday, defense lawyers said their clients were victims of the takeover scheme and attacked the credibility of the many government witnesses who testified under plea deals seeking reduced sentences.
But La Bella told the jury that all four defendants were integral members of the conspiracy drawn in by Benzer, the "puppet master," and willingly participated out of their own greed.
According to prosecutors, straw buyers were recruited to obtain condominiums at targeted developments and some were elected to HOA boards through ballot-box stuffing and dirty tricks so they could help Quon and Benzer obtain lucrative legal and construction contracts. Others were deeded interests in condominiums at targeted developments so they could get on the boards.
Lawyers, private investigators, real estate agents and community management firms were all brought into the elaborate scheme. Co-conspirators were secretly paid to participate in the conspiracy, which was designed to ensure HOA boards voted Benzer's way, prosecutors said.
A total of 37 people pleaded guilty in the corruption scheme, which included as many as 11 HOAs. Most of those defendants, including Benzer and several lawyers, will be sentenced in the coming weeks. One lawyer who pleaded guilty, David Amesbury, committed suicide five days after Quon took her own life in March 2012.
Left to be tried in the case is Stephanie Markham, a straw buyer prosecutors allege Gillespie recruited to the scheme. Markham was charged separately with lying to the FBI and to a federal grand jury.
At Vistana, where the scheme was carried out to its fullest, Benzer and his Silver Lining Construction Company swindled homeowners out of more than $8 million earmarked for construction defect work that was never done, prosecutors said during the trial.
Prosecutors singled out Gregory during the trial as Benzer's "double agent." They presented evidence Benzer installed Gregory as Vistana's general counsel to help the "puppet board" steer a seven-figure construction defect contract to Silver Lining Construction. Gregory was being paid by both Benzer and the Vistana board when crucial contract votes came up in 2007.
Vistana President Lynn Williams, who sat through most of the trial, said he was pleased with its outcome.
"I think its great," he said. "The bottom line is that it was just greed. People didn't believe they had to comply with the rules."
Williams, a retired federal agent, praised the work of the investigators who spent years making the complicated criminal case. FBI Agent Michael Elliott and Las Vegas Detective Robert Whiteley, now a sergeant, worked full-time on the case since late 2007.
"The tenacity of the FBI and the Metro Police Department was outstanding," Williams said. "They did a great job."
Williams said he now hopes the defendants will be ordered to pay millions of dollars in restitution to the Vistana homeowners.
High-stakes civil litigation involving Vistana, Quon's estate, Benzer and many of the other defendants who pleaded guilty in the takeover scheme is likely to move forward now in both state and federal court. The cases have been on hold to avoid interfering with the criminal case.
Contact Jeff German at jgerman@reviewjournal.com or 702-380-8135. Find him on Twitter: @JGermanRJ
RELATED
Witness: HOA fraud scheme drove Leon Benzer to desperate measures
Las Vegas HOA corruption trial stays in Las Vegas